Documentation:Science Co-op/Netherlands - Eindhoven
Helpful Tips For Co-op Students Going to Eindhoven
Purpose: This document was created to help you prepare the necessary documents and funds
BEFORE your departure to Eindhoven. This information may help to prevent some difficulties with
paperwork and make it an easier transition for you.


Introduction
Congratulations on securing an internship in Eindhoven! The Netherlands is the most English-friendly country in Europe other than the UK and Ireland.
Finances
You should bring between €500 to €1000 to cover yourself until your first pay cheque. Note that if you run out, it is possible to use your Canadian debit card at any ATM here to withdraw funds for a small fee (~$5, check with your own bank).
The Dutch bank ABN-Amro has a branch conveniently located on the High Tech Campus, and also has the best Internet banking services in English.
Insurance
A Dutch health insurance plan is mandatory for working employees. Dutch law allows a grace period of four months to apply for an insurance plan, but you will be charged from the first day of employment. You may be issued a fine, on top of purchasing insurance for the previous months, if you are caught without an insurance plan after the grace period. If you are working at the High Tech Campus, one convenient option is the ask for the cheapest plan with the highest deductible at the IAK VERZEKERING desk at the Strip, above the Albert Heijn To Go store. This should cost €82.42 per month. As you are already covered by the AMS travel insurance (be sure to inform them of your internship dates) you should be covered for emergencies already and the high deductible shouldn't be a concern.
With an intern's income, you are eligible for toeslagen, an allowance from the government to offset the cost of insurance. This is worth €72 per month, also starting from the first day of employment. It is best to ask a Dutch colleague to call and ask for the application form to be mailed to your address as the government employees are not allowed to provide assistance on toeslagen in English.
Housing
Philips maintains many intern houses in Eindhoven and will assign you a room in one of them. These range from 4 - 16 people units, from house-type to dormitory-type accommodations. The rent and quality varies widely. However, you may email the housing contact at Philips HR to change rooms if you know a colleague is finishing his or her internship, or if you would like to view other places.
You may find your own housing if you like as well. Woonbedrijf is one housing agency that Dutch students use.
Transit
Within the Netherlands, use the site 9292.nl to plan trips by bus or train. A 40% discount card is available for €50. Day tickets are sometimes available from Albert Heijn, Hema or Kruidvat for around €16. These are announced every 3 months or so on their websites and tend to sell out quickly, and are the best option for a day trip around the Netherlands. They are non-refundable and valid for about 2 months. It's a good idea to stock up on them, as you can easily resell them on ISN (see below) if you are unable to use them before they expire.
Within Eindhoven, cycling is by far the best way to get around. Many items, including bicycles, are posted for sale on ISN, the International Student Network Eindhoven. Second-hand bicycles are between €50 and €100.
Second-hand bicycles at shops are usually around €100. The bike rental/storage shop underneath the train station also has used bicycles for sale.
The Dutch equivalent of craigslist is marktplaats.
Travelling
Transavia, Ryainair and Wizzair all fly out of Eindhoven Airport. It as about half an hour by bicycle from the train station, or about 20 minutes by bus. Use incognito mode or clear your cookies when browsing for tickets, as the prices will increase when sites detect that it is your second time searching for the same journey. Use skyscanner.com to search across all airlines for the cheapest flight connections and then book tickets directly at the respective airlines.
Trains can be booked on the German website bahn.de with a credit card, which are generally cheaper than the Dutch train website nshispeed.nl if passing through Germany. If booked early enough in advance, it is possible to travel from Utrecht to Copenhagen, Warsaw or Prague for €29 one way on bahn.de. Other direct night trains destinations from Utrecht include Basel and Munich. See seat61.com for more ideas.
If you book a seating compartment in a night train, note that the seat reclines by sliding the bottom forwards, instead of angling the seatback backwards.
Don't be afraid to try hostel rooms. Besides being cheaper than hotel rooms and often having a common kitchen for even more savings, it's a lot more fun to meet other travellers. hostelbookers.com generally offers the best deals.
Once you have your Dutch residence permit, you are eligible to buy the Interail pass, which is much cheaper than the Eurail pass.
Chinese Grocery Stores
Eindhoven has a surprising number of ethnic grocery stores for a relatively small city, and most Asian ethnic ingredients are readily available. They are mostly concentrated at the Woensel-Noord area where you will also find the Saturday open market, several Turkish grocery stores, a Persian store and a butcher opposite the Fair Play casino.
Sin Wah Supermarket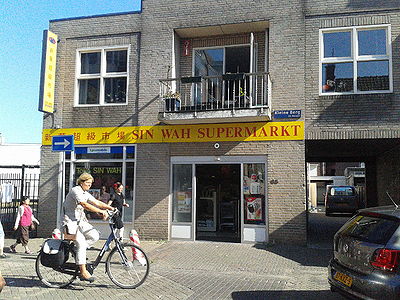 Sin Wah generally has the least expensive products, but it closes at 6pm.
Amazing Oriental Supermarket
Amazing Oriental is the largest Chinese grocery store in Eindhoven and offers the most T&T-like experience, and closes at 7pm.
Amazing Sang Lee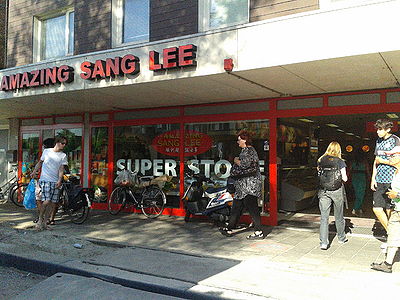 The second largest grocery store in Eindhoven, also closing at 7pm. It sports a good selection of Chinese take-out food.
Document Preparation
{{{Documents}}}
Additional Advice
{{{Advice}}}