Course
:
GRSJ300/Help and Resources
Formatting Help
Wiki Orientation
Part1:Why wiki projects?
Part 2: What is a wiki?
Part3: GRSJ300 wiki page tour
Using Images on the Wiki
Click here to get help on adding images and pictures on wiki pages.


Renaming Your Page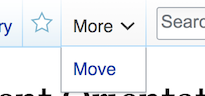 This is done by using the move link in the drop down arrow tab at the top of the wiki. The tab is not visible if you not are logged in.
Click on the move link
In the new title box, you'll find the current title of your page. It will look something like GRSJ300/2020/Sample Page
Enter the new name after the prefix GRSJ300/. For example GRSJ300/2020/My New Title.
Click the move page button.
Drop-in Wiki Office Hours
Coming soon
Help Contacts
lt.hub (at)ubc.ca
will.engle (at) ubc.ca
rie.namba (at) ubc.ca