Documentation:Clickers/Information for Instructors
Get Started with Clickers
Software Download
</br>
UBC Clicker Software configured for use with Connect can be downloaded on Connect:
Current version: i>clicker v7.14 (Required update: There is a known issue with the version 7.7.0 with Gradebook synchronization with Connect. Users with version 7.7.0 are required to update the software by following these instruction.)
Log into Connect using your CWL. If you do not have a CWL, you can create a basic account by following the instructions here.
Go to the "Resources" tab near the top right corner
Select "Instructor Resources" near the top left corner if it hasn't already been selected
Look for the "Software Distribution" module and follow the instruction on page
Note: After downloading the software, you need to unzip and move the entire folder to a desired location, such as the Applications folder on Mac or your Windows desktop, then run the i>clicker software inside the folder.
For a step-by-step guide on setting up the software with Connect, go to Set up Clickers with Connect
Pickup the Blue Instructor Remote
Used to remotely start/stop polling, show/hide results, set correct answers, and advance slideshow presentations.

Instructions for changing the frequency can be found on the back of every remote.
Stop by for a quick demo and/or pick up your UBC iClicker instructor remote at the Centre for Teaching, Learning and Technology (IBLC 102 - 1961 East Mall). You can also schedule a time by contacting clicker.support@ubc.ca, or contact your local Instructional Support Unit for more information.
Set up your classroom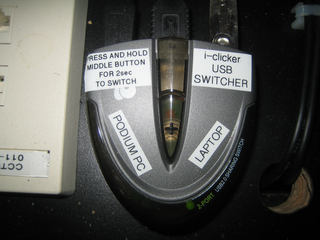 Your classroom will need a receiver base station to receive and process student votes. Check to see if your room already has a clicker base installed (see list of rooms for Vancouver or Okanagan). If it is not equipped:
Get your classroom equipped. An iClicker receiver base can be installed for you (as long as the room has a podium to lock the iClicker receiver base in). Contact clicker.support@ubc.ca to have one installed.
If a base cannot be installed, use a portable iClicker receiver base. CTLT will loan you a portable base that can be used in any room. Check the list of rooms to see which frequency you can use.
The iClicker receiver base can be connected via USB to a laptop or podium computer. The USB port for your flash drive can be found on the right side of the iClicker base receiver. If using a fixed classroom base, the iClicker USB switcher near the podium (see picture) has to be set to the right input in order for the receiver to function. The location of the switcher may vary depending on the design of the podium. Make sure the switcher is set to the right input determined by your choice between laptop or podium computer. To switch the input, press and hold the button on the switcher for two seconds.
Click here for more details about connecting the hardware.
Running an iclicker Session
If you're looking for sample clicker questions, the Carl Wieman Science Education Initiative (CWSEI) has links to some helpful resources.
Before starting a session in class, plug in the iclicker receiver hub. Ask your students to turn on their clickers and if needed, change their frequencies.
In your clicker folder, open the iclicker application.
Select your course.
A toolbar will pop up in the top left corner of your screen. It will float over top of PowerPoint and other presentation media. If you can only see the toolbar on the podium's or your laptop's screen, but not on the classroom overhead, please refer to Projector Screen for instruction. Click the "Multiple Choice" button on the toolbar when you ask your students a question. Click "Multiple Choice" again to stop polling your students. If you are using a blue instructor remote, the "A" button can be used to start and stop polling.

A timer will appear and will count up. A counter shows the number of student votes received for the question.
Click the bar graph icon at any time during your session to show a bar graph of responses with percentages and number of votes for each choice. If you are using a blue instructor remote, the "B" button can be used to display the results. Click the icon or "B" again to hide the graph.
If you want to show the correct answer after the question, you can click on the correct answer on the display graph.
Click the "x" button on the top left corner of the toolbar to close iclicker when you are done your session.
After your class
There is no need to upload the session data after every class; you can let the marks accumulate until the end of the term if you would like. You may wish to upload them more frequently to allow students to view their grades.

Clicker Software Update
To make sure you are running the newest version of the software, you can run the automatic update check by following these steps:
Open the iClicker application
Go to "Help" to select "Check for Update" (For Mac users: look in the top left menu bar.)
If there is an available update, click "Update" to run it automatically.</br>
Clikcer Software Update
Note: You will not lose any existing data or configuration by running the automatic update. You can delete the "Archive" folder that contains the older software afterwards.
REEF
UBC now provides support for REEF (formerly i>clicker GO), a web-based solution that allows students to use their mobile device to answer regular clicker questions.
REEF also has the ability to work alongside the iClicker remotes, so instructors can start a polling with students using either REEF or the physical iClickers.
Instructors can:
enable REEF on iclicker version 7.4.2 or newer by following these instructions. You can find the version number on top of the iClicker window after you open the application.
use the web based REEF Education software by following these instructions. This requires all of your students to have a REEF account.
Notify the UBC Bookstore
Place an order with UBC Bookstore if you intend to use clickers in your course to ensure adequate stock for your students.
Loan Kits for Events
CTLT has clickers to loan out for events. If you have a training session or would like to use clickers for a bigger event, please contact clicker.support@ubc.ca. Currently, there are 130 clickers that can be signed out when available.
FAQ
The instructor FAQ answers several common questions that instructors have. Also see i>clicker's detailed user guide describing many aspects of clicker functionality.
Contact Us
Feel free to contact us at clicker.support@ubc.ca if you have any questions regarding iClickers. We will be very happy to help you.