Documentation:Clickers/Elearning
Jump to navigation
Jump to search
What is it?
Clickers (or Student Response Systems) are wireless handheld devices that allow students to respond to classroom polls and quizzes, regardless of class size and common student dynamics. These remote-like gadgets transmit individual student responses to an instructor's computer to record and even share these results directly back to the class. Instructors can use this data to customize their lessons for each learning group.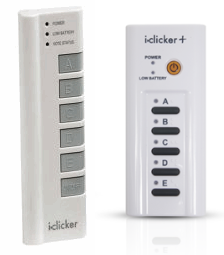 Uses and Benefits
Studies conducted on the usage of clickers demonstrate an improved learning environment for students. Effective use of clickers leads to greater class interactivity, increased student-teacher interaction, and consequently improved conceptual understanding of material for the learners.
Instructors can use clickers as a tool to gauge students' understanding and/or as a low-stakes quiz delivery system.
Clickers also allow instructors to:
Increase class participation and improve attendance
Spark debate and discussion in class
Identify students who need additional assistance
Instantly gauge student comprehension of a particular topic or question
Take attendance
Encourage class discussion among all students
Instantly grade and record student results
Give continuous feedback to provide students an active learning process
Generate student assessment reports
Easily deliver quizzes and assessments electronically
Focus more time on teaching and less time on paperwork and grading
Resources
Effective Use
For the clicker to be used effectively, it is important to take into consideration the structure and format of the question being asked, how often you use the technology and the context in which questions are asked. The use of the clickers for the sake of using new technology does not necessarily improve learning. The following websites provide excellent suggestions on how to best incorporate clickers into your teaching practice:
Support
Individual Faculty Support:
Carl Wieman Science Education Initiative (CWSEI): http://www.cwsei.ubc.ca/resources/clickers.htm
Applied Science (CIS): http://cis.apsc.ubc.ca/additional-tools/iclickers/
Arts (ISIT): http://isit.arts.ubc.ca/crs/
Sauder (Learning Services): http://www.sauder.ubc.ca/Resources/Learning_Services/Knowledge_Base/iClickers
UBC Okanagan - Centre for Teaching and Learning (CTL): http://ctl.ok.ubc.ca/teaching-development/learning-technologies/interaction-tools/clickers/
Video Tutorials:
FAQ
Instructors can visit our Instructor Information page or the instructor FAQ for more information
Students can visit our Student Information page page for common clicker issues and more information.
Contact Us
Feel free to contact us at clicker.support@ubc.ca if you have any questions regarding iClickers. We will be very happy to help you.