Course
:
ARST575K/LIBR539H/Manchester Digital Music Archive
The Manchester Digital Music Archive (MDMArchive) was launched in 2003, as an online community archive[1] by Alison Surtees, Matthew Norman, Abigail Ward, CP Lee, and Dave Rofe. Its primary function is to provide an archival record of the music produced in the Greater Manchester region (U.K) in order to preserve, protect, and promote the heritage, social history and cultural importance of the city's significant contributions to British music. Its presence has ensured the preservation of vulnerable individual collections and those held by organizations and institutions.
The archive is run as a not-for-profit organization and its holdings are used to facilitate educational workshops and physical exhibitions in spaces accessible for all. In 2007 it won its first award for a digital community archive. The judges were quoted praising the archive for the way it "let the objects speak for themselves, as well as the way the site conveyed the enthusiasm of its creators for the subject. It does everything it needed to do and no more, and as a result leaves plenty of room for a community to spring up around it."[2]
History
The proposal to create a community archive of holdings relating to the musical prominence of Greater Manchester was conceived from C P Lee's 'Shake, Rattle and Rain' (2002)[3]. The synopsis for the book states "All roads lead to Rome, but in this book they lead to Manchester, specifically its music scene."[4]
Initially known as Manchester District Music Archive, the co-founders planned to open a physical museum space where individual and collection holdings could be exhibited. Due to an inability to locate an appropriate space these plans were shelved, and in 2006 it was decided to create a digital archive which could be accessed globally by anyone. The online archive fulfilled the vision of faithfully recording and documenting the experiences and recollections of fans, artists and members of the music industry. This reflects the characterization of community archives proposed by Shepherd et al whereby the materials are collected by the members and over which they exercise full control.[5]
In July 2014, MDMArchive won its second Not-For-Profit award at Manchester Digital's Big Chip awards. The judges said the website "[w]as exactly what the internet was made for, a labour of love that couldn't exist in any other medium".[6]
In 2017 the organization became known as Manchester Digital Music Archive.
Purpose and Vision
Manchester Digital Music Archives aims to celebrate and raise awareness of Greater Manchester's musical influence and highlight "unsung eras" and "hidden histories" of Manchester's music scene, documenting and digitizing the memories, oral histories, and ephemera of artists, fans, and music industry professionals in order to create a "map" of Manchester's musical and social history. As Andrew Flinn notes, "The extent to which a community archive must be independent and community owned is clearly one that is open to debate but it is nevertheless beyond argument that one key to understanding a specific organization or initiative is the extent to which the project is motivated by a sense of grassroots empowerment and community action as opposed to being the result of the initiative of a state or heritage body"[7]. Founded on grassroots principles, the MDMA is committed to an independent, community-led vision:
"This process is about democratising heritage and not having gatekeepers or the great and good only telling the stories of what happened. Everyone has a story to tell from their perspective." [8] The archive allows the general public to decide what it believes is the 'heritage' it wants to preserve.
It is from this standpoint that the archive's core values were identified:
We will provide a platform for multiple Greater Manchester music histories to be shared.
We will be the trusted 'caretakers' of the collective memory.
We will democratise the preservation of music heritage and make it accessible for everyone.
We will be a flexible and responsive organisation that listens to community opinion.[9]
Every person involved in the creation and maintenance of the MDMArchive is passionate about raising awareness of all those involved in the creation and enjoyment of music in Greater Manchester.
Community
According to the UK website communityarchives.org, "A community archive is one in which 'the subject-matter of the collection is a community of people. The classic example is a group of people who live in the same location, but there are "communities of interest" as well, such as people who worked in a certain profession' adding only the proviso that 'the process of creating the collection has involved the community.'"[7] In this sense, MDMA is a true "community archive," which seeks to preserve the heritage of a community which shares music as its connecting thread. The archive serves a online community of fans, musicians, researchers, music industry professionals, and others around the world who are passionate about Manchester's music history. The community creates the archive: members upload and contribute digital scans of materials. While Manchester is known globally for pop bands such as Joy Division, Oasis, New Order, and the Smiths, the Digital Music Archive's collections are representative of Manchester's diverse musical and social history across multiple genres, and eras, including the Electro-Funk, New Wave, Hip Hop, Spoken Word, Big Band, Afrobeat, Folk, Jazz, Rock, and DJ scenes. In addition, the archive serves the Greater Manchester community in the physical space, working with volunteers from under-represented communities and in joint partnerships with local organizations to present events such as film nights, exhibitions, club nights, and talks.
Organization and Structure
Co-founders
Of the original 5 co-founders only Alison Surtees and Matthew Norman remain. Alison's role is to support the archive's strategizing and fundraising events. She is also responsible for managing the archive's film holdings. Matthew helps curate exhibitions.
Trustees
The board of trustees are there to protect the interests of the people that they are there to support, i.e. the members and users of the archive. It is their responsibility to ensure that MDMArchives have clear goals and strategies in place to meet those goals. Each member of the Board of Trustees works for or studies at an institution or organization in Manchester.
Chair: Dave Carter, Honorary Research Fellow at the Centre for Urban Policy Studies (CUPS) at the University of Manchester
Treasurer: Cathy Brooks
Trustees: Dr. Sarah Feinstein[10], Drew Ellery, Aidan O'Rourke
Volunteers
There are six volunteer members who are equally responsible for the maintenance of the archive. Several of the members have archival training, including Heather Roberts, archivist at the Royal Northern College of Music (RNCM), whilst others have a background in digitisation, music and curating.
Volunteers: Mike Noon, Heather Roberts, Rod Connolly, Jane Donaldson, Markus Hetheier, Catherine Mullen
Website
In creating a virtual space which collates and curate all manner of dispersed records, something Ricardo Punzalan[11] identifies as "virtual reunification", MDMArchives has provided a place where the community can create strong bonds and participate freely. MDMArchives collaborated with Go Bang! Design[12] to develop the searchable database, which was constructed to their own specifications. The site is currently maintained by a team of trained volunteers who fix broken links and manage the content. Currently there is no full time archivist presence on the digital site.
Holdings
Collections
The archive currently contains digital representations (images) of materials which include audio files, letters, photographs, posters, fanzines, press articles, garments, oral histories, artwork, personal memories, cassettes, CDs, master tapes, and ephemera relating to 3817 artists/bands, 743 DJs, 1436 venues, and 298 industry professionals, for a total of 28901 artefacts contributed by 3931 members as of October, 2021[13]. Due to copyright regulations and data storage issues, MDMArchive does not store music or videos on the website, however, registered users may upload links to streaming services and live recordings. Collections include materials related to prominent Manchester bands such as Joy Division, New Order, The Smiths (incl. Morrissey), Swing Out Sister, Simply Red, and Cleopatra, as well as materials related to hundreds of lesser-known and underground artists. There is also a collection of items relating to famous music venue and nightclub The Haҫienda which became renowned for its legendary House Parties during the Acid house and Rave scene of the 1990s.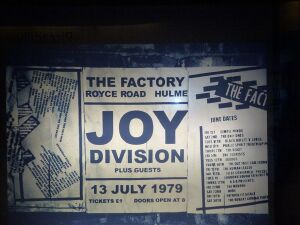 Through a partnership with Royal Northern College of Music, the the archive holds many records relating to Ida Carroll, former president and founder of the RCNM, including letters, audio files and photographs.
There is also a collection of items relating to famous music venue and nightclub The Haҫienda which became renowned for its legendary House Parties during the Acid house and Rave scene of the 1990s.
Arrangement & Description
MDMA's collections are arranged alphabetically. The site's finding aid organizes materials into the following searchable categories:
Band/Artist
DJs
Venues
Record Labels
Industry professionals
Item descriptions are written by users who upload materials. The MDMA website's "Help" section provides guidance as to how to write descriptions of items, tag items, and credit photographers, graphic designers, or other contributors. As there is no "physical" archive, traditional archival concepts of "original order" "respect des fonds" and "original order" are not relevant.
Acquisitions & Donations
The archive is a user-led, crowd-sourced community archive which acquires a bulk of its material through contributions by member "donors." Users are invited to create an account and upload their own materials to the website; MDMArchive volunteers are willing to lend potential donors the digital technology required to upload personal records and ephemera. The archive collects strictly digital material.
Access
The Manchester Digital Music Archive provides access to its materials to all members of the public through their website. Materials are strictly digital; there is no physical archive. Materials are accessible to anyone with an internet connection, from any device. Users who wish to upload documents or create exhibitions must create a (free) member account.
Community Programming & Outreach
Education
Despite being an online repository, the archive has a physical presence due to its outreach work. Along with presenting workshops, conferences and panel discussions on topics related to Manchester's musical and social history, the MDMA also offers placement opportunities and advising to students from a variety of academic backgrounds and disciplines. Workshops provide training for people who want to use the archives for research, or are interested in creating their own online exhibitions within the MDMA website. Panel discussions present topics such as issues that face black women in music, and/or highlight the voices of underrepresented artists. During celebrations for 100 years of female suffrage in the UK, MDMArchive staged an event featuring photographs of 25 key women from the Greater Manchester music world. The highlighted women were chosen by a community vote.
In October 2016, MDMArchive were invited to speak at Discovering Collections, Discovering Communities conference organized by The National Archives.
Placements are offered to students to allow them to gain experience in a number of areas within digital archiving and curation work.
In 2017 training days were offered for those wishing to learn how to curate online. The training events were led by Abigail ward, a former co-founder of the archive.
Community Engagement
The MDMArchives is committed to supporting and working with local communities and organizations to further the work of highlighting Manchester's contributions to music. Working with volunteers from diverse communities, and through joint projects with other organizations, they create opportunities for underrepresented voices to research and share their musical histories. In collaboration with Stockport Cerebral Palsy Society, Manchester College and Drake Music, MDMArchives organized a musical event featuring The Prospectors, a local band of disabled musicians, who alongside Graham Massey of 808 State performed a showcase of tracks made famous by a variety of global artists who Massey credited as inspiring his sound. In addition, they have worked in partnership with Manchester Metropolitan University, University of Manchester Students' Union, Manchester Pride, Manchester Histories Festival, Manchester Digital Development Agency, Louder Than Words Festival, People's History Museum, Salford Museum, Macclesfield Museum and many others. MDMArchive organizes an annual event called Suffragette City which raises money for local women's charities.
Digital Exhibitions
The Manchester Digital Music Archive hosts virtual exhibitions on their website which offer members the opportunity to "legitimize the experiences of this group and as a creative endeavour that reflects the values of this group"[14] In addition, they curate temporary physical exhibits at pop-up locations and established venues around Greater Manchester. Users are also invited to create their own online exhibitions via the MDMA website.
Anyone is welcome to set up an exhibition space on the site which "allow anyone to pull together exhibitions around the artefacts ... to represent their own histories."[15]
There are currently 49 exhibitions in the archive. These include:
Queer Noise - Curated by Abigail Ward
Mole Express - A Magazine for Counter-culture
City Fun: The Hidden History of Manchester's Favourite Fanzine
Suffragette City - women in Manchester music
RNCM Archives
Relationships to other institutions
Though not formally a part of any other institution, Manchester Digital Music Archive occasionally works in collaboration with The Royal Northern College of Music, Manchester Hip Hop Archive, and Manchester's Museum of Science and Industry.
Funding
In 2015 the Archive became a registered charity (Charity No.1164179). Funding for the Manchester Digital Music Archive is primarily through the National Heritage fund, which operates as a branch of the National Lottery U.K fund. The archive can apply for funding for individual projects.
In 2013 it was awarded ₤42,500 for hosting the art exhibition, Defining Me - Musical Adventures in Manchester.
In 2017, the archive was granted ₤46,400 for its involvement in exploring the intertwining of activism and music in its project Rebel Music: The sound of politics and protest in Manchester.
A further grant of ₤10,000 was issued in 2018 to allow MDMArchives to participate in the Northern Carnival against the Nazis: 40th Anniversary exhibition.[16]
Without funding the archive would be solely reliant on donations from its members (there is a direct pay option available on the website for this purpose). Joanna Newman identified how critical funding is for the sustainability of a community archive[17]; this is reflected in the archive's annual spending budget, which is currently showing a deficit. [18] For any community archive to survive in the long-term it needs to be in receipt of reliable funding, which is usually offered only for archives run by local or national government.
Conclusion
Caswell et al. note the affective impact of communities seeing themselves represented in archives. The MDMArchives approach of highlighting underrepresented voices and "hidden histories" while making collections accessible to all, and allowing users to "create" the archive is aligned with a vision of archives that recognizes the importance of community voices in creating a sense of belonging, of "seeing oneself" in the archives. "By collecting materials that document the previously unknown history of a community, community archives assert we were here . . . On an ontological level, community archives affirm I am here. They reflect and assert identities in the present, allowing individuals "to suddenly see themselves existing" in ways they could not and did not previously. This epistemological and ontological impact, in turn, has a social impact. On a social level, community archives assert you belong here to members of the communities they serve."[19] In addition, the establishment of the Manchester Digital Music Archives as a participatory archive attends to a "shifting responsibility between archivist and user, harnessing community knowledge to reposition archives as sites of empowerment and solidarity, reflecting community needs."[20]
References