Concept Mapping Resources
Listen to a short interview between Albert Cañas and Joseph Novak

Further interviews about concept mapping can be viewed on the CMap Tools Channel on YouTube
Central idea
Concept maps are typically constructed in a hierarchical fashion, with the most inclusive , general concepts near the top and the most specific near the bottom or outside edges. Concept maps are often constructed to answer a specific central focus question or to address a particular topic or theme. Concepts are linked by words or phrases to form propositions (see examples below) and relationships are identified between concepts by the use of cross links. Key characteristics:
concepts
linking words/phrases
cross links
hierarchical arrangement
Concept mapping supports learning by drawing out prior knowledge, building on it and providing a framework for learners to incorporate new knowledge and make meaning.
Examples
Concept map about concept maps created with C-Map
History
Technique developed in the 1970s by Joseph Novak at Cornell University for use with science students. Associated with constructivist approaches to learning.
Uses and Benefits
Concept maps are useful for:
illustrating relationships between different processes or components.
connecting concepts with examples (real world)
documenting existing knowledge on a topic (which can be built on/changed as learning progresses)
identifying gaps in knowledge/ questions that need to be answered
identifying connected aspects of complex problems
constructing arguments
Benefits to learning
maps are developed by an individual or group and organized in a way that makes sense to them - promoting a sense of ownership - important to motivation.
connects prior knowledge to new learning and highlights gaps in knowledge - making it easier for learners to know what they don't know and need to know.
allow focus on details while retaining "big picture"
Which tool suits what purpose?
This is a work in progress, please help us with a few examples.
| | Mind Mapping Tools | Graphic Organizer Tools | C-Map | Example | good tool choice(s) because... |
| --- | --- | --- | --- | --- | --- |
| Brainstorming | yes | may be too slow | yes, for collaboration | Brainstorming/resource planning in Bubbl.us | Bubbl.us is a good tool for brainstorming. C-Map allows for real time collaboration. |
| Investigation/Diagnosis | yes | yes | yes | Diagnosing a Headache in Chinese medicine with Freemind | mapping tools that allow for decision trees are useful here. |
| Linking concepts/ ideas | yes | yes | yes | Course outline using C-Map | C-map is useful for drawing out propositions associated with themes/ideas |
| Notetaking | yes | no | yes | Graphical Note Taking on an iPad. | Tools need to have very low tech threshold for note-taking without barriers. |
| Mapping a process | not really | yes | yes | simple process map using Open Office tools Process Documentation: Essay Writing using Freemind | in progress |
| Linking concepts across courses | yes | no | yes | in progress | in progress |
| Generating ideas | yes | yes | yes | in progress | in progress |
| Identifying existing knowledge | yes | yes | yes | in progress | in progress |
| Problem Solving | yes | yes | yes | process example | Bubbl.us best for ease of use. Others allow for more complexity to be added. |
Tools for mapping
Presentation
Workshop outline using Novamind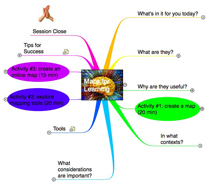 References/Resources
Ausubel, David P. Learning Theory and Classroom Practice. Bulletin No. 1. The Ontario Institute for Studies in Education, 1967.
Ekhaml, Leticia. "Graphic Organizers: Outlets for Your Thoughts." School Library Media Activities Monthly 14, no. 5 (January 1998): 29-33.
Novak, J; Canas,A. The Theory Underlying Concept Maps and How to Construct and Use Them. Florida Institute for Human and Machine Cognition, Pensacola Fl, 32502
Sowa, John F. Semantic Networks
International Conference on Concept Mapping: 2008 Papers and Proceedings
Tips for Success with Digital Mind Mapping
Select Bibliography
Chiou, C. (2008). The effect of concept mapping on students' learning achievements and interests. Innovations in Education and Teaching International, 45(4), 375-387.
Davies, M. (2011). Concept mapping, mind mapping and argument mapping: What are the differences and do they matter? Higher Education, 62(3), 279-301. Permalink
Budd, J. W. (2004). Mind maps as classroom exercises. Journal of Economic Education, 35(1), 35.
Francis, R. W. (2006). Using concept maps as assessment tools: Defining understanding. College Quarterly, 9(3).
See Also
| | | |
| --- | --- | --- |
| | Permission is granted to copy, distribute and/or modify this document according to the terms in Creative Commons License, Attribution-ShareAlike 1.0. The full text of this license may be found here: CC by-sa 1.0 | |
Help Develop This Resource
Help develop this resource! You only need to login with your CWL to edit this page.
Let us know if you found this resource helpful by filling out this short feedback form.