First principle: participation
Participation
There's this photo of Barack Obama taken by the Associated Press in 2008 when he visited Berlin:
What is notable about this photo?
And how is it like:
"In the days before machinery men and women who wanted to amuse themselves were compelled, in their humble way, to be artists. Now they sit still and permit professionals to entertain them by the aid of machinery. It is difficult to believe that general artistic culture can flourish in this atmosphere of passivity." - Aldous Huxley, 1927
Yet can the word "passivity" be used to accurately describe modern web culture?
First reason: It's the end of the world as we know it...
Most of us suspect that the "experts" don't really know what's going on and that as a species we've released forces that are neither managed nor manageable. This is the ingenuity gap, the critical gap between our need for ideas to solve complex problems and our actual supply of those ideas.
...we're all caught dangerously between a soaring requirement for ingenuity and an increasingly uncertain supply. As the gap widens, the result can be political disintegration and violent upheaval.
Given that, it seems to me there is a moral imperative to openness. It may be naive, but it seems like dangerous and blinkered thinking to consider openness as an add-on, or as a form of charity. We need to share our best ideas for our own selfish reasons.
Sees breakdown as inevitable. However, sees potential for web as means to manage breakdown, and Wikipedia and open source as models for the type of problem-solving we need for survival.
Speaking of Wikipedia...
The first project

Using volumes 25cm high and 5cm thick (some 400 pages), each page having two columns, each columns having 80 rows, and each row having 50 characters, ≈ 6MB per volume. As English Wikipedia has around 7.5GB of text (August 2007, length of wikitext counted by myself) ≈ 1250 volumes. Note that this is a conservative estimate, as it doesn't include images, tables etc. which take up more surface than the text which describes them.

UBC case study: Adventures in Wikipedia

Why does this work appeal so much?
fast, cheap, and out of control...
augments traditional literacy with new media literacy
results in genuinely useful public knowledge resources (perhaps the essence of open education resources)
students will respond to tasks that are authentic
Stewart Brand's broad interpretation of "tool" coincided with that given by the designer, philosopher, and engineer Buckminster Fuller, though another thinker admired by Brand and some of his cohorts was Lewis Mumford, who had written about words as tools. Early editions reflected the considerable influence of Fuller, particularly his teachings about "whole systems," "synergetics," and efficiency or reducing waste.
Publishing gets personal
Brian just loves his blogs: http://blogs.ubc.ca/brian and http://abject.ca
The power of the personal learning network

The stupidest thing you ever heard of can be a powerful mechanism...
You can stay focused on the resources, yet tap a network.
I will give you my continued readership if you give me interesting and regular updates. We can then build on this notion of reciprocal, but not identical, activity for more subtle interactions, let's call it shifted reciprocity. I can put out a lazyweb request on Twitter if I have either responded previously to such requests (standard reciprocity) OR I have given enough of myself to twitter, such that people feel well disposed towards me (shifted reciprocity) -- Martin Weller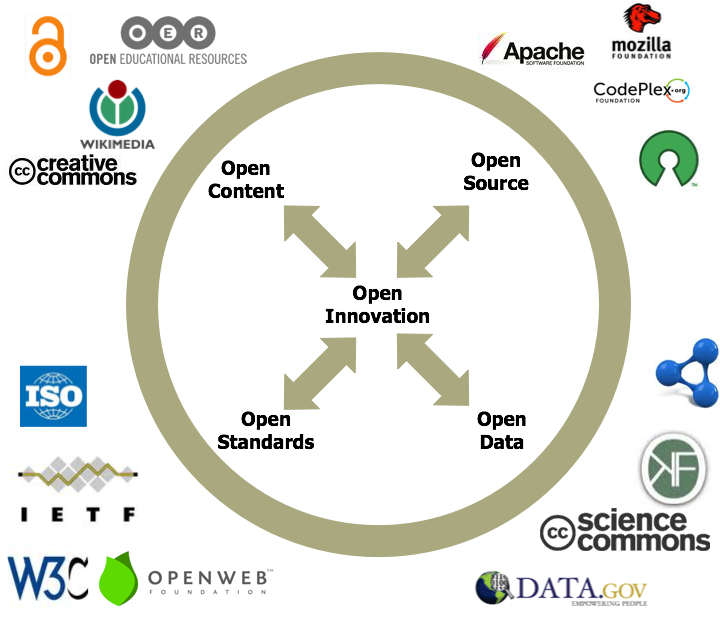 Open networks and open resources as a step... toward reclaiming the mandate of higher education as leaders and guardians of free and open inquiry
Small Pieces... Thoughtfully Joined?
The process is like a transparent layering of key ideas that are taken up again and contextualized anew.
from: The Technology of Collage
"...developing an open source publishing platform ...to gradually integrate into the school's general education curriculum the deep, critical examination of how digital tools are changing the way we think and live."
from: Luke Waltzer

"RSSify' everything" - Jon Udell (2007)
---
The Life and Times of a Resource
Here's how we are using that overview of social web tools for elearning.
The source wiki page also has an "Embed Page" link which allows it to be syndicated inside WebCT Vista (or most other HTML environments) via cut-and-paste code.
It can also be downloaded as a cleaned-up PDF, either standalone or as part of a larger collection.
"Authoring content in a public forum – ideally under an open content license – means that content becomes available for re-use even as it is being drafted. By opening up comments, feedback can be solicited that allows content to be improved by updating blog posts, if necessary, as well as identifying topics or clarifications that can be addressed in separate backlinking blog posts. By opening up the production process, we make it far more likely that others will contribute to that process, helping shape and influence that content, than expecting others to take openly licensed content as a large chunk and then produced openly licensed derived works as a result (i.e. forks?!)" -- Tony Hirst, Open Course Production
Component One: Wiki
private, standalone sites available HLWiki
"transclusion" - or chunking page content into tiny wiki bits (don't call them granular learning objects, please)
Extensions include WikiBooks
Namespaces for courses (example), documentation, etc... Along with categories.
Component Two: Blogs
Bloggity bloggity blogs
The Library has long been doing great things on our platform...
Sites
We're going full-blown CMS baby!http://cms.ubc.ca/
You can setup your UBC site in minutes. We support UBC's common look and feel as a theme. Partnering with Public Affairs and IT on delivering a UBC-wide CMS. WordPress has rapidly become the go-to system for site creation at the university.
Some of our sites:
http://chcm.ubc.ca/, http://earlylearning.ubc.ca/, http://act.elearning.ubc.ca/, http://strategicplan.ubc.ca/, http://thischangedmypractice.com/
Economics of Open Development
Mostly developed by wider WordPress community, but at least some bits of custom code
And a fairly wide array of plugins (our admin is very good at monitoring their effects on system performance)
Plugins developed by CTLT can be found on the OLT Dev WordPress.org plugins page.

Lots more open source, open standards, open content, open data and hopefully open minds.
Cost savings are waiting
OER Essentials
Let's start with an exercise. Take some time to think of a problem or anything else that requires learning content. Then, use some of the following tools to do some searching.

As an aside, there are countless sources of open content that may not be classified as formal "open educational resources". There are too many of these collections to list here, but some of Brian's personal favorites:
Music for podcasts: http://freemusicarchive.org
Khan Academy - http://khanacademy.org/ (Recent recipient of $2 Million grant from Google)
Race Relations Project: http://www.racerelationsproject.org/
New federal education fund makes available $2 billion to create OER resources in community colleges
You are welcome at the 2011 Open Education Conference, October 25-27. The 2011 conference venue is The Canyons resort in Park City, Utah.
Open instruction
The Massive Open Online Course (MOOC)
Pioneered by Stephen Downes and George Siemens
http://makingmakers.posterous.com/ - Maker culture http://www.youtube.com/makerculture#g/u - Interview videos
"a growing community of hobbyists and professionals dedicated to making their own functional devices, whether it be technological gadgets, open source hardware and software, fashion apparel, home decorating, or nearly any other aspect of physical life. The movement stems from a direct reaction to a consumer culture in which most products have become steadily homogenized and local industry has given into big box retailing of dull products made with cheap foreign labor."
A brief digression on open data
http://www.cyclevancouver.ubc.ca/ - nice example of open data transformed into a service to the community by a university
"So clearly structured—meaning edited, meaning user-edited—data is now going to be a big part of the web. There are going to be all kinds of new slots and tabs and links and nodes. And whether the users want this or not, it looks like they're going to get it, ...humans will need to be involved."
..."there's an insane glut of historical data, texts, and so forth, billions of human, historical, textual objects to come online from the millennia before the web. Plus a gaggle of history bloggers trying to contextualize it (the history bloggers are the best bloggers out there—but that's for a different day). Dealing with the glut—and we must deal with this glut, because what is more important than sorting all human endeavor into folders?—will require all manner of editing, writing, commissioning, contextualizing, and searching." -- Paul Ford
Do we need to control our platforms?
...big players like Facebook, Apple, and News Corp are potentially breaking the "small pieces loosely joined" model of the Internet. But perhaps most threatening of all are the natural monopolies created by Web 2.0 network effects.
One of the points I've made repeatedly about Web 2.0 is that it is the design of systems that get better the more people use them, and that over time, such systems have a natural tendency towards monopoly.
And so we've grown used to a world with one dominant search engine, one dominant online encyclopedia, one dominant online retailer, one dominant auction site, one dominant online classified site, and we've been readying ourselves for one dominant social network.
...it's a war against the web as an interoperable platform. Instead, we're facing the prospect of Facebook as the platform, Apple as the platform, Google as the platform, Amazon as the platform, where big companies slug it out until one is king of the hill.
And it's time for developers to take a stand. If you don't want a repeat of the PC era, place your bets now on open systems. Don't wait till it's too late.
-- Tim O'Reilly, The war for the web
Mobile web applications moving increasingly toward isolated proprietary model, and away from "the internet as platform. A shame, because open standards like RSS can already do so much to enable MobileCourseDiscussions.
To what extent does the economics of the Internet today resemble the early days of the automobile a century ago?
At the very least, demand for control of your data, that is especially vital for data portability
What kind of web do we want?
Rather than ask, "how is the web changing the higher education?" ...how can higher education change the web?
| | | |
| --- | --- | --- |
| | Permission is granted to copy, distribute and/or modify this document according to the terms in Creative Commons License, Attribution-ShareAlike 3.0. The full text of this license may be found here: CC by-sa 3.0 | |