Documentation
:
OpenBadges/Faculty Guide/Web Design/Create/Earners/Earning a Badge
Earning at Badge at UBC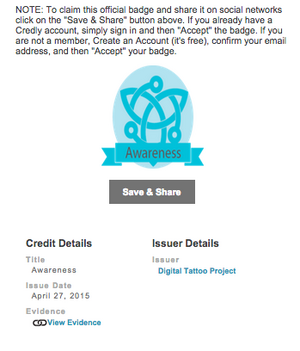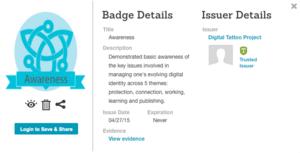 When you earn an open badge at UBC, you may be able to send your badge to a badge profile site called Credly to share publicly. Credly provides badge earners with a spaces to store, manage and showcase their badge credentials.
You will only be able to send your badge to Credly if the program or course designed the badges to be sent. Some badges may only be viewable on the website where you earned them.
If the badge has been set-up to be portable to Credly, you will be sent an email. The email will go to the account attached to your CWL.
Once you receive the email, click on the link labeled "Save & Share."
You will need to create a Credly account to save this badge on the profile site. To learn how to create an account, go to the "Create a Credly Account" guide below.
Sign in to your Credly account.
Select the "Accept" link under the badge image. The badge will now be in your collection.