Documentation
:
OpenBadges/Faculty Guide/Web Design
These notes pertain to the redesign of http://badges.open.ubc.ca/ to accommodate a guide for faculty in designing open badge learning pathways for a course or learning activity.
Site content
Overall goals for the site
For visitors to:
understand the affordances of open badges to support learning
understand how to execute a basic open badge implementation in their WordPress course/learning environment
assess purpose and goals related to their own badge implementation.
Assessment
Quiz on open badge benefits/purpose.
Nomination for badge on form submission (consider email option for them to send form to themselves as a planning guide).
Comment: Why do you think open badges are important for your course/project?
Top Level Themes
Overview: Learn
Considerations: Plan
Implementation: Create
Showcase: Showcase
Form : Engage
Community -> Support contacts
News
Theme Topics
Learn
This is the overview of the badges:
What are open badges?
What is the value of open badges? Examples.
What are the components of a badge? Anatomy.
Academic Badge Initiative
Plan
Purpose and goals for badge implementation
Learning Pathways
Create
Plugins (Badge OS and Learn Dash -can be a diagram )
Achievements.
Badges

Badge design
Uploading Image, adding descriptions
Badge Triggers

comments, submission, nomination, Quizzing.

Quizzes

How to make a quiz in Learn Dash
Quiz limitations
Note about interface.
Statistics

Connect Badges (we should have documentation related to this as well)
Projects
Showcase/ Examples
Strategies
Learning wrapper?
Pull outs for reminders or "please note"
Tagging existing posts with themes.
Showcase form as in TWP15
Web Design 2.0
Content divided between themes
Educate: information about Open Badges; pedagogy and research; how and why badges are used; further reading. The WHY of Open Badges.
Technical: toolkits and How To documentation; instructional videos, flowchart of badging process. The HOW of Open Badges.
UBC: the blog, pilot projects, events. The WHO of the UBC Open Badges project.
Home
Provides information about the project; what the website contains and who it's for; link to the "Earn a Badge" page.
Learn
Answers the Who, What, Where, Why and How. Provides summary information about digital badges, open badges, and the badge community
What are Open Badges
Why use Open Badges: value and benefits for badge issuers, badge earners, and the badge community
Who is using Open Badges: links to badging projects in different sectors, possibly with short explanatory notes.
Badging Pathways: level & metalevel badges, learning pathways
Further Reading
Plan
Educational design, decision making guide.
Getting Started Toolkit ---- similar to the paper based Badge Design Workbook used in the design studios. Learning pathways.
Toolkits
Similar to the DIY Media Toolkits page, with modular toolkit design.
Must present a clear ordering of steps to badge creation.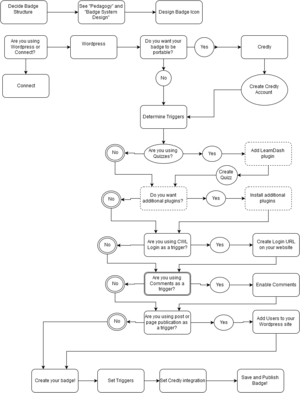 Getting Started Toolkit ---- similar to the paper based Badge Design Workbook used in the design studios. The planning/process/decision making arena.
Designing a Badge System: learning pathways in more detail, 3Ts
Badge icon design
Wordpress: Setting up your Wordpress CMS or blogs site for badging (plugins etc.) // Login Links // Creating a quiz in LearnDash // Creating badges // Setting badge triggers // Credly Integration
Connect
Credly
Social Media
Examples/Engage
Information about the pilot projects at UBC.
Blog/Community News
Resources
additional reading/bibliography
forms/pdfs/worksheets