UBC Exchange
Information
Bus routes:
15
Bays:
13
The UBC Exchange (formerly known as the UBC Loop) is a bus exchange located at the University of British Columbia, Point Grey campus[1]. It serves 15 bus routes including the 99 B-Line, the busiest bus route in North America as of 2019[2].
History
The UBC Exchange was first opened in 1945, and was enhanced with the addition of trolley wires in 1988[2]. Further improvements were made in 2003, and this was followed by a major upgrade that concluded in 2019[1][2].
Bus Routes
The UBC Exchange serves 15 bus routes. The information below is current as of January 2023[3].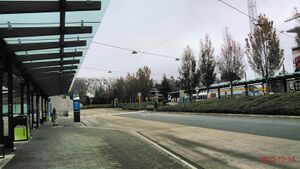 Regular Services
Bay
Route
Destination
1
33
29th Avenue Station
68
Wesbrook Village
2
84
VCC-Clark Station
3
44
Downtown
4
R4 41st Avenue
Joyce Station
5
49
Metrotown Station
480
Bridgeport Station (suspended indefinitely)[4]
6
25
Brentwood Station
7
99 B-Line
Commercial-Broadway Station
8
-
-
9
9
Boundary
10
14
Hastings
11
4
Powell
N17 NightBus
Downtown
12
HandyDART
-
13
258
West Vancouver (suspended indefinitely)[5]
References