Library:EZproxy/Tools/LibX/Install
The UBC Library edition was developed with LibX release version 2.0 . Currently, UBC'c LibX is only available for Chrome.
For Chrome Users
To install the EZproxy Bookmarklet in Chrome, click here. You will be taken to a new page with a button for adding UBC LibX 2.0 to Chrome.

After clicking on the button, a pop-up window will appear you asking you to confirm that you want to install LibX as a browser extension. If you are ok with adding the extension, click Add. For more information on LibX Privacy Policy, please see the LibX Settings section.

A new pop-up window will appear in the top right-hand corner of your browser notifying you that you have added the extension successfully. An icon for LibX (a blue UBC image) will also appear in your browser.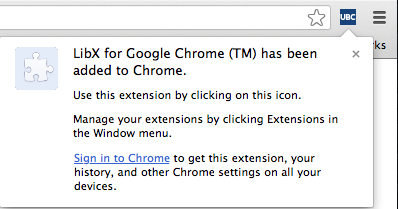 Clicking on the UBC icon will give you access to the drop-down LibX toolbar.