About EZproxy
What is EZproxy?
EZproxy is a web proxy server which acts as an authentication system, verify that users are current UBC authorized users. Many of the journals, ebooks, streaming videos and other online resources to which the Library has licensed access, require this verification for off-campus access because of license agreements between the library and its vendors. Once signed in to the EZproxy server, EZproxy dynamically rewrites URLs of electronic resources and uses its own IP address, producing the same effect as if the off-campus user was on the UBCSecure network or at a Library computer terminal.
Who can use EZproxy?
Current UBC students, faculty, and staff members are able to log into EZproxy using their authorized CWL.
Alumni with Alumni Cards (A-Cards) can also use their authorized CWL to access select resources.
Affiliates College faculty & staff and Faculty Authorized users can log in using their authorized UBC/Library card Barcode & PIN.
If you are having trouble logging in, please contact the UBC Library Help Desk.
Is EZproxy the only way to access UBC Library resources?
Generally, you do not need to use EZproxy if you are connected to the UBCSecure wireless network, (not ubcvisitor), or are using a computer located within the UBC network, such as a Library workstation. However, a few resources always require EZproxy.
Some faculty members, staff and graduate students may not need to connect via EZproxy if they have set up a remote desktop on a home computer; simply open the browser on a campus computer to connect as if on campus. Note: Remote desktop software is managed and supported by departmental IT units, not the Library.
EZproxy connectivity is also not necessary for library resources free of subscription-based licensing agreements such as those in cIRcle (UBC's digital repository), UBC Library's Open Collections, DOAJ Directory of Open Access Journals, or Open Access Indexes & Databases.
Can myVPN be used to connect to UBC Library resources?
UBC's myVPN service does not provide direct access to UBC Library's electronic resources. The combining of MyVPN and EZproxy can cause access problems. Only use EZproxy.
How do I connect to EZproxy?
To connect to EZproxy, simply go to the Library homepage at www.library.ubc.ca
Click on 'Login' on the right side of the top navigation menu.
Select 'EZproxy Login' from the drop-down as shown below.
Note: Logging in to your My Library Account is not the same as logging into EZproxy.
Or, search for a resource via one of our discovery gateways such as Summon. When you click on a link to a resource, you will be presented with the EZproxy login page.
On the EZproxy Login page enter your CWL or (for Faculty Authorized researchers, Affiliated Colleges Faculty/Staff) your Library Barcode/PIN.
Alternatively, you can also bookmark the EZproxy login page.
If you are off-campus, it is recommended that you log in to EZproxy before accessing the Library and its resources.
Known Problems
If you can't connect to a resource via EZproxy, check first to make sure that the problem isn't on the side of the resource. UBC Library has an eResources: Service Bulletins blog that provides the latest news on database and system periods of downtime.
If you are having difficulty connecting to EZproxy from a business, corporate, or other secure network it may be due to firewall restrictions and you will need to consult the network admin or IT department in order to configure your firewall settings to allow you access.
You may receive an error message when trying to access an electronic resource for which UBC Library does not provide access. You will only be able to access electronic resources which are licensed by UBC Library and have been added to the Library's EZproxy configuration file. If you receive an error message and are denied access to an academic resource that you think the Library may have a license for, please contact the Library's Collections Services Department via the Electronic Resources: Problems, Questions and Comments form.
Getting Help
CWL and Standard Library Login (Barcode/PIN)
For issues related to your CWL account, contact UBC's IT Service Centre Help Desk by:
If you are having trouble with your Standard Library Login, invalid PINs can be reset:
Online via the Forgot Your Pin? form.
Phoning UBC Library (Vancouver): 604-822-2406
Phoning UBC Library (Okanagan): 250.807.9107
Note: New PINs may take up to 20 minutes to take effect.

Resource Access
If you cannot access the resource for any other reason, please contact UBC Library's Collections Services unit using the Library Electronic Resources: Problems, Questions, Comments form, and consult the eResources: Service Bulletins blog for access news.
If there is an urgency to the problem, you can also reach Collections Services' eResources & Access unit by phone at 604-822-4192 between 8:30 a.m. and 4:30 p.m. Monday to Friday.
Tips, Tools, & Troubleshooting
For more on using EZproxy, check out the Library's EZproxy Tips & Troubleshooting page and the EZproxy Toolkit.
Tips
Staying Connected
Once logged in, typically an EZproxy session should remain valid, but will time out after 2 hours of inactivity.
However, in order to stay in an EZproxy session, you must also:
Conduct all your research within the same browser you used to log in to EZproxy. The session will, however, bridge across multiple tabs of the same browser:
Navigate the web in a pathway, or chain, by following links or using your browser's forward and back arrows as much as possible, instead of hyperlinking between sites. For example, if you use UBC Library's Indexes & Databases page to click through to a database, you will be connected and 'in' an EZproxy session. You can search the database for materials and all of your results will be available to you, but if you then decide to click on a site you have bookmarked or type in a URL for a new site directly into your browser address bar, you will jump 'out' of the session. If you find this happening a lot to you or are interested in having additional support for connecting to resources, see the Library's EZproxy Toolkit.

When in doubt, check your URL address for the word 'ezproxy.' If it's there, then you're connected.



If you are connected but still not able to access a resource or are prompted to pay for it, please contact the Library's Electronic Resources department via the online Problems, Questions and Comments form.
Setting Up Your Browser
If you're having problems, it may be that you need to configure or reset your web browser settings.
Enabling Cookies
EZproxy uses cookies to store and send data that verifies you are in a connected session and an authorized user. Therefore, successful use of EZproxy requires that your browser has cookies enabled. For information on how to enable cookies, follow the instructions on UBC IT's Browser Help page.
Clearing Your Cache
Your browser may also be caching — temporarily storing and automatically retrieving — web content from past sessions, including failed sessions. If this is the case you'll need to delete this content from your browser's memory by clearing your cache and restarting your browser.
Enabling JavaScript
Some resources may also require that you have JavaScript enabled. UBC IT also provides instructions on How to Enable Javascript.
Using Google Scholar
When using Google Scholar It is best NOT to sign into EZproxy first. If you have a Google/Gmail account, sign in.
Setting Up Your Library Links
On the Google Scholar homepage:
Click on "Settings" and then "Library Links"
Find and select "University of British Columbia - UBC eLink" and/or "University of British Columbia Library - UBC eLink" and "Save"
It is advisable to create an account so that your Library Links settings can be saved for future visits. Without an account, you will need to set your Library Links manually.
Once configured, Google Scholar will display a "UBC eLink" beside results that it recognizes as available at UBC Library. Click on the UBC eLink to connect to the resource (full-text online or print). Off-campus users will be prompted to authenticate via EZproxy.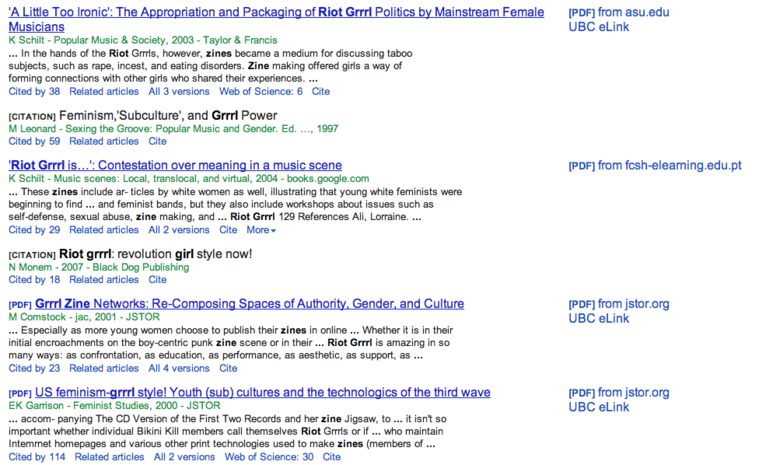 Keeping Updated
Sometimes databases experience temporary periods of downtime. If you're sure you've got EZproxy working but still can't connect to a resource, check the UBC Library eResources: Service Bulletins blog first to make sure the resource itself isn't the problem.
The Library's eResources & Access unit is responsible for managing the e-resources lifecycle, including troubleshooting access problems and providing day-to-day support to users by responding to queries.
Finding Help
There are many services offered by the Library that can help you access the e-resources and digital collections you need.

Tools
EZproxy Link Generator
EZproxy Link Generator
Want to create a link to a UBC Library licensed resource for off-campus use? Use our EZproxy Link Generator!
How do I use the EZproxy Link Generator?
Paste the URL into the box below and click "create." This will add the EZproxy prefix to your URL, therefore triggering the system to authenticate users and ensuring the link will work off-campus.
The resulting URL can also be shared with your UBC colleagues and students and embedded into other content, like Canvas and Research Guides.
For best results, we recommend using a persistent URL, or PURL, with the link generator. A PURL is a link to a specific web page that remains stable over time. Many people don't know that some urls are "session-based" and only work for the duration of your search session. If you try to access a session-based url after you log-off, navigate away from the page and/or several hours later you will get an error message instead of the page you were expecting. To learn more, see our guide to Finding Persistent URLs.
If you do not wish to use the link generator tool above, you can paste the following prefix directly in front of your PURL (i.e. no spaces between the prefix and the PURL)


https://ezproxy.library.ubc.ca/login?url=

Other Tools Available
The Link Generator and Bookmarklet provide enhanced support and easier access to e-resources for off-campus users. Other tools may be available, but are not supported by UBC Library. They may also not be as comprehensive in scope and cover all of UBC Library's resources. Some of these options include:
Zotero
*DOCUMENTATION OUT OF DATE. DO NOT SET ZOTERO FOR EZPROXY*
Those who use Zotero may be happy to learn that the popular citation management tool also provides some support for EZproxy to users of the Firefox extension. To configure Zotero to work with EZproxy, users must add the proxy address under the Proxies tab in Preferences (for more information, see the relevant Zotero documentation).
Make sure to check off both the 'Enable proxy redirection' and 'Automatically recognize proxied resources' options. To add EZproxy access for UBC Library, click on the plus sign, check 'Multi-site' then enter the following into the scheme field:

Please note that only resources that the user has previously visited while proxied will be recognized by the Zotero proxy tool (resulting in automatic access or a redirection to UBC Library's EZproxy login page). This is because the tool learns from a user's activity - therefore, the more resources you visit while proxied, the more resources Zotero will save and remember for the future.
Mendeley
*DOCUMENTATION OUT OF DATE. DO NOT SET MENDELEY FOR EZPROXY*
The Mendeley website also offers some support for EZproxy access for searches in its crowd-sourced research catalog. To configure EZproxy access in Mendeley for UBC Library, log into the site, click on the Papers tab, and then search for a paper or click on any of those listed as popular. On the paper's overview page, click the 'Find this paper at:' button and select 'Edit library access links.'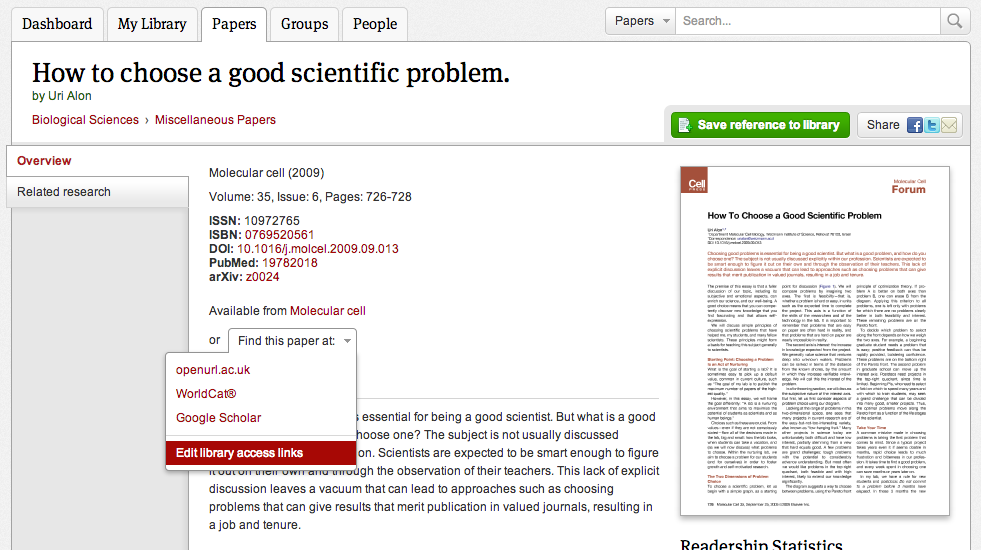 Choose 'Add library manually,' and then enter UBC Library for name and the following for base URL:
From now on, clicking on 'Find this paper at' will give you the option of searching in UBC Library and should connect you directly to our holdings.

Papers App
*DOCUMENTATION OUT OF DATE. DO NOT SET PAPERS FOR EZPROXY*
Papers, a citation management application that can sync up your collection of references and PDFs across your desktop, laptop, and iPhone, iPad, or iPod touch, can also be configured so that electronic resources are automatically prepended with UBC Library's EZproxy prefix. Please note that Papers is not supported by UBC Library.
To configure EZproxy for iPhones, iPads, or iPods, you must first manually add the following prefix to the Papers application under "Proxy Settings" in the Settings menu:


Make sure to toggle the "Use EZProxy" option to "On."
For desktop or laptop usage, you need only to select the University of British Columbia as your Library Proxy from a drop-down list of universities—how you do this will depend on the OS (Windows or Mac) you are using. For Windows, the option is available under Access -> Options. For Mac, go to Preferences -> Access. Please see below for an example of how to add UBC Library to Papers for Mac:
In the application menu, navigate to Papers and select "Preferences..."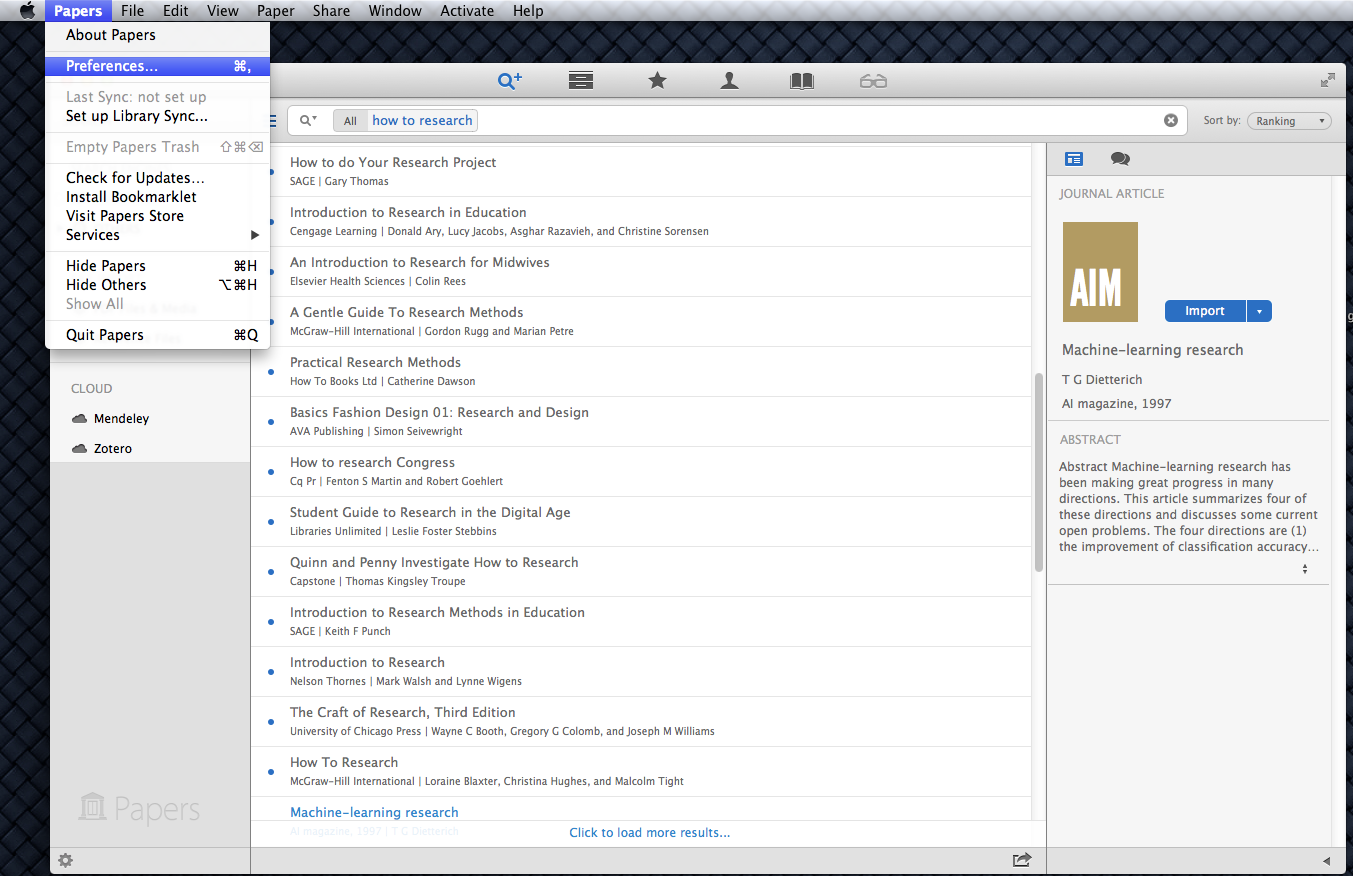 Click on the "Access" tab. If you have not yet configured EZproxy, you should see the message "No proxy selected" in the "Use Library Proxy" field.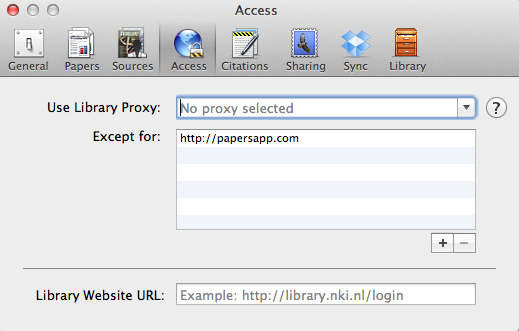 Click on the drop-down menu and scroll through the options until you find "University of British Columbia."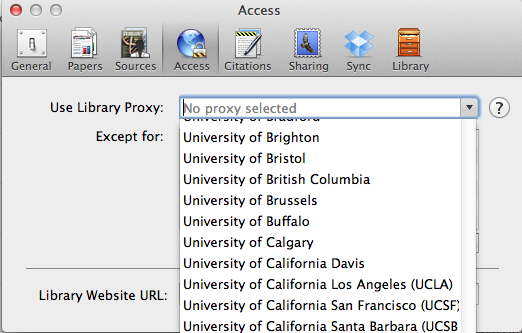 Select and close the menu. (We recommend leaving the Library website URL field empty)