Library:EZproxy/Tips
Staying Connected
Once logged in, typically an EZproxy session should remain valid, but will time out after 2 hours of inactivity.
However, in order to stay in an EZproxy session, you must also:
Conduct all your research within the same browser you used to log in to EZproxy. The session will, however, bridge across multiple tabs of the same browser:
Navigate the web in a pathway, or chain, by following links or using your browser's forward and back arrows as much as possible, instead of hyperlinking between sites. For example, if you use UBC Library's Indexes & Databases page to click through to a database, you will be connected and 'in' an EZproxy session. You can search the database for materials and all of your results will be available to you, but if you then decide to click on a site you have bookmarked or type in a URL for a new site directly into your browser address bar, you will jump 'out' of the session. If you find this happening a lot to you or are interested in having additional support for connecting to resources, see the Library's EZproxy Toolkit.

When in doubt, check your URL address for the word 'ezproxy.' If it's there, then you're connected.



If you are connected but still not able to access a resource or are prompted to pay for it, please contact the Library's Electronic Resources department via the online Problems, Questions and Comments form.
Setting Up Your Browser
If you're having problems, it may be that you need to configure or reset your web browser settings.
Enabling Cookies
EZproxy uses cookies to store and send data that verifies you are in a connected session and an authorized user. Therefore, successful use of EZproxy requires that your browser has cookies enabled. For information on how to enable cookies, follow the instructions on UBC IT's Browser Help page.
Clearing Your Cache
Your browser may also be caching — temporarily storing and automatically retrieving — web content from past sessions, including failed sessions. If this is the case you'll need to delete this content from your browser's memory by clearing your cache and restarting your browser.
Enabling JavaScript
Some resources may also require that you have JavaScript enabled. UBC IT also provides instructions on How to Enable Javascript.
Using Google Scholar
When using Google Scholar It is best NOT to sign into EZproxy first. If you have a Google/Gmail account, sign in.
Setting Up Your Library Links
On the Google Scholar homepage:
Click on "Settings" and then "Library Links"
Find and select "University of British Columbia - UBC eLink" and/or "University of British Columbia Library - UBC eLink" and "Save"
It is advisable to create an account so that your Library Links settings can be saved for future visits. Without an account, you will need to set your Library Links manually.
Once configured, Google Scholar will display a "UBC eLink" beside results that it recognizes as available at UBC Library. Click on the UBC eLink to connect to the resource (full-text online or print). Off-campus users will be prompted to authenticate via EZproxy.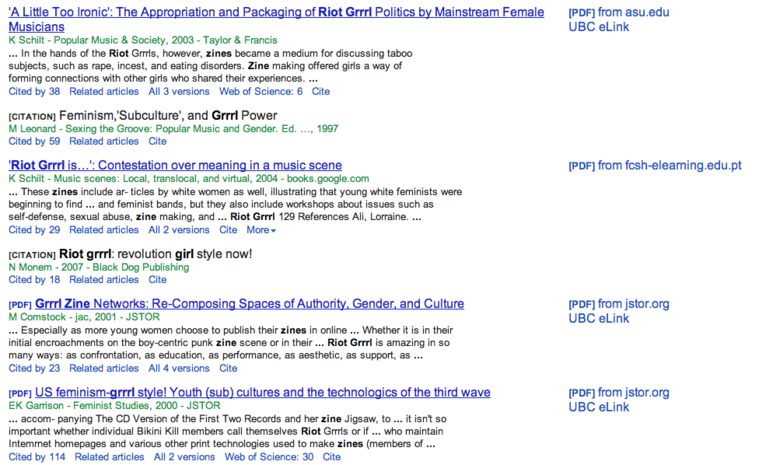 Keeping Updated
Sometimes databases experience temporary periods of downtime. If you're sure you've got EZproxy working but still can't connect to a resource, check the UBC Library eResources: Service Bulletins blog first to make sure the resource itself isn't the problem.
You can also follow the UBC eResources Twitter feed to find out the moment access has been restored.
The Library's eResources & Access unit is responsible for managing the e-resources lifecycle, including troubleshooting access problems and providing day-to-day support to users by responding to queries.
Finding Help
There are many services offered by the Library that can help you access the e-resources and digital collections you need.