Library
:
/Circle/Finding cIRcle from the Library Home Page
What's in this guide?
This guide is designed for UBC Librarians and library staff, and describes each of five easy methods to reach cIRcle content from the library's home page.
To demonstrate each method, the guide includes screenshots which show you how to use each method to reach the following cIRcle resource:
What is UBC cIRcle?
cIRcle is UBC's digital repository, an open access, online repository designed to showcase and preserve UBC's scholarly output. All UBC theses and dissertations are publicly available through cIRcle, as are many articles, conference papers, data sets, and other multimedia materials.
You can Visit our website for more information about cIRcle. You may also wish to review our FAQs.
Tip Don't forget that https://circle.ubc.ca is a handy bookmark to have and an easy URL to remember. From our home page you can search cIRcle content, browse collections, and generate RSS and Atom feeds. You can also find out who's using cIRcle, what projects we're working on now, access our easy "cut and paste" email license forms, consult our how-to guides, and more.
Finding cIRcle from the UBC Library Home Page
Reaching cIRcle from Summon
As you probably know, basic searches in Summon can retrieve cIRcle content.
Summon's Advanced Search feature allows you to limit results by content type, to ensure that you retrieve only theses and dissertations.



Note, however, that Summon searches are not restricted to cIRcle content, and may return results from the Library's catalogue and database subscriptions.
back to top

Reaching cIRcle from Search Collections
From the Search Collections tab, click on UBC Research to search for cIRcle content. Or, click on the Advanced Search button for more options.
Your search results will appear in cIRcle's search interface, and can be sorted as necessary.



The Advanced Search feature here offers the same functionality as cIRcle's Advanced Search. Your search results will appear in cIRcle's Advanced Search interface and can be refined and sorted as necessary.

Tip The Advanced Search feature on the Library page does not yet include cIRcle's newest search option: Thesis Degree, which allows you to limit results to items created for a Ph.D., M.A., M.S., or other type of degree. However, once your initial search is complete, you can easily refine your results by specifying a Thesis Degree in the cIRcle search interface.
Finding cIRcle through Get Research Help
You can find a quick introduction to cIRcle, including information on who can contribute, in the Get Research Help tab, under Publishing Your Research. The first link here, Getting Started with cIRcle, is a great resource for content creators and recruiters alike.
Finding cIRcle with Use the Library
Both Use the Library links lead to the same page.

At the bottom of that page, under Guide for Library Users, you'll find a link to Graduate Students.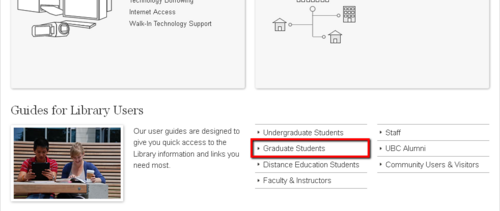 On the Graduate Student page, select the Research tab, and scroll down to Writing and Publishing. The cIRcle link here leads to our homepage.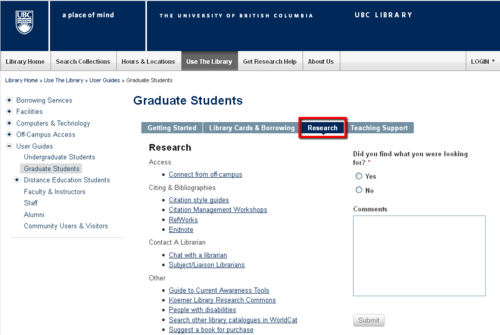 back to top

Finding cIRcle with a Site Search
Finally, you can search for cIRcle though the Library's search screen, or through the UBC search bar in the header.
The first result for either search leads to our Getting Started with cIRcle guide.



or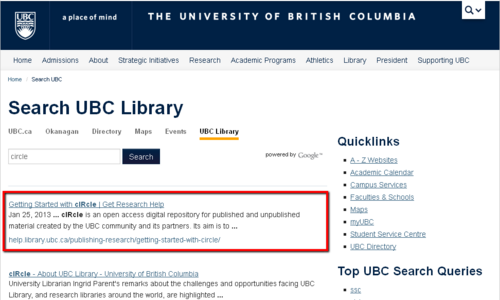 The final destination: