Documentation:REEF/Information for Students
Jump to navigation
Jump to search
Thinking of using REEF Education?
Your instructor must set up REEF for you to use it. Check with your instructor about whether they are using REEF Education in class before you purchase a subscription.
Pros
Any device with an internet connection can be used to answer regular clicker questions. This includes smartphones, laptops, and tablets
There is an app for both iOS and Android users. Other devices can access REEF Education through a web browser
Eliminates the need to bring a physical clicker to class
Free two week trial available - if you've forgotten your existing clicker, try this out as a temporary replacement
Review questions after class to use as a study guide
Cons
Your device must have a stable internet connection to use REEF Education
Battery life of your device will be shorter than that of a regular clicker
You can't re-sell or share REEF Education like you can with a physical clicker remote (The Bookstore buys back used iClicker+ for $25.00 CAD)
REEF Education takes a little more time to send a vote than a regular clicker. The delay is about one or two seconds, so be sure to factor this in if you frequently vote at the last moment.
Price Comparison
iClicker+
New from bookstore: $49.95

Used from bookstore: $37.45

REEF Polling
6-month subscription: $20.99

1-year subscription: $32.99

2-year subscription: $44.99

4-year subscription: $66.99
Registering for REEF Education
Make sure your instructor is using REEF Education in their course! REEF Education will not work unless your instructor has set it up.
You can register through the app or online in a web browser. To register online, click the "Create a New Account" link found here
Click "Create a New Account" to create a REEF Education account
Fill in the fields.
5. You are now registered for REEF. You can use REEF to respond to questions in class.
To register your iClicker in Canvas
Follow the instructions for iClicker Registration in Canvas.
Registering Physical Clicker in a REEF Course
If you choose to use the physical clicker in the REEF course, you still need to create a REEF account and register your clicker there in order receive grades for your responses. This is different from registering your clicker on Canvas.
1. Follow the steps found above to link your REEF account. Create one if you don't already have it.

Note: You do not need a valid subscription to register a physical clicker on your REEF account. Your clicker responses will be recorded as long as you have a REEF account that you have linked to the corresponding Canvas course.

2. Then register a physical remote ID to your REEF account here:
You will only be able to answer multiple choice questions with physical clickers (i>clicker and i>clicker+ remotes).
DO NOT USE REEF AND YOUR CLICKER FOR THE SAME QUESTION. If you answer the same question with both your physical clicker and your REEF account, you may not receive grades for your response.
Using REEF Education
In class, use the REEF Education app on your mobile phone or log in with your laptop at https://app.reef-education.com/
Your course should be already added to your list of REEF Courses if you have followed the above steps.
Select the course to join polling session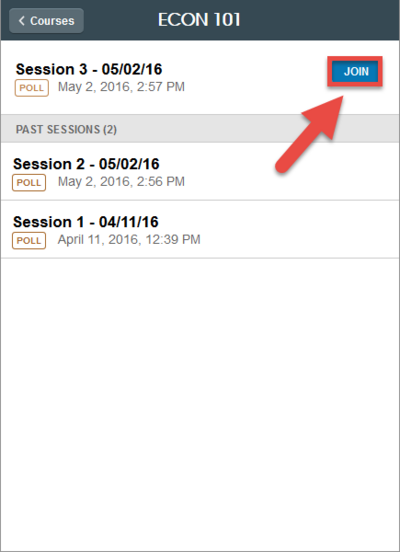 4. Select your answer after the instructor starts the polling. If allowed by your instructor, you can review the question after class.