Documentation
:
Open UBC/Guide/Finding OT
What Are Open Textbooks?
An open textbook is a textbook with an open license that allows the material to be freely accessed, shared and adapted. Open licenses allow instructors to adapt, remix, or customize existing open textbooks to maximize instructional content to meet their own learning objectives. Many open textbooks are developed through traditional peer review, others are vetted by experts. As with any textbook, the instructor is the final judge of whether an open textbook meets the needs of the course. They are free for anyone to view and download in an online format and can be made available in a print format at a nominal cost.
Why Use Open Textbooks?
A major motivation for me was certainly the desire to save students money. However I also want to make the material easy to access, for example, by sending students PDF documents, or by copying and pasting sections of the text into emails and so on. So it is not just that the books are free but they are also easy to access.
Dr. Matthew J. Holian, San Jose State University, California State University, CA
Some of the reasons why faculty and instructors are adopting open textbooks, include:
Open textbooks allow for increased flexibility in course design
Open textbooks reduce student costs
Open textbooks are of similar or higher quality than closed textbooks
Student outcomes are high when assigned open textbooks
Administering reading lists is easier
Finding Open Textbooks in UBC Library
UBC Library has several open collections, including open textbooks, accessible through the Library search Summon. Among the collections are:
All of the collections may not be accessible through the UBC Library systems. To review additional open textbook collections and their full catalogue of items, review the "Open Textbooks Databases" content below.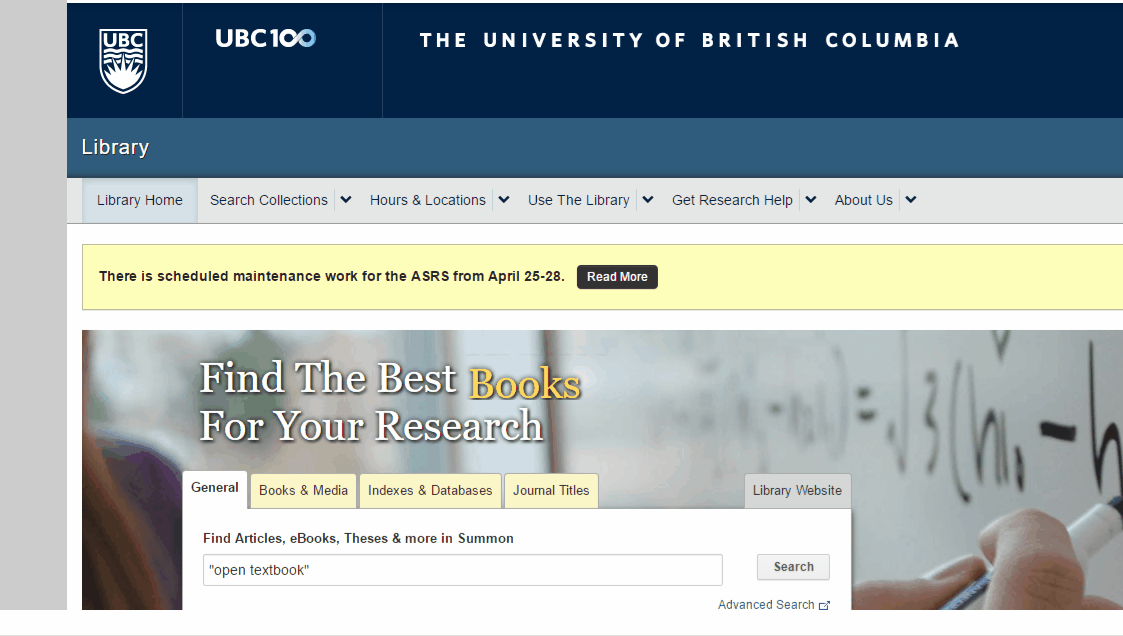 Step 1
Go to UBC Library and search for "open textbooks" in the General search bar.
Step 2
Using the filters on the left side of the results page, limit the search results to Full Text Online and Books/Ebooks. This will yield a list of items that are either open textbooks or cover open textbook issues.
Step 3
To find textbooks in your discipline, limit to an area of study using the Discipline filter.
Open Textbook Databases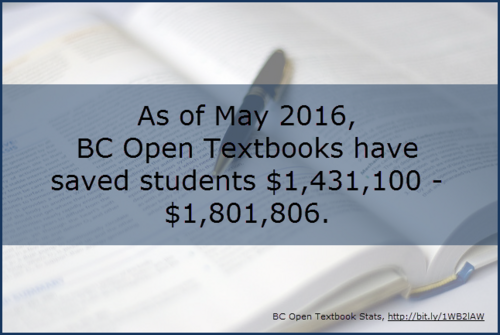 While UBC Library has a number of accessible open textbook collections, there are additional external open textbook databases you can use to find the perfect text for your course.
George Mason University's OER Metafinder searches fifteen of the leading OER repositories with a single query. Users can perform broad queries across all sources or they can search for terms in full record, title, or author(s). They can also specify a date range and narrow their searches to a specific date range.
The B.C. provincial government announced on 16 October 2012 it will fund Canada's first official open textbook project. It wants open textbooks for the 40 most popular post-secondary courses in the province. In May of 2014, the project was expanded to include 20 open textbooks for targeted trades and skills training programs.
Open SUNY Textbooks is an open access textbook publishing initiative established by State University of New York libraries and supported by SUNY Innovative Instruction Technology Grants.
OpenStax College offers students free textbooks that are peer-reviewed & written by professional content developers.
Open Academics Textbook Catalog
Hosted by the University of Minnesota, this site is a catalog of 150 open textbooks covering Business, Accounting, IT, Economics, Math, Humanities, Law, Math & Statistics, Natural, Physical and Social Sciences.
Florida's operational repository project of open source educational materials.
Lists open textbooks by subject, many of which have been peer reviewed.
The Global Text Project is a joint project of the Terry College of Business of the University of Georgia and The Daniels College of Business of the University of Denver. A collection of open textbooks in the areas of Business, Computing, Education, Health, Science and Social Science.
Content Commons of free, open-licensed educational materials in fields such as music, electrical engineering and psychology.
The MERLOT collection consists of tens of thousands of discipline-specific learning materials, learning exercises, and Content Builder web pages, together with associated comments, and bookmark collections, all intended to enhance the teaching experience of using a learning material.
Open Culture:The best free cultural & educational media on the web
Open Culture is a site with a variety of open education resources including textbook, audio books, online courses, and MOOCs.
This article is a candidate for deletion.
If you have any concerns, please start a discussion on the talk page.
This article is a candidate for deletion.
If you have any concerns, please start a discussion on the talk page.