Documentation
:
Open Case Studies/LAW/Resources
Images for the Law Case Study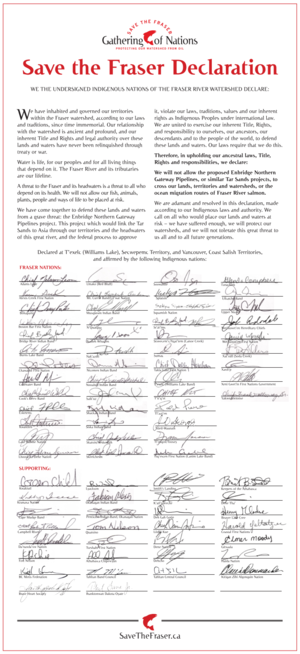 Video for the Introduction of the Case Study

Gateway: The Enbridge Northern Gateway Pipeline A film by Ben Paull
Secondary Videos for Potential Use

Original Enbridge Nother Gateway Pipeline Route Animation
Citations
Question References
Aboriginal Rights
Borrows, John. "With or without you: First Nations law (in Canada)." McGill LJ 41 (1995): 629.
Why BC First Nations Oppose the Northern Gateway Pipeline https://www.thestar.com/news/atkinsonseries/2015/08/28/why-bc-first-nations-oppose-the-northern-gateway-pipeline.html
Case Study References
Northern Gateway. Project Outline. Retrieved on May 20, 2016 at http://www.gatewayfacts.ca/About-The-Project/Project-Overview.aspx
Additional Resources
Huff Article [1]
Huseman Article [2]
Urquhart Article[3]
Tar Sands and Indigenous lands: http://oilsandstruth.org/on-matter-tar-sands-amp-indigenous-lands
Preston Article [4]
O'Faircheallaigh Article [5]
Indigenous Foundations Website [6]
References