Documentation
:
OpenBadges/Faculty Guide/Web Design/Learn/Value of a Badge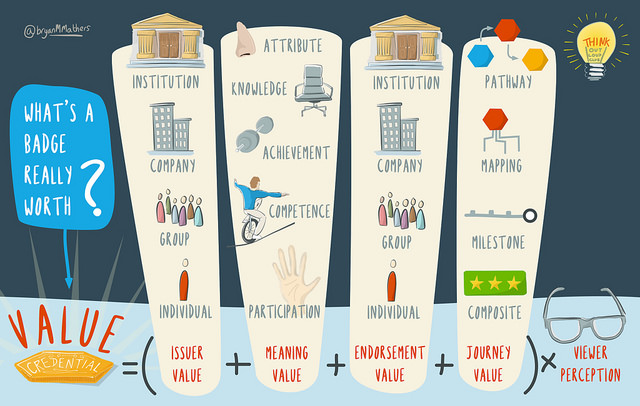 Badges have the ability to clarify learning outcomes for students while validating achievement of granular skills, knowledge and attitudes expected of students by the end of a course. The granularity of badges can help instructors track student activity, providing greater detail when assessing the unit or larger course for revision. Additionally, badges can describe the student learning pathway within a degree or program at a more detailed level that a degree with a broader view cannot.
The potential of badges outside of academic institutions can provide meaningful and tangible value to the badge earner and the larger community as a whole. A major benefit to badges is the ability to connect knowledge, skills and achievement to a specific need within the external community. Public endorsement of badges that align with the values and needs of a organization creates a natural partnership between stakeholders of a badge (e.g. educators, community partners, business, etc.) and assists badge earners in directing their own learning by selecting badges that have the most value for achieving their goals.
Badges in this context can:
develop a collaborative approach to education that addresses both academic, local community and market needs;
validate competencies, skills and attitudes at a more granular level than a transcript or degree;
provide a strategic approach for badge earners in developing their learning portfolio;
promote an open ecosystem and badge-based learning across the UBC community and beyond.