Documentation:Clickers and Connect/iClicker Course Configuration
iClicker Course Configuration
Open iClicker and click "New"
Enter your course name under the "Course Name" field and click "Create"
Select the course you just created and click "Settings"
Add the Instructor Remote ID found on the back of your blue remote. No clicker ID contains the letter 'O', although it may contain zeroes.
Disable the frequency alert message by going to "Frequency code" and pick "not at all" from the "Show frequency alert message" drop down list.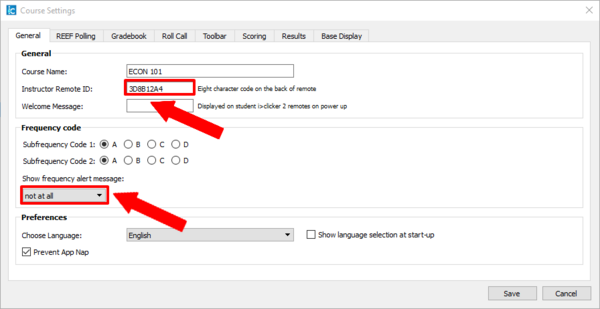 6. Enter other settings that may be appropriate to your course. For example:

Under the "REEF Polling" tab, instructor has the option to enable REEF Polling to allow mobile responses.
Under the "Gradebook" tab, click on "Select Course" to sync with Connect
Under the "Toolbar" tab, set the Polling Timer to count up, or count down from a time interval of your choice
Under the "Scoring" tab, determine whether points will be awarded based on the session as a whole, based on responding to a question (any answer accepted), or only for submitting the correct response. Note the default scoring setting awards students 1 participation point for responding to at least 75% of the questions in a session, and 1 performance point for each correct response

7. Click "Save"