Documentation:Clickers and Connect/UBC iClicker Registration in Connect
To register your iClicker in Connect, follow these steps:
Log in with your CWL at http://connect.ubc.ca/
Navigate to a course you are enrolled in which is using clickers
Find the "i>clicker Remote Registration" link under course contents or in the sidebar

Click on the link and enter your iClicker Remote ID found on the back of your clicker. If your clicker ID has worn off, see this link to retrieve it.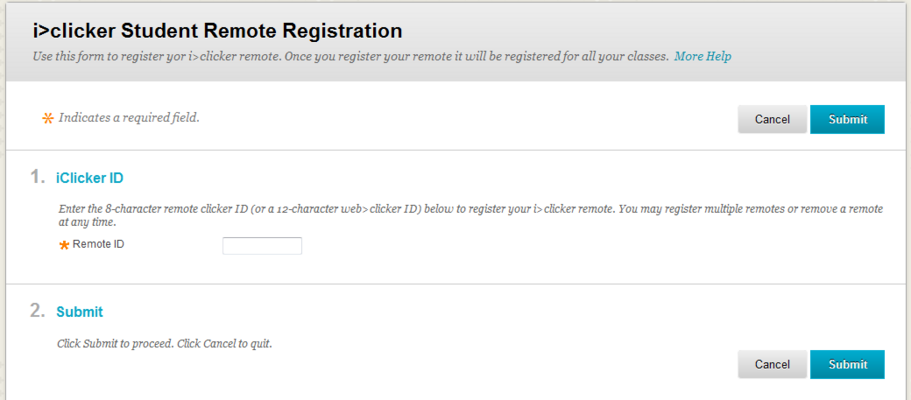 5. Click "Submit"
After you click "Submit", the status information shown on the bottom of the registration page is only displaying the last course that you have registered your clicker in. It does not indicate that you are removed from previously registered courses.
You only have to register your clicker once, even if you are using it in multiple courses. Your clicker ID will be saved on Connect and remembered for current and future courses.
You can also use this link to unregister old clickers.
Don't unregister i>clicker remotes partway through a course, even if you switch which remote you are using. If you unregister a remote you will lose all marks collected by it.
If you are experiencing any issues with your clicker, replace your batteries! Try replacing all the batteries (THREE for i>clicker and TWO for i>clicker+) with brand new non-Duracell brand batteries. (Duracell batteries are not supported -- they are shaped differently and cause the i>clicker to only work intermittently)
Contact clicker.support@ubc.ca with any questions.