Documentation:Clickers/Synchronizing your student registrations with iClicker
In order to make sure UBC WebCT Vista registrations synchronize with your i>clicker software application, please take the following steps.
---
Step 1: Open i>grader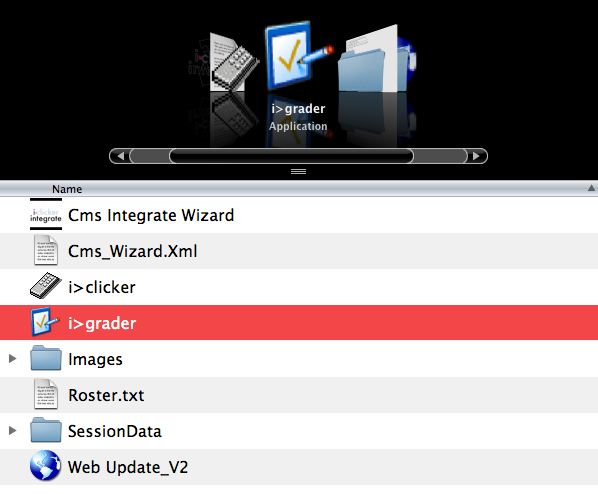 ---
Step 2: Select Synchronize Student Web Registrations
---
Step 3: i>Clicker Integrate will automatically open. (Note: If i>Clicker Integrate does not open automatically, you will need to install Microsoft's .NET framework on your computer. Here is the link to Microsoft's download page or you can download it directly from here.
---
Step 4: Log into UBC WebCT Vista using your UBC e-Learning Utility ID. Click here to obtain your e-Learning Utility ID (which is the same as your WebDAV Account ID).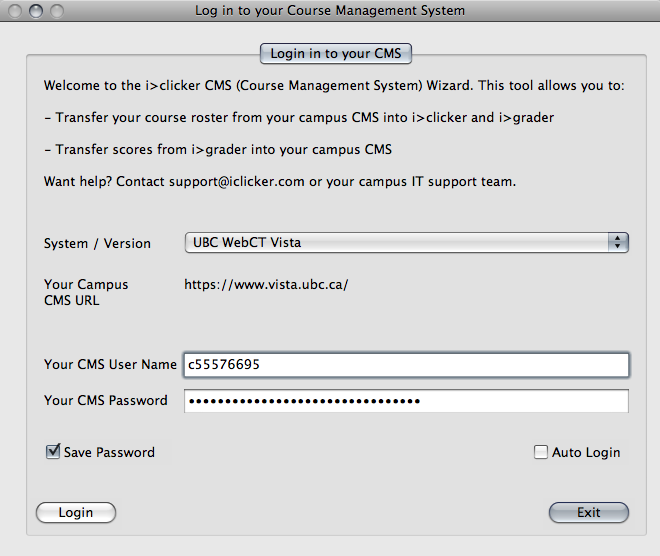 ---
Step 5: Check Save Password and Auto Login
---
Step 6: Click Login
Note: If you are off campus, you will need to connect to the UBC VPN first. VPN Setup guides can be found here.
---
Step 7: Select your course from the drop down menu.
---
Step 8: Select Import Student Roster from CMS. Your roster will then go into your i>grader grade book (including registrations). Repeat this process for each MyCourse folder (each course or section for which you are using the i>clicker system).
---
Notes:
Your newly imported roster includes both students who have registered their i>Clicker in Vista AND students who have not yet registered.
Registered students appear in blue
Unregistered students appear in red
Unregistered clickers also appear in red (as the i>clicker remote ID).
If a student has not yet voted/used i>clicker, their Vista registration won't synchronize with your i>grader.
Each student must vote at least once in class for synchronization to work.