Dietetics:Nutrition Counselling
Jump to navigation
Jump to search

DISCLAIMER: This resource was developed by students as part of a needs assessment and research process within a pre-internship professional practice course. The information here is not guaranteed to be applicable to all settings. Anyone wishing to cite references on this topic should consult formal sources.
Motivational Interviewing (MI) Techniques
Videos
Motivational Interviewing (MI): Core Concepts Video

Expert Motivational Interviewing trainer Cathy Cole discusses the principles and spirit of MI
Outlines MI core concepts and techniques and ingredients for change
Motivational Interviewing (MI) for Addictions Video

Expert Motivational Interviewing trainer Cathy Cole demonstrates various strategies to address clients' lack of confidence
These are two full-length sessions provide viewers an opportunity to see MI in action in diverse settings with clients who lack confidence in their ability to achieve their goals
Motivational Interviewing - Alan Lyme

An Example of MI technique
Outlines the Clinical Supervisor for the Screening, Brief Intervention, and Referral to Treatment (SBIRT) grant program at the Medical Center of Central Georgia
Books
Motivational Interviewing. (3rd ed.) by Miller, W.R., Rollnick, S. 2013.

Updates the classic conceptualization of MI and is full of examples of MI in action
Covering: MI basics, evoking, engaging, focusing, planning, evaluating
Building Motivational Interviewing Skills by Rosengren, D.R. 2009.

Practitioner's workbook written by master MI trainer
Outlines MI skills and techniques
Online Education
A Taste of Motivational Interviewing.

Registered Dietitian and MI Trainer Dr. Ellen speaks about MI techniques (1 hour video)
Training opportunities (2 or 3 day workshops, MI training, coaching, and consultations)
Motivational Interviewing. by Motivational Interviewing Network of Trainers (MINT).

MI resources for professional use
Training and continuing education opportunities (Canada and International)
Weight Related Counselling
In order to address the complex topic of weight related counselling, a group of FNH 480 students decided to put together the following podcast. They interviewed five experienced local dietitians with a wide range of approaches to weight counselling, to ask them about their perspectives and to share their thoughts and tips for resources they use related to weight counseling.
Please click the link below to listen to the podcast.
In addition to the interviews, they received several suggested resources from all of the dietitians who helped with this project which are compiled into the PDF in the link below:
File:WEIGHT LOSS COUNSELLING.pdf
To learn more about the dietitians in the podcast please read their bios below:
Gerry Kasten - Many of the listeners will recognize Gerry from courses he teaches in the Food nutrition and health program at UBC. Outside of his time at UBC shaping future dietitians minds, Gerry is a public health and home care dietitian, a community leader and seems to be involved in just about everything related to the profession of dietetics. He has an Honours Diploma in Commercial Cooking and has both a Bachelors and Masters degree in Nutrition and Dietetics.
Emma McCrudden - Our second dietitian is originally from Ireland and Like Gerry, she is also a lecturer at UBC, teaching Sports Nutrition courses in the FNH and Kinesiology departments. Before joining UBC, she completed her Masters in Sports Nutrition and Exercise Physiology and previously worked as a Performance Dietitian with a number of organizations including the English Institute of Sport and the Canadian Sport Institute Pacific. Her work focuses on nutrition-related performance enhancement in sport and she is also the Sport Dietitian for the UBC Thunderbirds Varsity programs.
Kara Vogt - An educator with the UBC Dietetics Program. Prior to taking on a role as an educator, Kara's dietetic practice included work with a variety of clients, in out-patient, in-patient and residential care settings. Kara has worked with adults and youth in her 10 year career as a dietitian and has special expertise supporting individuals struggling with eating disorders.
Heather Woodward - A clinical Dietitian with the Copeman Healthcare Centre. She completed both a Bachelors of Science in Food, Nutrition and Health at UBC and Exercise and Health Physiology from the University of Calgary. Following graduation Heather completed her dietetic internship with Providence Health Care here in Vancouver.
Emily Zamora - Emily completed a Bachelor of Science in Applied Human Nutrition through the University of Guelph in Ontario and a Masters of Science and dietetic internship through McGill University in Montreal. Emily began her career in Montreal, working as a Clinical Dietitian specializing in obstetrics and diabetes. She then moved to Ontario, where she obtained her Certified Diabetes Educator certification and worked at three Diabetes Education Centres. Emily now lives in Vancouver and works as a casual Clinical Dietitian.
A special thank you to Christine Shaddick, a Registered Dietitian at Copeman Healthcare, who met with our group and provided resources and insight for this project. Additionally, thank you to our Course Instructor and Program Coordinator Karol Traviss for her ongoing support in the project.
FNH 480, May 2017
Cultural Dietary Practices
Frame Work For Counselling Around Cultural Dietary Practices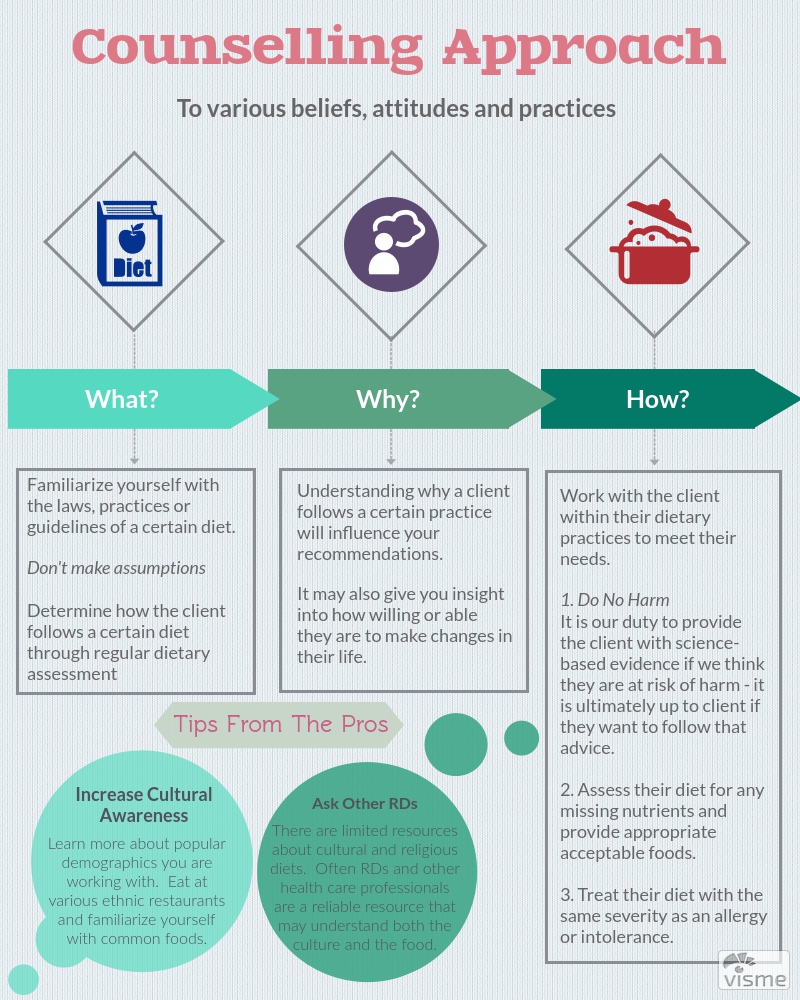 (May, 2017)
Summary Of Common Cultural Beliefs, Attitudes & Practices In BC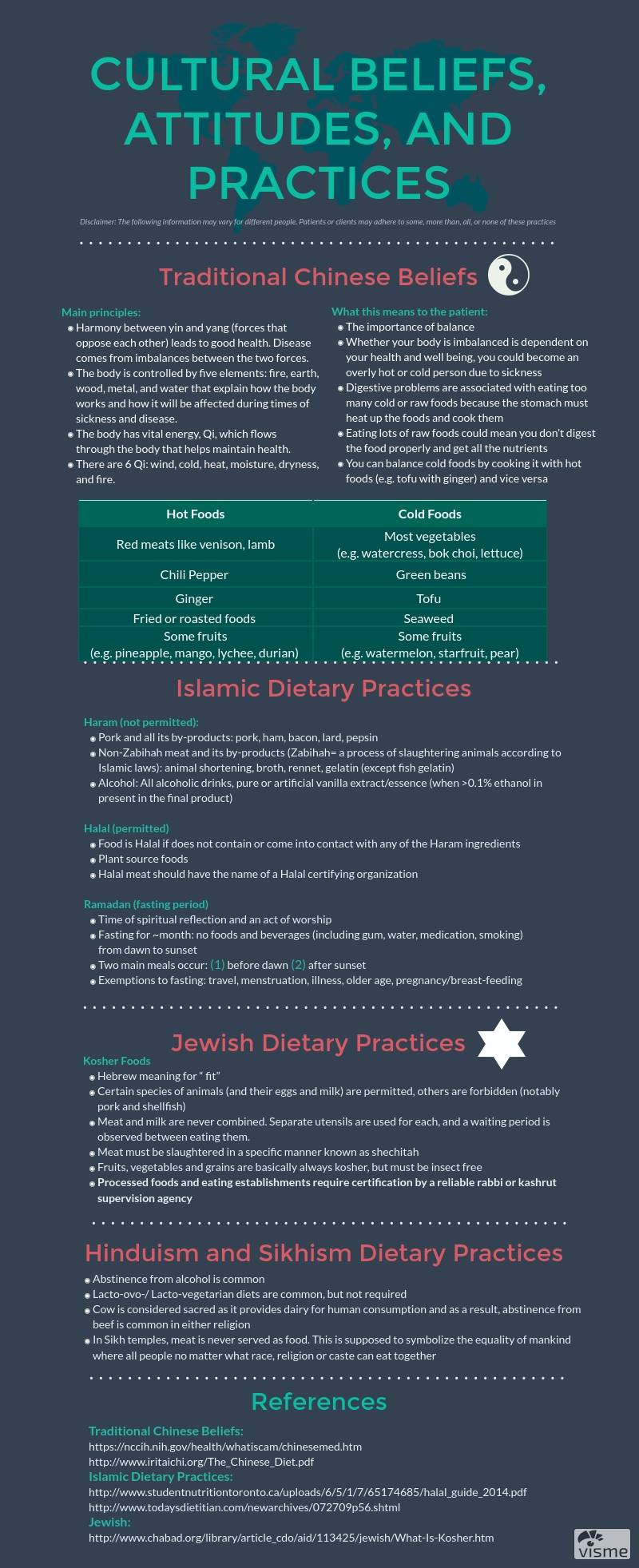 (May, 2017)

Resources For Building Confidence
Resources For Students
Books
Counseling Tips for Nutrition Professionals by Molly Kellogg. Volume 1 and 2. 2009.

Counselling tips 1-25 (V1), 26-50 (V2)
Covering a broad scope of nutrition counselling obstacles and techniques (including boundaries, referrals, Motivational Interviewing techniques, tips for new counselling Dietitians)
Nutrition Counseling and Education Skill Development by Kathleen D. Bauer. 2012.

Counselling and Education
Fundamentals of Food Behavior
Understanding an Effective Counselling Relationship
Characteristics of Effective Nutrition Counsellors
Understanding Yourself-Personality and Culture
Understanding Your Client
Relationship Between Helper and Client
Novice Counsellor Issues and much more
Articles
Challenges in Nutrition Counseling.

Outlines clients expectations for competent counsellors
Nutrition Counseling Self-Efficacy of Registered Dietitians.

Describes the self-efficacy of Registered Dietitians in performing various nutrition counselling activities
Covers current skills used to enhance the Dietitian-client relationship
Online Education
Nutrition Education + Counseling Skills Module. by Dairy Council of California.

Training module designed to strengthen communication skills to help Dietitians and Dietetic Students become more effective educators and counsellors
Narrated ppt., chart review activities, case study evaluation of an interview form, online post-test, and short answer scenario questions