Course:LIBR562/S2012/Group3
LIBR562/S2012/Group 3 is a group presentation for LIBR 562: International Issues and Innovations, an online course offered by the School of Library, Archival, and Information Studies (SLAIS) at the University of British Columbia in Vancouver, British Columbia, Canada.

Contributors: Abraham de Jesus, Alyssa Feir, Marisa Tutt, and Cory Williams.
Project Background
The purpose of this project is to discover and describe (1) the special challenges faced by small island states in the provision of library services and (2) any initiatives to address these challenges as experienced by the Oceania subregion, Polynesia. Note: To focus on the small island experience, the larger islands of Hawaii and New Zealand have been omitted from our discussion of Polynesia except where appropriate to discuss in relation to a smaller principal island(s).
About Polynesia
Polynesia is a collection of islands spread throughout a large area of the central Pacific Ocean.[1] It forms a part of Oceania, along with Micronesia and Melanesia; the Polynesian Triangle is marked out by connecting Hawaii, Easter Island, and New Zealand.[2] Within this area are the principal island groups of the Cook Islands, Tuvalu, Samoa, Tonga, Tokelau, Niue, French Polynesia, Wallis and Futuna, along with several others.[3] Our study focuses on the library related issues of the islands that are self-governing, though the Cook Islands and Niue have also formed a free association with New Zealand, which provides defense and assumes responsibility for "external affairs" in coordination with each nation.[4]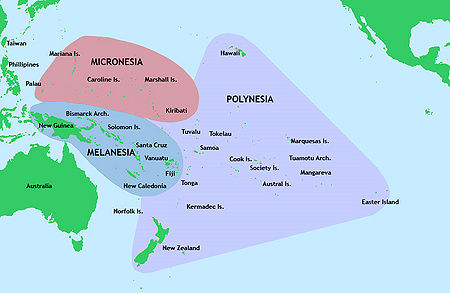 Settlement of the islands began about 2,000 to 3,000 years ago; the late 18th century saw the beginning of Western colonization brought by explorers, and then later by missionaries.[5] Main parties to the colonization efforts were France, Germany, the United States, Chile, and countries within the region like New Zealand.[6] Colonization continued through the first half of the 20th century, gradually losing hold after World War II.[7] In 1962, Samoa became the first country in the region to become independent.[8] Today, three nations are members of the United Nations: Samoa (joined in 1976), Tonga, (1999), and Tuvalu (2000).[9]
The strong island culture of the Polynesian islands has been romanticized from literature and painting to music and movies,[10] simplifying the sophisticated heritage in Western minds. This affects our understanding of the region's information needs; differences from the West in terms of population size, climate, languages and dialects, available/implemented technologies, the remoteness of the islands and supply issues all impact the progress of libraries in Polynesia.
The Small Island Experience: Polynesian Libraries and Archives
While each nation is unique, the challenges faced by libraries in small island states in Polynesia are much the same regardless of locale. In particular, through our research we have found that libraries in these regions are most impacted by four key factors: geography, culture, policy, and funding (or a lack thereof). In 1998, Esther Batiri Williams wrote that regional and national priorities in the Pacific Islands do not include libraries and information services stating that "a number of librarians, archivists and information officers have tended to be more reactive rather than pro-active."[11] Today, as libraries continue to experience the same struggles identified by Williams in her 1998 report, these small island nations need to, more than ever, collaborate and come together to strengthen and preserve their communities' documentary heritage and information services.
Small publishing initiatives, greater cooperation between collections donors and recipients, as well as increased consideration of preserving traditional knowledge and oral culture, shows a concerted effort in Polynesia to improve the state of libraries and archives. While funding remains limited, some small libraries in the region are thriving through community effort and international support.
Five topic areas were selected to further discuss and illustrate the small island library experience: legislation, services, preservation, training, and professional associations. Additional information, including feature library profiles, can be found by selecting each of the eight island nations listed above.
References