Course:GEOG352/2019/Environmental Impacts of Tourism in Cancún
Jump to navigation
Jump to search
Cancún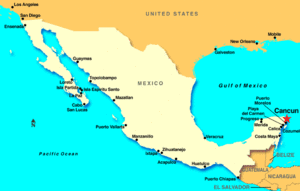 General Information
Country : Mexico

State : Quintana Roo

Municipality : Benito Juárez

Founded : April 20, 1970

Population: 628,306 (2019)[1]

Number of tourists: 2,800,000 (2018)[2]

Number of hotels: 143 (2005)[3]

Number of rooms: 27,518 (2005)[4]
Rapid urbanization has put enormous strain on the socio-economic and environmental systems in cities located in the geographical south and east.[5] In particular, unsustainable urbanization can threaten the environmental wellbeing of cities, as exemplified in the 'touristic urbanization' in Cancún.[6] Hence, it is necessary to incorporate sustainability into 21-century urban designs.[7] Located on the Caribbean coast of the Yucatán Peninsula in the state of Quintana Roo, Mexico, Cancún is one of the most popular all-inclusive sun and beach tourist destinations internationally.[8] Since 1960, Cancún has transformed from one of Mexico's underprivileged districts to a model of tourism development widely replicated in other countries.[9] Mexico's tourism industry is currently the second most significant in terms of generating foreign revenue for the country[10] and is responsible for almost 21% of the country's income.[11] Much of Cancún's tourism success can be attributed to the government's comprehensive master plan for the city back in 1969. The master plan divided the city into 3 sections: a tourism zone, a residential zone, and an international airport. The tourism zone is especially a part of the city's long-term strategy for economic development. This city-wide project is guided by the National Trust Fund for Tourism Development (FONATUR) developed by the Ministry of Finance. FONATUR assembles land, constructs integrated resorts, and manage their development with the goal to make Cancún a 'Resort City'.[12] While Cancún's tourism industry has led to rapid urbanization and robust economic growth, environmental destructions are resulted and is threatened its main attractions: its natural landscapes.[13] Touristic urbanization also affects the livelihood of local citizens as the market prices for properties have risen steeply.[14] These phenomena raise future concerns about critical urban theory and ecological urbanism in the case of Cancún.
Overview
Urban sustainability and Tourism
Urban sustainability is determined by how urbanization takes place in a region.[15] While rapid urbanization offers cities ample economic opportunities, it can also profoundly alter the relationship between societies and the environment.[16] In cities that have an "exotic" natural environment, tourism could be used as a vehicle to drive economic development, and in turn, urbanization.[17] The global travel and tourism industry is "one of the world's largest economic sectors," comprising of commodities such as hotel accommodation, transportation (rental and aircraft carrier), entertainment and attractions. [18] According to the World Travel & Tourism Economic Impact Report, in the past ten years, one out of five jobs created globally, have been in this industry.[19] Therefore, it is in the interests of most federal institutions to boost their tourism sector and become urbanized. However, when these priorities conflict and overlap with environmental degradation, touristic urbanization becomes unsustainable.
Environmental Impacts of Touristic Urbanization
Environmental impacts generated from ever-increasing global tourism is an extremely pertinent issue to research, as tourism inherently dictates that the users who generate environmental waste are not necessarily those who are left to face the consequences. Tourism can be unsustainable as it causes environmental degradation through unregulated construction, over-use of resources, pollution and diversion of often scarce water supplies.[20] Ecological-environmental capacity is exceeded when the level of tourist and recreational development is higher than what the natural environment can bear.[21]
The Self-Destruction Theory of Tourism
As such, it is necessary for local, regional and federal institutions or organizations to work together in developing contextually-specific policies that ensure future tourism-related activities and the resulted urban economy are not occurring at the expense of environmental degradation. Padilla describes the self-destruction theory of tourism, which states that tourism in a particular geographic context follows four phases: Phase I is the creation of an area, as "escape for the rich who would like to live in isolation from the resident population;" Phase II is the development of tourism facilities to "accommodate the influx of upper and middle-class visitors" further changing "the original character of the place;" Phase III describes the occurrence of mass tourism and with that, large-scale development; Phase IV paints the inevitable image of "social friction and solid waste" with "littered beaches".[22] Drawing from this framework, it would appear that Cancún is in Phase III, and there is a limited window of time before tourism-related development has irreversible effects. Through the implementation of urban ecological approaches and sustainable development, Cancún would be able to address current developmental needs, without risking the environmental future. Urban political ecology provides a method of understanding environmental and sustainability issues that are attentive to power, through analysis of the form of access and control to resources.
Why Cancun?
The environmental impacts of tourism are a worldwide phenomenon, as tourism and globalization are occurring rapidly today. Cancún's social stratifications are manifested physically and materially through the naming of the hotel zone: 'Zona Hotelera,' a stretch of coastal land rife with all-inclusive hotels, restaurants and entertainment districts. The booming of its tourism industry, as well as the resulting real estate development, drives rapid urbanization in Cancún.[23] It is continually undergoing expansion and development, as evidenced by nearly 39% of jobs in Cancún being in the tourism sector, and claiming 49% of the city's GDP .[24] These activities generate a huge economic gain for civic governance structures and institutions but are also linked to negative environmental impacts. As this region undergoes consistent tourist-related development, we narrow the scope of research to examining the harmful impact of mangrove loss, water pollution and solid waste. Cancún has been highlighted consistently by the World Travel & Tourism Council for generating massive amounts of revenue.[25] Therefore, the research on the environmental impact and subsequent sustainable initiatives would provide a useful framework for future research. We look forward to eco-tourism and sustainable development, as Brenner, Engelbauer and Job note a shift in consumer preferences, towards strengthening responsible and environmentally sound tourism.[26] By prioritizing transparency and accountability in tourism-related development, Cancún can move towards a more sustainable future.
Case Study
The environmental problems of Cancun started in the late 1960s when the resort-town was created. The tourism industry in Cancun relies heavily on natural environments and resources, but the current mass tourism behaviour has put great pressure on Cancun's coastal environment, such as the destruction of mangroves, seawater pollution, and solid waste deposition. Cancun, like most coastal cities, has high levels of environmental vulnerability but limited capacity to deal with pollution and waste.
Mangrove Loss
Mexico is the forth mangrove-rich countries in the world. Mangroves cover 741,917 km of Mexico's land area and account for 5.4% of the global mangrove surfaces.[27] However, 20% of the 7,000 hectares of mangroves in Quintana Roo has been converted into tourist destinations.[28] Yucatan Peninsula, where Cancún is located, had experienced the most overall loss of mangrove between 1970 and 2005 in the country.[29]
In Cancún, the extent of mangroves had decreased since the 1970s due to the booming of the tourism industry, as well as its resulting real estates' development of high-end resorts, shopping malls and leisure residences.[30] These infrastructures have caused environmental upheaval and compromised the ecosystem services provided by mangroves, including protection against coastal erosion, fish nurseries, buffers for ocean storms, and carbon capture. Mangroves are particularly vulnerable to touristic urbanization as resorts tend to situated in coastal areas where mangroves inhabit. In addition, resort infrastructures fragment continuous mangrove forests and narrowed the gaps between the city and the hotel zone.[31] Mangroves loss has also taken a toll on Cancún's economy.[32] In 2009, Cancún spent $20 million shipping in sand for beach replenishment as mangroves and their ability to protect erosion were lost.[33] In 2016, a Mexican court issued an injunction blocking further work on a real estate project in the Caribbean coast resort of Cancún which activists claimed had almost killed a mangrove swamp at the site. The developers bulldozed about 49 hectares of mangrove vegetation at the site.[34]
Water Pollution
The hotel industry generates about 95% of the city's total amount of sewage. This poses a challenge to the already burdened municipal sewage treatment plants. Because of the poor operation of hotel wastewater treatment plants, most of the untreated wastewater end up entering directly to the sea or leaking through the subsoil into the water bodies[35]. In addition, the development of resorts has increased the proportion of roads and other impervious surfaces in the city, which has resulted in the increased rainwater runoff in coastal areas. This also facilitated the runoff of fertilizers, herbicides, and pesticides used in other touristic activities, such as landscaping and golf course management and further undermines water quality.
Marine recreational activities such as cruise ships also generate and leak large amounts of wastewater and toxic chemicals such as gasoline and oil that threatens the marine ecosystem. Hydrocarbon pollution as a result of these activities is the main cause for contamination of the near-shore waters in Cancun.
Solid Waste
329, 000 tons of garbage is collected in Cancun annually[36]. Problems associated with solid waste management in the city include the transportation of waste to illegal dumps, and the inefficiency of large-scale recycling and composting management systems oversee by designated private companies. The increasing number of tourists each year contribute to a huge amount of solid waste production, from both ocean-based and land-based recreational activities. The cruise industry is a major contributor to marine pollution, whereas the hotel zones are the biggest source of land-based waste. In the Hotel Zones of the city, the minimum average record is 140 tons of waste per day; however, it may reach values of more than 180 tons during high seasons. The city of Cancun, the Alfredo B. Bonfil delegation, and the town of Puerto Juarez generate at least 800 tons per day. Based on data from SIRESOL Cancún, per capita waste generation is approximately 1.3 kg per day, this results in a total average generation of 960 tonnes per day[37]. Waste segregation is a common practice at the hotel zone, but wastes collected by the municipal collection system are disposed at the CIMIRS (Centro Intermunicipal de Manejo Integral de Residuos de Benito Juárez e Isla Mujeres). There is no information available on organic waste treatment systems in hotel facilities.
Furthermore, the speed of waste disposal cannot catch up with the speed of waste production at tourists locations. Waste management in Cancun is done in both the formal and informal sectors. There are only three private companies that attend to the different landfills, and Informal waste street collection exists at the municipal territory which recovers mainly aluminum and PET contained in bags that people bring out of their homes and place on the streets for collection.[38]
These environmental problems have greatly impacted the lives of local residents in Cancun. Although they are not the main group causing these problems, they suffer the most from the environmental implications of tourism development. Private and transnational companies have long been dominating the decision-making process regarding the city's tourism development, and in doing so, dispossesses people's ability to participate in urban politics. Policies need to be implemented to foster local people's participation in urban politics as they are the knowledge holders for innovative solutions to environmental problems.
According to the Mexican Tourism Board, Mexico reached over 13.3 billion dollars in international tourist revenue in 2016, a new record for the country.[28] In other words, a blow to this resort city is a direct strike at Mexico's economy. Hence, it is vital to develop situated and sustainable strategies that would secure the city's economic performances while preserving its environmental assets crucial to the tourism industry.
Lessons Learned
As mentioned by Padilla[39] it is essential to learn from the continuing trends and address the many issues that unsustainable tourism brings, as early as in Phase I of the tourism cycle. Cancun has now developed conservation policies — such as the Ley de Prevencion y Gestion Integral de Residuos, Ley de Quemas, Ley de Desarrollo Forestal Sustentable — which attempt to restore and preserve its natural landscapes from the existing impacts[40]. Furthermore, there has been an increasing interest and strong initiatives by the government, the tourist industries and local communities to promote ecotourism and sustainable tourism which provide travelers with destinations and activities that have a lower negative impact on the environment[41]. These strategies have been successful in the attempt to integrate economic growth and sustainable development, which Cancun and Mexico's economy are highly reliant on while continuing with an increasing economic growth that will positively feedback the economic means in efforts of environmental conservation. In order to stay competitive in an international market, such as the growing global tourism industry, businesses must adjust to these emerging social and environmental trends and respond to the ever-changing needs of their customers and environments[42]. Collaborations with the local communities and related inter-organizational stakeholders, particularly the hotel industry, can contribute to promoting sustainable tourism development[43]. All of these initiatives Cancun has taken are acting as a symptom of the problem, instead of acting through preventative measures and planning. It is important to learn from this case study the tools to support positive visions of futures, that are socially and ecologically desirable, just and sustainable[44].
References
Reference List