Course:GEOG352
GEOG352
Urbanization in the Global South
Course Info
Instructor:
Dr. Siobhán McPhee
Class Time:
Tu TH 11:00-12:30pm
Classroom:
200
Office Hours:
Tuesday 11am to 12:30pm
in Rm 200
Canvas Site:
Log into Canvas
Project Map
Wiki Projects
Welcome to the wiki project space for GEOG352: Urbanization in the Global South!
About the project
One of the primary tasks (and pleasures!) for a scholar of any field or discipline is to carefully examine an idea, a question, a hypothesis, or a challenge, and to emerge from that quest with a richer and more profound sense of its significance, value, context(s), and/or consequence. Most of the time you will not know where that journey will take you; indeed, you will very likely be surprised along the way! This assignment is designed to guide you through the development of your own wiki and infographic as it relates to the topics, readings, lectures, presentations, and discussions from GEOG352, and to enable you to develop your critical, analytical, and writing skills.
This assignment requires you to produce a wiki entry on a specified city and course theme. You may choose a case study within any city of your choice, but you may NOT choose the city indicated as the regional focus for the topic on the course syllabus. This activity is an important opportunity for you to participate in creating part of your own curriculum. All of the wiki entries will be complied into an e-book at the end of the course, which you will all have access to as evidence of your hard work!
Task: During the second week of class you will be divided into groups of 4 based on your interest in one of the topics covered by the course. You are expected to meet with your group on a regular basis (part of the second weekly lecture will be dedicated to this) in formulating your case study wiki and infographic.
Project Timelines
Due Date
Scaffold Assignment
Design
January 19th
Selection of Case Study Site and theme focus:

In discussion with your group members please select your case study city and theme.

Establish your wiki page and infographic:

Please create a wiki entry for your group following the instructions provided by Will Engle

Please create your infographic.

Please submit both links via Canvas by 11.59pm on Friday 19th of January

February 16th
Framework for your wiki

Using the word document template provided on Canvas provide an over view of your wiki page

Only word document required
April 2nd
Final draft of wiki and infographic

In discussion with your group please ensure that you have a final draft of your case study wiki that contains an overview of the city and theme you selected. This wiki resource should be at a standard that can be used as part of the course syllabus. Please ensure that you have addressed any of the comments received for your first draft.

Submit links to wiki and upload a PDF of final infographic

Please ensure that all you pages are populated with the research you have done, and that you have referenced all the sources you have used. Please submit the link to your wiki through Canvas

Make sure that your infographic looks good. Does it include a good mix of text and images? Is it easy to navigate? Does it represent your groups as intellectual, professional, creative, and/or studious people?

Please submit a PDF of your infographic through Canvas
Creating Your Wiki Entry
Here are some steps and resources to help you create your page and have it appear on the index for this portal (right side) , so that it can be easily accessed by your peers and your instructor.
1. Login to the UBC Wiki
Click the CWL button on the top left of the page and login from there.
2. Create your User Page/Profile
Your user page is basically a profile page. Its purpose is to provide a space for you to let other UBC Wiki users know who you are and what your affiliation is with UBC. It can also be a space for testing and experimentation with wiki code or mark-up.
3. Create Your Assignment Page
We have made it easy for you to create your assignment page right from here. Just add the title of your project to the box below and click on the create page button (note that you will need to be logged in to the UBC Wiki in order for this to work). On the edit screen that loads, add your name to the edit screen and hit SAVE at the bottom of the page. You can delete this later when you are ready to start writing your article.
4. Add Title and Headings
Some suggested headings to get you started are on the template page that we have created. To make it easy, you can simply copy and paste all headings and code from the template page to your page.
Wiki Help & Resources
Renaming Your Page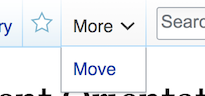 This is done by using the
move link
in the drop down arrow tab at the top of the wiki. The tab is not visible if you not are logged in.
Click on the move link
In the new title box, you'll find the current title of your page. It will look something like GEOG352/Sample Page
Enter the new name after the prefix GEOG352/. For example GEOG352/My New Title.
Click the move page button.
Contacts
wiki.support@ubc.ca
will.engle [at] ubc.ca
cindy.underhill [at] ubc.ca
Presentation Slides