Course:FRST370/Projects/Collective Management in Taohua Administrative Village of Lijiang, Yunnan Province, China
Jump to navigation
Jump to search
Recently, community forests face increasing pressure from local communities because of the conflict between rural population and living standards. Lots of rural community forests in China are poorly managed and protected. In this case study, the community forest in Taohua administrative village is a typical site to investigate and analyze. In Taohua village, local forest are shared among several ethnic groups, including the "Bai", "Naxi","Lisu","Pumi" and "Han", who has been involved in collective timber production. In this site, the community is allowed to have the privatize rights to land and other resources without dividing the land into small individual plots. This forest management system demonstrates the collective resource tenure and joint forest management in Taohua village.
Description
Geography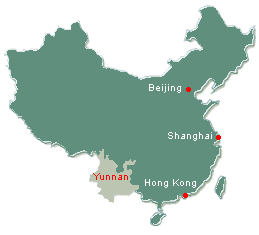 The total area of Yunnan Province is about 390,000 square kilometers. The northern part of the province is Sichuan Province, the northwest is the Tibet Autonomous Region, and the east is the Guangxi Zhuang Autonomous Region and Guizhou Province.[1] Yunnan Province is adjacent to three countries: Myanmar, Laos and Vietnam. Yunnan is a typical humid monsoon climate in subtropical and tropical plateaus, with distinct dry seasons and rainy seasons. Yunnan Province is extremely rich in species, with about 50% of birds, mammals and plants. There are 55 ethnic minorities living in Yunnan Province.[2]
The "Naxi" people in Lijiang Province are densely populated, so it is a "Naxi" Autonomous County. It is situated on a plateau at an altitude of 2,600 meters and is impressive for its scenery and lush vegetation.
Taohua Village
Taohua Village Committee is located in the west of Lijiang County, about 90 kilometers from the county seat. It is one of the important forestry areas in Lijiang and manages 18 villager groups in 18 natural villages (NVs). In 2003, there were 516 households with 2,422 people, including "Han", "Bai", "Lisu", "Naxi" and "Pumi", which accounted for 84% of the total population.[3] This is a very special village with four different ethnic groups coexisting with the Han people, which accounted for the last 16% of the village population.[3] It is also a typical forestry village, and community forests are vital to the livelihood of villagers.
National Context
In China, government plays a leading role in the management of nature reserves.[4] Since there are 56 ethnic groups in China, the government has special policies which is Ethnic Regional Autonomy System for areas where ethnic minorities live in concentrated communities.[5] It refers to the system of regional autonomy, the establishment of self-governing organs, and the exercise of autonomy under the unified leadership of the state. Taohua Village is a typical autonomous county which is administered by the county government and village committees.
Tenure arrangements
The Nature of Tenure
By government policy, the ownership of community forest was classified at Natural Villages level, and community forest is deemed to be under individual household responsibility and the management of Natural Villages.[6]
Forest Arrangement
Before 1949, almost all the woodlands belonged to a few landowners, and many landless people were laborers and even slaves.
After the establishment of the People' s Republic of China in 1949, Taohua was set up as a socialist community.[7]
With the land reform in 1952, the land was requisitioned by the government, all the forest land became collectively controlled, and all villagers enjoyed equal use rights in the woodland.[7]
In 1973, the village leadership of Taohua had negotiated with the county government to allow them to begin commercial timber production.
In 1998, the government implemented a ban policy on logging, and the villagers of Taohua no longer cut down any trees, and all timber production activities stopped.
The new local economy based on collective timber production and group' s decision-making was initiated.
Administrative arrangements
Since the beginning of the implementation of collective forest rights for timber production and forest management in Taohua Village in 1973, a new local economy based on collective timber production and collective decision-making has been launched. The villagers have the decision-making power to manage and sell timber. At the same time, they have established timber production rules. The key is the "Si Tongyi" Rules (four collective timber production rules). While increasing commercial timber production activities, the villagers continue to use the forest in a self-sufficient manner in the context of protection. The institutions surrounding forest management interact with external conditions, and as these environments change, villagers can continually implement and improve these rules in a practical way.
"Si Tongyi" Rules[3]
The first rule of the four "Si Tongyi" rules is power sharing through group decision-making. The decision is not made by only a few village leaders. Rather, villagers from different ethnic groups are ensured representation in the decisions on timber production.
The second rule is benefit sharing based on collectively controlled income distribution. Benefits and responsibilities are shared by the larger community of the Administrative Village and also within the smaller community of Natural Village members. The concern of the Village Committee, then, is not just with the benefits of logging for community forest owners (at the Natural Village level), but for the entire community (at the Administrative Village level). Meanwhile, the income distribution between Natural Village and Administrative Village was changing, as the value of timber, policy, market or public welfare needs were changing.
The third rule is households' involvement based on a collective arrangement for labor. Every year logging laborers are employed from all 18 Natural Villages of Taohua, except if there is a labor shortage. Every household and villager are involved in timber production and related activities. The Villagers' Committee only makes a contract with groups and does not allow contracts with individuals. Laborers income from logging work is dependent upon their specific contribution and the detailed account of income is designed to control free-riders. Thus, the villagers earn income not only from selling timber, but also from their labor contribution, thus maximizing their income from timber production. So whether they are from no-logging or intensive-logging areas all villagers could earn income from timber production through the provision of labor or other services.
The fourth rule is ensuring a sustainable rate of cut based on unified logging and rotational cutting. Since Taohua first cut trees in 1973, the Village Committee organized villagers for clear cutting until 1980. As the quota for timber cutting had been rapidly increased, some problems for clear cutting arose, and then the Village Committee started to set up rules for logging methods and management as unified logging.
Logging should be implemented by the Village Committee, with individual logging absolutely prohibited.
Logging should be on an intermediate and rotational basis with clear cutting banned by the Village Committee.
Before logging, a board-chute, skidding road must be built and then seed trees would be selected, with only over matured and adolescent trees being cut.
During and after logging, the members of the Village Committee strictly check and evaluate the logging processes, and if anything is not up to the required standard or in disagreement with the rules, the logging groups would be penalized.
Affected Stakeholders
The local villagers are composed of five ethnic groups: "Han", "Bai", "Lisu", "Nasi" and "Pumi". They are all affected stakeholders. Due to their ethnicity, they are in the land. There is no difference in use and other activities. All of these people need to collect timber from collective forests for their livelihoods. However, because the Han population is small, their power is lower than that of ethnic minorities.
| | | Relevant objective | Relative power |
| --- | --- | --- | --- |
| "Han" | Majority group | All community resources and products were owned and shared by villagers; individual | Medium |
| "Bai" | Ethnic Minority | Same as "Han", they do have a voice in the stakeholder | High |
| "Lisu" | Ethnic Minority | Same as "Bai" | High |
| "Naxi" | Ethnic Minority | Same as "Bai" | High |
| "Pumi" | Ethnic Minority | Same as "Bai" | High |
Interested Outside Stakeholders
Village committee, local government and local enterprises are the interested stakeholders. Village committee and local government have the highest power. Enterprises have the lowest power because they do not participate in the committees.
| | Relevant objective | Relative power |
| --- | --- | --- |
| Village committee | Share decision-making on management and selling of timer; negotiate with local government. | High |
| Local government | Make the final decision on the decision made by the village committee; responsible for punishing illegal logging. | High |
| Enterprises | Participating in local natural resources extraction. | Low |
Discussion
Although collective timber production has achieved sustainable management, the economy of Taohua village is highly dependent on wood production. With the implementation of the logging ban in 1998, the villagers were no longer able to harvest trees, and all the benefits of wood production disappeared.[8] They then faced many problems.
The income from timber production has been reduced.
Due to rapid decrease income, many plans of the Village Committee for Natural Villages infrastructure projects could not be fulfilled.
The price for agricultural products are also reduced.
All of these led to serious problems for villagers' livelihood as well as agricultural production.
Job opportunities are reduced.
In the past, highland villagers such as the "Lisu" and "Pumi" depended on forestry for their livelihoods, and 80% of the food rations were purchased through forestry income. Now they have to sell illegally felled trees in order to survive.
Villagers lost any personal interest in both conservation and fire control measures.
In China, as governments and policies change, as market opportunities or structures change, their impact is often to hinder and undermine local forest management. However, some common property systems survived. It is clear that local communities can negotiate with central government rules and, more importantly, they can adjust their own rules by developing local institutional rules that apply to the use and patterns of activities that differ from government expectations.
Assessment
From this case it could be seen that the logging ban policy ignored the differentiation of local communities and the needs of local people, and resulted in some serious problems.
The logging ban policy only paid attention to the impacts of a reduction of government revenue and the survival of government timber companies, but paid less attention to the impacts on local people's livelihoods. The villagers in forest areas could not only not get enough wood for household use, but also lost the income from timber production and related activities on which they are dependent for their livelihood. Moreover, the logging ban policy negates use rights of community forest. Local communities which are the owners of community forest could only conserve the forest, but could no longer use the forest for any other purpose.
Institutional adjustment is necessary to create a better participatory environment for establishing rules for resource management. It is necessary to establish decision-making rules and constitutional rules to create better participatory environments and maintain sustainable participation in collective forest management. Policy and administrative leadership from county and township government is necessary to ensure local community that their choices and institutional adjustments are recognized and supported by the government. Nurturing a better policy environment at different levels of government is key to supporting local communities' forest management activities.
Recommendations
The logging ban policy denies the use of collective forests. The local community, as the owner of the collective forest, can only protect the forest, but can no longer use the forest for any other purpose. Institutional adjustments must be made to create a better participatory environment for the establishment of resource management rules. There is a need to develop decision rules and constitutional rules to create a better participatory environment and to sustainably participate in collective forest management.[9]
Policy and administrative leadership at the county and township government levels is necessary to ensure that local community choices and institutional adjustments are recognized and supported by the government. Cultivating a better policy environment at different levels of government is key to supporting local community forest management activities. Some of these policies will take the form of higher-level government "going out" and allow local experimentation. In fact, sensitive and flexible application of policies can protect the future of rural communities and the forests on which they depend, based on local conditions and prospects.
References
| | |
| --- | --- |
| | This conservation resource was created by Zheng Bingyu. It has been viewed over {{#googleanalyticsmetrics: metric=pageviews|page=Course:FRST370/Projects/Collective Management in Taohua Administrative Village of Lijiang, Yunnan Province, China|startDate=2016-01-01|endDate=2025-08-21}} times. |