Adrian Johns Presentation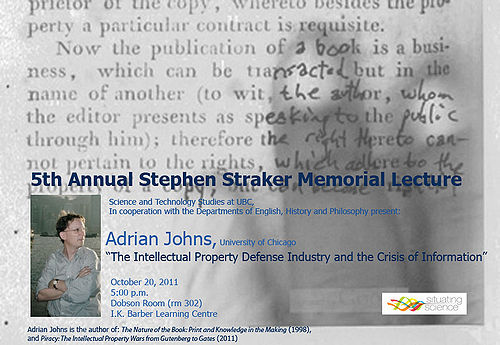 Adrian Johns spoke at UBC on
"The Intellectual Property Defense Industry and the Crisis of Information"
as the 5th Annual Stephen Straker Memorial Lecture. This session was recorded Wednesday on October 20th, 2011, in the Dodson Room in the
Irving K Barber Learning Centre
.
Adrian Johns is a professor in the Department of History and chairs the Committee on Conceptual and Historical Studies of Science at the University of Chicago. He is the author of Piracy: The Intellectual Property Wars from Gutenberg to Gates, The Nature of the Book: Print and Knowledge in the Making, and Death of a Pirate.
Abstract:
"With the rise of the information economy has come the development of an industry devoted to policing that economy. This industry is composed of both public institutions like the United States' FBI and ICE (Immigration and Customs Enforcement) and private companies marketing protective and detective services. Its primary focus is the major structuring element of the information world: intellectual property. It seeks to uphold copyrights, patents, and trademarks where they exist, and to extend their scope to new domains where they do not. It may therefore be called the Intellectual Property Defense Industry. Although it is still largely unknown to the public, its history and conduct - I shall argue - have substantially shaped many of the everyday practices that constitute our culture of information. Indeed, if, as many believe, that culture is facing a crisis, then it is a crisis sparked by the very institutions intended to preserve it."
Listen to the presentation
Streaming Version
<flashmp3>http://blip.tv/file/get/Blamb-AdrianJohnsTheIntellectualPropertyDefenseIndustryAndThe181.mp3</flashmp3>
Download the Audio File