UBC Coat of Arms
History
The blazon of the arms as granted by the College of Arms, London, September 23 1915[1]:
"Argent three bars wavy Azure issuant from the base a demi-sun in splendour proper, on a chief of the second an open book proper edged, strapped and buckled Or inscribed with the words TUUM EST Sable."
Through the Looking Glass
The currently used trademarks, however, do not say TUUM EST but CUUM EST, as reflected in the many trademark entries[2] [3] [4] [5]in the trademark database of the Canadian Intellectual Property Office. The index headings, which "identify all word components of the trade-mark,"[6] clearly identify the inscription as "CUUM EST", not "TUUM EST."
As well, in contemporary coloured renderings, there are gold bands around the Azure bars. This is a violation of a rule of heraldic design: "metal should not be put on metal, nor colour on colour."[7] Design in violation of this rule "are called armes fausses (false arms) or armes à enquérir (arms of enquiry); any violation is presumed to be intentional, to the point that one is supposed to inquire how it came to pass."[8]
Motto
TUUM EST may be translated variously:
It's up to you
It is yours
Use
The Arms are "to be bourne and used by the said University of British Columbia on Seals Shields or otherwise according to the Law of Arms."[9] Such a stamp is necessary, as William Blackstone puts it, because "a corporation, being an invifible body, cannot manifeft it's intentions by any perfonal act or oral difcourfe : it therefore acts and fpeaks only by it's common feal."[10]
Renderings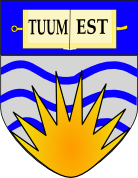 Notes