Open UBC Working Group/OER Fund Recipients Supports
UBC Library and CTLT are excited to collaborate on your open education projects. The following provides you with an outline of the services, supports, and resources available to you as you work through the details of your project and begin the work of creating your open educational resources. If you have any questions, please contact us as: Open UBC
Services & Supports
There are a number of services available for open education projects from both UBC Library and CTLT. To request for support, select one of the following services and we will review your request and be in touch with you shortly.
Guides & Toolkits
There are a number of UBC guides and toolkits developed to support open educational resource development and open education practices.
Personalized Training
UBC Library and CTLT offer tailored training for your open education projects. If you have a team working on a project and need training in the following, please contact us at: Open UBC
Workflows & Processes
Tools

Accessible and Inclusive Design for Open Educational Resources
Developing an Evaluation Plan
Learning Design
Copyright and Open Copyright License (e.g. Creative Commons)
Finding and Using Open Education Resources
Sharing and Making Your Resources Discoverable

Pressbooks
Open Journal Systems (OJS)
UBC Wiki
Wikipedia
Wordpress
Jupyter Notebooks
Webinar Series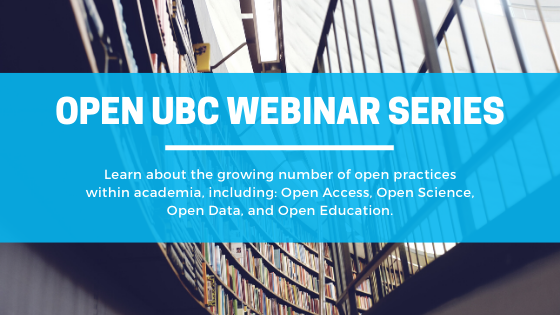 Bi-monthly open scholarship webinars will be offered to support open practices on campus. The webinar series will be updated here: Open UBC Webinar Series Calendar The following are open education webinars that may be of interest to you and your project teams.
Moving your Open Educational Resource Project Forward
Date: Tuesday, April 28, 2020
Time: 11:00am - 12:00pm
Finding, Using, and Remixing Open Resources For Your Courses
Date: Monday, May 4, 2020
Time: 11:00am - 12:00pm
Copyright and Licensing for Open Educational Resources
Date: Tuesday, May 12, 2020
Time: 11:00am - 12:00pm
Discoverability and Sharing Open Educational Resource
Date: Tuesday, June 9, 2020
Time: 11:00am - 12:00pm
Open Pedagogy with Omeka: Creating Digital Exhibits