Mouchette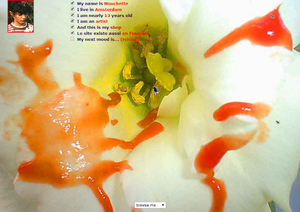 Mouchette a virtual character that has recently been claimed by artist Martine Neddam. The character of Mouchette is said to be inspired[1] by the main character of the novel Mouchette(1937), and it's movie adaptation of the same name (1967). The original Mouchette character from the novel is an adolescent girl who commits suicide after suffering through rape, abuse from alcoholic father, and her mother's death[2][3]. Similar tragic themes are manifested in Martine Neddam's pseudonymous character Mouchette and her artwork on mouchette.org (1996-Present).
Mouchette, as an artist, is the creator of the interactive website mouchette.org. On the site's homepage, Mouchette is self-described as a 13 year old female artist from Amsterdam[4]. The site's homepage takes on an appearance that is reminiscent of an amateur personal website from the early stages of the Internet, where Mouchette provides an introduction. The interactive site guides users from the homepage through to a narrative network of various pages of Mouchette's artwork. Darker themes emerge through these directed pages of artwork[5], which often involve user interaction and contribution. Mouchette maintains site interaction with users by keeping in contact through email and the website, as well as maintaining a database of user contributions and reactions[6]
Themes and Meanings
Throughout Mouchette.org, death is one of the main themes focused on. The theme is transpired through the use of the fly on almost every page on the site. One page even plays a tune in the background, while the screen reads "Lullaby for a dead fly."[7] The theme is expanded upon by specifically focusing on suicide and violence. One page even asks what you think the best way to kill yourself when you're under 13 is.[8]
Emotional Outcomes and Controversy
The subject matter of Mouchette sparked controversy within the art community. There is a certain intimacy by involving users to participate giving opinions concerning deceased animals or ideas for a possible suicide through the internet[9]. The grotesque images, sounds, and text are clearly suggestive and invoke strong emotional response.
Of course, there was little doubt that the artist was not a girl who was under 13. The idea of a false identity had been played by various artists, but Mouchette took it a step further. The artist "seduc[es] her audience with entrance into the secret world of a young girl" who had not aged since 1996[10]. Not only was the website a platform to display her assumed identity, but by interacting with users of the website she played a much more convincing role. After a questionnaire is filled out on the website, visitors often received unexpected, often flirtatious e-mails from Mouchette weeks later[11]. The interactions with the users, whether they were jokes, serious discussions, or complaints about the subject matter, were then used to further Mouchette.org or to create new art work[12].
Martine Neddam
Martine Neddam is an artist professor, and a researcher who currently researches at the Rietveld Academy[13].
She studied literature and linguistics in Lyon France from 1975 to 1979, studied stage design in the school of architecture in Lyon from 1983 to 1984, and studied for masters in visual arts in IHEAP Paris from 1988 to 1989[14].
Naddam have been creating virtual character since 1996. Some of her characters are Mouchette(1996), David Still(2001), and Xiao Qian(2006)[15].
Artworks
7 songs
Dead fly
Cat
Flesh&Blood
Secret
wattlechick
User Exploration of Mouchette.org
References
Authors
Sasha Lintern-Smith, Alexander Korchev, Kathy Li, Makoto Hoshina