MET
:
Virtual Communities of Practice Software
This page originally authored by Suzanne Tompkins (2007).
This page has been revised by Carolanne Fraenkel (2008), Joey Dabell (2008), Jim Tattrie (2008).
---
Prior to entering into the topic discussion concerning Virtual Communities of Practice (VCoPs) and the software they might choose to use, it might be prudent at this time to take a moment to examine their origin. Communities of Practice or CoPs, a term coined recently by Etienne Wenger and Jean Lave, is a social examination viewpoint that is garnering considerable attention.
The CoP model has its roots in elements of Social Learning Theory, such as constructivism and situated cognition, whose principle tenets hold that learning is socially and culturally constructed and embedded in the context in which it occurs. The identity of a CoP is defined by a shared and specific area of interest, topic, or problem. Within this specific context, the community members engage in discussions, collaborate on tasks, support one another, and learn together. Community members can have varying levels of expertise, but are all actively practicing in the context domain that forms the identity for the group. Through collaboration and shared activities members learn and increase their levels of expertise.
As not every community is a CoP, it then becomes necessary to clearly articulate the characteristics exhibited by just such a community, of which there are three:
Persons that group with common interest that exhibit a shared competence not necessarily held by persons outside of the domain.
Persons that pursue the interests of the domain through participation in joint activities and discussions. Information is openly shared with importance placed on the building of relationships that work to enhance the ability of members to learn from one another.
Persons who are practitioners of the interests of the domain that work to develop and share resources in an effort to address re-curing problems.
It should be noted that in order to be considered a CoP, a group must exhibit interplay amongst all three defining characteristics.
With all of this in mind, attention can now be returned to the discussion of VPoCs and VPoCSs, modern offshoots of PoCs…
---

Virtual communities of practice (VCoP) are learning communities whose members are separated by geographic location, and often time zones. VCoP software allows members to network, communicate, and learn as a community.
What is VCoP Software?
Virtual communities of practice software programs are designed to facilitate collaborative interactions amongst community members. Software often includes:
Knowledge bases to which members can contribute their work and findings
A forum for research and implementation questions
Information resources and best practices/ strategies.
The VCoP software implements a virtual community where members can come together to interact and learn about a shared area of interest. Software like course management systems (CMS) and Wiki can be used to support VcoP.
Course management systems provide a framework for contextual learning and teaching, within which the instructor is responsible for opening the community, and for guiding discussion and learning. The course represents a body of knowledge in which the members (learners) share interest. Learners are motivated to share experiences, insights, and develop best-practices. Authentic tasks are meaningful to learners because of their focus on the specific knowledge domain of the course. Learners have a variety of backgrounds and levels of expertise. The software provides a forum for social interaction, through which members' level of expertise grows. The interaction is around the subject area that provides the identity for community. authentic tasks.
Wiki's can bring together a community of learners around a specific area of knowledge. Article writing provides a collaborative approach to knowledge building and management. A wiki community includes learners of different backgrounds and expertise. The community supports learners at varying levels of expertise. Novices can begin by reading, progress to making small edits, and to authoring complete articles. Discussion areas facilitate feedback, reflection, and re-framing the learners' understanding of the knowledge.
Examples
WebCT
Designed by University of British Columbia Professor Murray Goldberg[1] in 1995, WebCT is used by over 10 million students at more than 2500 universities and colleges in 80 countries. WebCT allows educators to set up courses that contain searchable course notes, review material, image databases, chat rooms, discussion boards and exams. WebCT was purchased by Blackboard Inc., a U.S. based company in 2004. Blackboard Inc. develops and licenses software applications to manage e-learning and transaction processing for e-commerce. It is also available for use by online communities. Blackboard Inc. is a closed source (not free) software developer.
Moodle
File:Moodle screen smallest.png Moodle (Modular Object-Oriented Dynamic Learning Environment, 2001) is a free/open source, accessible, e-learning platform designed for educators to create online courses with a globally difuse network of commercial and non-commercial users. It's infrastructure extends to support various features such as content filters, graphical themes, data field types for database activity. Moodle was designed by a former WebCT administer, and supports a constructivist, learner-centered approach. As of November 2006 Moodle's user base showed over 18 000 registered sites, 7 million users, 7 000 000 courses. Moodle can import quizzes or courses from specific systems such as Blackboard or WebCT. Syndicated external newsfeeds can be displayed with this software. Users are free to distribute and modify Moodle. It has been translated into 61 different languages.
MediaWiki
Web-based wiki software, originally developed in 2002 to support the free content Wikipedia encyclopedia, is used as an internal knowledge and content manager by many organizations. Media Wiki provides a core feature with a set mechanism to attach extensions. It uses hyperlinks to creature accurate content structuring. Content can be stored by categories or subpages. The interface can be personally customized. MediaWiki has been partially or fully translated into more than 70 languages. Wikipedia, MediaWiki's first program, is one of the highest traffic sites on the World Wide Web.
TAcommunities
TAcommunities is an excellent example of a software tool, enabling members to find colleagues, share strategies, resources and ideas related to the VCoP focus dedicated to the exchange of ideas to improve the outcomes for children with disabilities. The project is an initiative of OSEP and the Monitoring and State Improvement Planning Division.
Advantages
Authentic communication and task orientation are enabled by the lack of physical presence that influences norm behaviour in groups is diminished, enabling authentic communication and task orientation. For this reason, asynchronous communication is known as the "great equalizer". (Wepner & Mobley, 1998)
Different levels of expertise are simultaneously available, allowing novice learners to work from the periphery in a more fluid environment. (Johnson, 2001)
Communication can be recorded, stored and made available as a knowledge building resource for members and other communities of practice. Threaded discussions often have peer review and qualitative feedback built in.
Access to digital library systems enable sophisticated research and learning to take place with contextualized data from any location.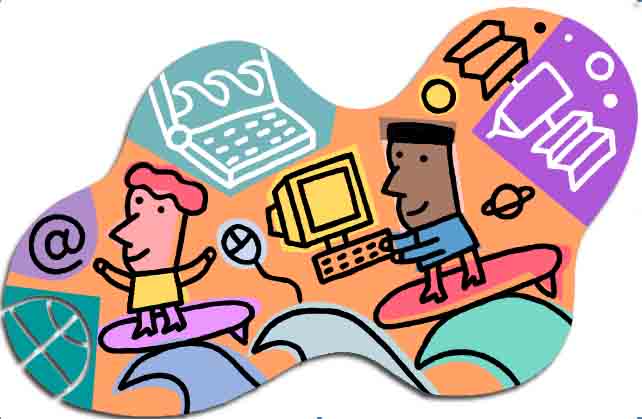 Limitations
Fading back or withdrawing from participation can occur without a strong facilitator, scaffolding in communication, and technical support. (Haythornwaite et al., 2000)
Content of asynchronous discussion can become poor and superficial without coaching and scaffolding. This is referred to this as the "politeness syndrome". (Borthick & Jones, 2000)
Web-based environments run the risk of becoming impersonal without frequent contact between participants. (Oliver & Herrington, 2000)
Virtual team environments require skills not inherent in students and therefore need to be learned. (Borthick & Jones, 2000)
See Also
Etienne Wenger, Communities of Practice: http://books.google.ca/books?id=heBZpgYUKdAC&dq=etienne+wenger+communities+of+practice&pg=PP1&ots=kbrd_odw4g&sig=QI4criXHxTtAt8M_YXTgxBFaEOs&prev=http://www.google.ca/search%3Fhl%3Den%26q%3Detienne%2Bwenger%2Bcommunities%2Bof%2Bpractice%26meta%3D&sa=X&oi=print&ct=result&cd=1
Etienne Wenger, Cultivating Communities of Practice http://books.google.ca/books?id=m1xZuNq9RygC&dq=etienne+wenger+communities+of+practice&pg=PP1&ots=ZR87gIadhV&sig=uK2XcVekaNdYkMP8RBw848ZLR_Y&prev=http://www.google.ca/search%3Fhl%3Den%26q%3Detienne%2Bwenger%2Bcommunities%2Bof%2Bpractice%26meta%3D&sa=X&oi=print&ct=result&cd=2
References
Barab, S., Duffy, T. (2000). From practice fields to communities of practice. In D. Jonassen and S. Land (Eds.), Theoretical foundations of learning environments. Mahweh, NJ: Lawrence Erlbaum.
Johnson, C.M.(2001). A survey of current research on online communities of practice. Retrieved March 2007 from:
http://scholar.google.com/scholar?q=author:%22Johnson%22+intitle:%22A+survey+of+current+research+on+online+communities+of+...%22+&hl=en&um=1&oi=scholarr
UBC Reports (2005). WebCT Revolutionized E-learning. Retrieved March 2007 from:
http://www.publicaffairs.ubc.ca/ubcreports/2005/05jul07/webct.html
Wenger, McDermott, Snyder (2002). Cultivating communities of practice: a guide to managing knowledge - 7 principles for cultivating communities of practice. Retrieved March 2007 from:
Cultivating COP: http://hbswk.hbs.edu/archive/2855.html
Cox, A. (2005, December) What are communities of practice? A comparative review of four seminal works. Journal of Information Science, 31(6), 527-540
External Links
Tomoye (vendor of communities of practice software)