M.org.ue
Jump to navigation
Jump to search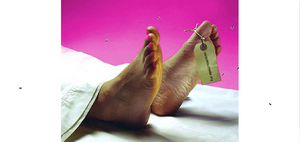 M.org.ue is piece featured on Mouchette.org. [1]
Theme
Upon opening the page, you are faced with one large photo that takes up the entire window. The photo is of just the feet of a body on a table, much like what you would find in a morgue. The toe tag on the body reads "www.mouchette.org".
Interactivity
Another immediately prominent feature of the work is the bugs that crawl around the page, as if crawling on a real decaying body. The bugs all spawn at different points off-screen and migrate towards the cursor, and when they reach the cursor they simply disappear. At any given time there are at most 8 bugs crawling around. [2]
Clicking on the image of the feet takes you to, what seems like, a randomly generated random page within http://www.mouchette.org.
Technical Execution
The bug migration is created through Java and the script is originally written by Mike Hall. [3] The actual bug characters are small .gifs, and the image of the feet are incorporated into the site via HTML.[4]
References
Author
Alec Korchev