Library:Research Help: How to Cite
Citations give credit to others for their work and ideas and allow readers to track down the original work if they choose. The purpose of this guide is to help you identify the basic elements of a citation which are common to all types of materials and citation styles.
The rules for how to format a citation are set by the specific citation style that you are using - and the various style guides offer guidance on many more material types than are modelled here. To learn more about how to use a style guide click the "Using Style Guides" tab. To find links to major style guides click the "Major Style Guides" tab.
Start
Whenever you use someone else's words or ideas in your paper or presentation, you must indicate that this information is borrowed by citing your source. This applies to written sources you've used, such as books, articles and web pages, as well as other formats, such as images, sounds, TV/film clips, and DVDs. Failure to cite such sources may be considered plagiarism. Avoid distress and embarrassment by learning exactly what to cite – the who, what, where and when of your source!
Who:

Who wrote or created it? Examples:
An individual author, musician, artist or other type of creator? a group of authors/creators? a corporation or organization (also known as corporate author)?
Is the author/creator anonymous or pseudonymous?

In all these cases the author or creator must be credited. The sole exception is if the author is genuinely unknown - your style guide will explain how to format a citation with an unknown author. Check your style guide's index to find instructions for "author, unknown" or similar phrases.
Depending on the material type:
Who published it? (primarily print materials)
Who produced it? (primarily cds/dvds/videos)
Other points to consider:
Does the work that you are citing appear within a larger work? Examples include journal articles, encyclopedia or dictionary entries and anthologies.
Depending on the exact type of material you may have to credit the author/creator/editor of the larger work as well.
Was the work originally created in another language?
The translator will need to be credited, as well as the original author/creator.
What:
What type of material did your source come from? Note, different material types have different citation elements so "what" to record can differ from source to source.
Just a few examples:
Book chapter versus blog entry: Book citations include the city of publication; blog citations never include this information.
Edited book versus journal article: Books with editors (usually collections of essays, plays, poetry etc.) require that you cite the editor as well as the author of the chapter you used; Journals have editors too but article citations do not include the editor's name.
Online article versus e-Book chapter: Some citation styles require that you include the date you accessed an online article or website; e-Book citations do not include the date accessed.
Monograph versus anthology: Monographs (books where the entire publication was written by an author or group of authors) require that you cite the book title only, not the title of the chapter you are quoting from; anthologies (collections of essays, plays, poetry etc all written by different people) require that you cite the title of the anthology AND the title of the chapter you are quoting from.
Where: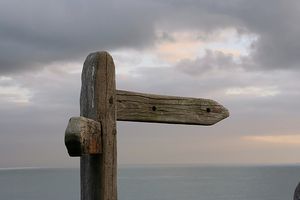 Where was it published? (if relevant – applies primarily to print books)
Where did you find it? (if relevant - applies primarily to online items and items which are available in more than one format)

did you read the article in a print journal? on the publisher's website? in an article database? on the author's personal page?
did you read the print book or the e-book? If the e-book - which platform was it?
Depending on the style guide you are using you may need to include this information.
When:
Did it appear in a particular edition of a larger work? What are the details of the particular edition?
Did you access it on a particular date? (if relevant – applies primarily to web content)
Citation Elements
Note: you will need to cite each source that you used twice: first in the text of your paper at the exact point where you quote or paraphrase someone else's work. This is called an "in-text citation," "footnote," or "endnote" depending on the style you are using. You'll be typing out the citation a second time in your list of Works Cited, References or Bibliography.
Here are some samples of the most common types of citations that you will see. The major styles all have official guides - these have the most detailed and accurate instructions for:
determining which elements to cite.
formatting the citations - both in the body of your paper and in the bibliography/list of references.
most of the formats your sources will come in.
If you need to cite something which is not covered here - check out the relevant style guide for specific assistance or contact the Library for more help. You will also find further helpful hints in the other sections of this guide.
Elements of a citation: Print Book, MLA style.
Print Book, anthology with editor, APA Style
Using Style Guides
Most citation styles require that you cite the same or similar elements for each material type but differ on things like the order and layout in which the elements appear. So, while the details may be different, the basic pieces of information you'll need to cite will often be the same.
Major Style Guide Access
Some style guides are used extremely frequently. These links will take you to the UBC Library holdings on these major style guides.
Print versions for many style guides are available at the Centre Writing and Scholarly Communications on the 3rd floor of the Irving K.Barber Library. Check their hours here
If you just need a quick refresher on how to format something in a style you've used before an online guide or tip-sheet might be best.
Which style should I use?
Your instructor may assign a specific style for you to follow. If so, use the style consistently throughout your paper - in the layout of the paper (margins, line spacing, cover page), in the footnotes/in-text citations and in your final list of references.
If you are not assigned a specific style to use then you are free to choose whichever style you would like to use - again, be consistent.

Many programs and disciplines have a preferred style, e.g., Psychology - APA style; History - Chicago style; English - MLA style. If you aren't sure which style to choose it's probably best to use the style most preferred by your program/discipline.
Are some Help-Guides/Sites better than others?
It depends on your needs:
If you need to cite a wide variety of sources and material types you probably need a very detailed guide.

In this case the official manual for the style is your best bet.
For example, MLA, APA, Chicago, and Vancouver/Uniform styles all have official manuals which the Library owns. These are exhaustively detailed and act as the "final say" if you find conflicting advice elsewhere.
I'm looking at the style guide - now what?
If you've never used a style guide before it can be confusing to navigate. The index may be the easiest way to get to the page you need to consult - but first you need to analyze your source and determine which citation elements you'll need to record.
Start with authorship:
Does the source have an author? Multiple authors? Is the author unknown or pseudonymous? You'll find the rules for formatting all these options in the index under "Author(s)," "Authorship" or similar term.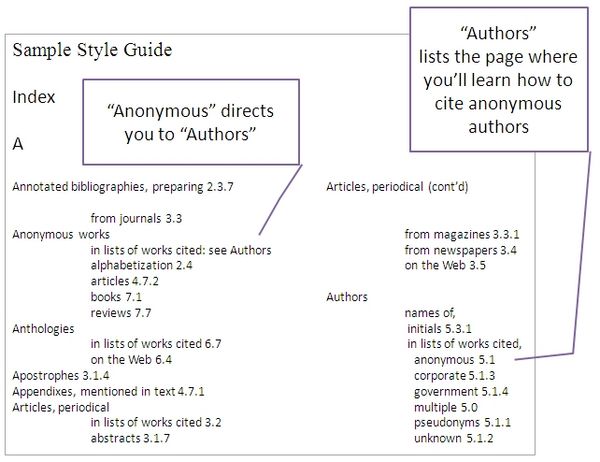 Now look at the format type of your source. Finding the rules for citing different types of sources works the same way as finding out how to cite different types of authors - consult the index.
Are you quoting a book? A journal article? A blog entry? A sacred text? A section of a website?
Different format types have different elements that must be recorded – so look the format up in the index to see all the pieces of information you need to include in the citation.
Finally, make sure that you look up the rules for formatting your citation both in the text of your paper and in the list of works cited/bibliography.
Often the formatting rules are substantially different, e.g., you may find that the rules make you indent your in-text citations differently from how they appear in the bibliography, or the way multiple authors are handled may be very different.
Major Styles
ACS (American Chemical Society)
ACS is the standard style used for Chemistry.
APA (American Psychological Association)
American Psychological Association (APA) style is the standard style used for psychology and many other academic disciplines, especially the social sciences.
APA Style Guides Online
APA Style Guide In Print
ASCE (American Society of Civil Engineers)
Biology 140
Chicago/Turabian
The Chicago Manual of Style provides two distinct citation styles: Humanities style (notes and bibliography) and Scientific/Social Sciences styles (parenthetical author/date references and reference list). Be sure to check with your instructor regarding which style they prefer that you use. Chicago style is sometimes called Turabian style, which is a modified version.
Chicago/Turabian Style Guides Online
Chicago/Turabian Style Guides in Print
CSE (Council of Science Editors)
HARVARD
A parenthetical style used most commonly in the UK and Australia.
IEEE Style (Institute of Electrical and Electronics Engineers)
IEEE Style is used primarily in Electrical and Computer Engineering
Legal
Used primarily in Law
MLA
Modern Languages Association (MLA) style is one of several styles for academic citation. It is used in the humanities, especially English.
MLA Style Guides Online
MLA Style Guide in Print
ICMJE Recommendations / Vancouver Style / Uniform Requirements for Manuscripts (URMs)
Commonly used in medical and scientific journals. The International Committee of Medical Journal Editors has revised and renamed this style (Dec. 2018).
Citation Management Tools
Citation management tools can help you collect, organize, store, share, and format citations. There are many different citation management tools and each has different features. A few of the most popular tools include RefWorks, Mendeley, Zotero, Endnote, and Papers. UBC Library officially licenses and supports Refworks for all UBC students, faculty, and alumni.
Citation management tools and databases that allow you to copy and paste formatted citations into your work sometimes produce errors. Regardless of what tool you decide to use it is still your responsibility to check and make sure that the citation has all the required information and is properly formatted.
RefWorks
RefWorks is the citation management tool officially supported by UBC Library and is free to use for UBC students, faculty, and alumni. Refworks has an online interface that can be used to collect and organize your citations and a plugin for Microsoft Word that helps you format your citations in any of hundreds of styles and easily integrate the citation into your work. Need help? See the Library's Refworks guide or attend a Refworks Workshop.
Zotero
Zotero [zoh-TAIR-oh] is a free open-source tool that aims to help you "collect, organize, cite, and share your research sources." Zotero includes both desktop and browser-based interfaces along with plugins for Microsoft Word and OpenOffice.
Mendeley
Mendeley is a free tool with both web-based and desktop components that includes PDF markup and social networking functionalities. Mendeley also includes plugins for Microsoft Word and OpenOffice.
EndNote
EndNote is a popular paid citation management tool. The full version of EndNote costs money, but there is a free, web-based version within the Web of Science database, called My EndNote Web. My EndNote Web has fewer features than EndNote.
EasyBib
EasyBib allows you to create bibliographies in a variety of different citation styles, including MLA and APA. Visitors can just type in the item they need to cite, and EasyBib will provide the correct citation for each entry.
Citation Builder
Citation Builder allows you to build citations for a variety of information sources in MLA or APA. A free tool from NCSU Libraries.
LaTeX
LaTeX is a document preparation system often used by mathematicians, scientists, and engineers to automatically format documents that comply with thesis and journal formatting requirements. LaTeX has a steep learning curve. A few resources on LaTeX include:
Troubleshooting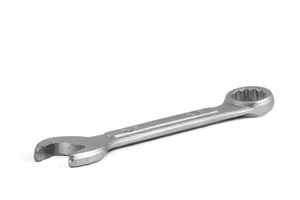 My citation doesn't match anything in the guide
If you can't find an example that matches your source exactly, base your citation on the closest example you can find.
Be consistent with formatting and punctuation.
Make sure you include enough information so that someone else reading your reference list could find the sources you've listed.
Librarians can help you locate citation rules and examples; however, they cannot format or proof-read your citations for you.
I'm supposed to include an element but I can't find it in my source
Some elements, such as authors for websites, DOIs and permanent URLs can be tricky to track down. Don't assume that because some elements are not easy to find that the information doesn't exist. Frequently the information is available if you look for it - though DOIs in particular are not created for every journal article that you will find.
If you don't immediately see an author associated with a website, online article, blog entry etc. look for "about us," "help," "more information," and/or "contact us" type links to see if these sections contain information about the authorship/ownership of the site and its various content areas.
A DOI, also known as a "digital object identifier," is a permanent identifying number assigned to an article. Many journals and databases assign a DOI to each article they own/provide access to. As mentioned above, DOIs are not assigned to every single journal article. That said, most will have a DOI so look very carefully on the article's title page and/or the detailed description of the article which appeared in your results list before deciding that there isn't a DOI for the article.
Sometimes the URL which appears in your web-browser is not "permanent." It is only valid for your current session and will expire as soon as you navigate away from the webpage or shut down your computer. Do not use a temporary, or "session-based" URL in your citations:

if the browser URL contains the phrase "sessionid," "SID," or "session" it's mostly likely a temporary URL
if the browser URL is very long with a lot of symbols it's likely a temporary URL
if the article description contains a link to a "permanent URL," "PURL," "Permalink," "Stable URL" or some similar phrase then the browser URL is most likely temporary.
Look carefully on the article's title page and/or the detailed description of the article which appeared in your results list to see if there are any links to a permanent URL for the article.
I let the computer generate my citation but it doesn't look right
Some databases, such as Academic Search Complete, ABI/Inform and the Library's Summon search have tools which can automatically generate a citation for you. However, citations generated with these tools may not be perfectly formatted.
You will always need to carefully review and edit auto-generated citations for accuracy.
Ultimately, it is your responsibility to make sure that your citations are accurate, consistently formatted and contain all the required elements.