Library:Library Resources for the Faculty of Arts
Connecting from Home
As a UBC student, you have access to millions of print and electronic items available through UBC Library. (http://www.library.ubc.ca). If you are doing your research from home, you can access licensed Library resources including online Journals, Indexes & Databases, and other resources using EZproxy. You'll need your Campus-Wide Login (CWL) or your UBC Card.
If you get an EZproxy error message, use this troubleshooting checklist:
1. Check your connectivity: be sure that your internet service provider is working.
2. If you can't log in with your Campus Wide Login (CWL), contact UBC IT Service Centre Help Desk, by phone (604-822-2008 weekdays, 8:00-4:30) or via this form.
3. If you can't log in using your Library barcode and PIN, you might have a Library PIN problem. Call the Library's Borrower Services division at 604-822-2406. More information here. Forgotten your Library PIN? Reset it here.
4. The resource you're trying to connect to could be offline because of a system failure, etc. The Koerner Library Reference Desk (604-822-2725) will be able to confirm if this is the case.
Using Library Materials & Services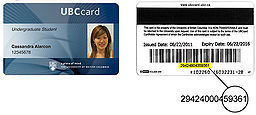 Library Card
UBC Card= Library Card Your UBC Card is also your Library card. Use it to check out library materials. Your CWL is the login for most online library services such as renewing books and placing a hold on a book that is currently out. For a few library services, you'll need to enter your Library ID, the barcode on the back of your student card PIN (the last 5 digits of the barcode is your default PIN) to request some library services. You can request a new PIN if you forget it.

UBC Library Branches for Faculty of Arts Courses
How do I know which library to use? Choose from the library branches listed below. Each offers specialized collections and subject liaison librarians to assist with your research:
It's not a physical location, but nearly one million books and hundreds of thousands of journal articles and other materials are available online via UBC Library. When you search on the library website, you can limit your search to online materials, which are also available from off-campus For assistance with finding or connecting to online materials, choose one of the libraries below for research help by phone, email, online chat or in person.
Koerner Library (Humanities and Social Sciences) has nearly a million print books, journals, maps, etc., for research in Faculty of Arts courses, except those covered by the libraries below. Koerner also includes Data and GIS. Generous study space, including bookable group study rooms. The Koerner Research Commons (Floor 2) offers workshops and on-on-one assistance with thesis formatting, citation management software, and statistical software. Call, visit or email for research help at Koerner.
Asian Library materials are primarily in Asian scripts. Before you visit or call, make sure that you can read one of the languages listed on the Asian Library homepage. Koerner Library has materials about Asia in English.
Music, Art and Architecture Library
Music, Art and Architecture Library, which includes Fine Arts, is located in the Irving K. Barber Learning Centre. Call, visit or email for research help.
Rare Books and Special Collections (RBSC)
Located in the Irving K Barber Learning Centre, Rare Books and Special Collections (RBSC) has significant collections of rare books, materials related to the history of British Columbia, Canadian history and literature. Materials in the RBSC collection do not circulate. Call, visit or email for research help.
Xwi7xwa Library has many unique and specialized items on First Nations in BC, materials on Canadian First Nations, plus issues of interest to First Nations and Indigenous peoples. Call, visit or email for assistance.
Find Course Reserve Materials
If you log into the webpage for your course via Connect, log in as usual, select your course, and look for "Library Course Reserves" in the left hand menu.
Print materials on Course Reserve have shorter loan periods than other materials, typically 1-3 days. Note the call number and library branch for print items.
Great Reads Collection
Available at Koerner, Irving K. Barber Learning Centre and Woodward Library, the Great Reads Collection provides books for leisure reading.



Library Hours
Getting Help
Find out about other Library Services . . .
Finding Sources for your Research
UBC Library Web
Start searching for information on any topic via the search box ("Find Articles, eBooks, Theses & more in Summon") on the UBC Library website, www.library.ubc.ca. One search retrieves print and electronic books, encyclopedias, newspaper articles, journal articles, videos,maps and more. The call number and library location are listed for each print resource. Watch video about searching Summon.
Research Guides
For a more focused search, use a research guide. Enter a broad subject area or the name of a department in the search box. Each research guide lists key resources including discipline-specific article indexes, essential handbooks and subject encyclopedias, suggestions for search terms, etc.
Evaluating and Citing Sources
Evaluating Research Sources
Evaluating Information Sources provides general guidelines for evaluating information for your assignments, whether published in print, online, or via the free web.
How to Cite Sources
Summon, the search box on the Library's homepage, can automatically format citations to your search results in APA, MLA and Chicago/Turabian. Instructions [1] here. To cite items not in Summon, consult How to Cite Sources for detailed instructions, including examples.
When You Need Research Help
The world of academic information and scholarly publishing is changing rapidly. Librarians are pleased to advise you about the most efficient way to find the information you need.
UBC Library librarians are available to answer your questions in person at reference desks, via email or chat, or by phone. Get in touch via the appropriate library branch listed above. If you're not sure which branch to contact, contact Koerner Library (Humanities and Social Sciences) for a referral.