Library:Library Research Skills For Biologists/Module 3/Module 3C Locating Books/Page 03
Jump to navigation
Jump to search
Read Line by Line
Read call numbers line by line. Each piece of information directs you to a group of shelves, to a row of shelves, and then to the shelf that has your book.

3. Start with Letters
Call numbers begin with letters that are read alphabetically. A call number can begin with one, two, or three letters. Single letters come before double letters, for example:
4. Look for the number
The second part of a call number is a whole number. Whole numbers are arranged from smallest to largest, for example:
5. Look for the Letter and (Decimal) Number
The third part of a call number is a letter followed by a number. This number is a decimal number. No decimal is printed on the book, for example:
Reading It Together
The books below are in correct order.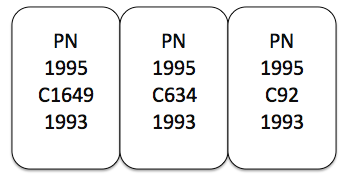 If you need further help with locating an item on the library shelf, ask for help at the service desk.
For a print guide on reading call numbers, go to: File:Reading Call Numbers Handout.pdf