Library:Introduction to Bibliographic Management Tools Workshop
Jump to navigation
Jump to search
This page was created to support the session Introduction to Bibliographic Management Tools for the UBC Library Research Commons Team Training Week, August 20-24, 2012
Workshop Description

In this session, we'll look at Bibliographic Management Tools (aka Citation Management Tools, aka Reference Management Tools). To give us a bit of context, we'll start with a look at the past, present, and future of citation management support at UBC. Next, we'll do a brief overview of what bibliographic management tools are, what they do and why it's a good idea to use one. We'll also look at tips on how to choose a bibliographic management tool. Finally, we'll look at three of the most commonly used bibliographic management tools (both free and paid): RefWorks, Mendeley, and Zotero. (Note: We won't be looking at EndNote, the most popular paid citation management tool, as UBC Library is not currently able to support it.)
We'll then dive right in and do some hands-on work in groups exploring one of the three citation management tools.
About Citation Management Support at UBC Library : Past, Present and Future
This section refers to the Draft Proposal Citation Management Instructional & Support Program at UBC Library by the Citation Management Working Group.
Past
UBC Library has provided support for citation management tools for more than a decade in the form of workshops and in-person support via phone, drop-in, or email. In 2005, the library subscribed to RefWorks and began to officially support it. At the time, RefWorks was one of the state-of-the-art reference management tools and the only major tool to provide web access from any computer rather than being limited to a single workstation which had the software.
Present
The current citation management landscape is very different than it was in 2005. There are now 30 such tools listed on the Comparison of reference management software Wikipedia page. Librarians are being asked to provide instruction and support on a wide variety of citation management tools, including RefWorks, EndNote, Zotero, Mendeley, BibTeX, Papers, Sente, Citavi and more.
RefWorks is still one of the major players and continues to be officially supported by UBC Library, however, many of the new generation of tools have expanded capabilities that are not offered by RefWorks, including social networking (Zotero and Mendeley) and allowing annotating and highlighting directly in pdfs (Mendeley). As the Citation Management Instructional & Support Program at UBC Library report notes, "there is no 'one' tool that is best, or most appropriate for all disciplines, so it is important that the library provide some level of support for the most commonly used tools to address the research needs of our constituents."
While we currently only officially support RefWorks, librarians have started to meet these requests for assistance with citation management tools other than RefWorks on an individual basis.
Future
Based on the results of two surveys, one of librarians and library staff in March 2012, and the other of UBC students, faculty and staff in April-May 2012, the Citation Management Working group has put forth a proposal to:
Officially support the top four tools used by researchers: RefWorks, Zotero, EndNote, Mendeley.
Establish a large citation management team to develop an instructional and support program with the following elements:
Participating librarians, library assistants, student librarians and Research Commons students are committed to learning and supporting one or two tools.
Workshops are offered on a regular basis.
Support is offered in person and via email.
Vendor training opportunities and materials are used where possible.
(The full report, Citation Management Instructional & Support Program at UBC Library, can be found in ActiveCollab.)

Research Commons Support
Based on the survey results and the subsequent proposal of the Citation Management Working group to support the 4 most commonly used reference management tools, one of the services the Research Commons team will provide is weekly 2-hour workshops on one of the 3 citation management tools, RefWorks, Mendeley, and Zotero. (At this point, we do not have the resources to support EndNote.)
Overview of Bibliographic Management Tools
Bibliographic Management Tools are software that allow you to capture, save, and manage references - aka citations - and then create bibliographies or in-text citations using a variety of citation styles including the major ones such as APA, MLA and Chicago Style, as well as hundreds of lesser known styles such as those specific to a particular journal.
What They Do
The functions of bibliographic management tools can be loosely grouped into 3 major functions:
1. Capturing
Reference managers allow you to capture citations of your research by:
manually adding citation one-by-one by typing text into fields (avoid this method where possible!)
directly importing citations from databases, websites, and library catalogs.
indirectly importing citations from databases, websites, and library catalogs

2. Organizing
Once you've captured citations, you can organize them into folders. Reference management tools allow you to:
manage, categorize, and organize citations
attach PDF's, images, etc to citations in your collection and add notes to any citation(s)

3. Displaying and Formatting
Once you've created your research database, reference management tools allow you to 'output' your references in a number of citation styles with the click of a button. You can:
create bibliographies in most citation styles (often called 'output' styles by the reference management tool
format in-text citations for papers
Why Should You Use Them
Now that we've seen what reference management tools can do, it's pretty apparent why it's a good idea to use one. To summarize:
they help organize your research all in one place
you can easily create in text citations with the click of a button(s)
you can easily format - and re-format - bibliographies
they help you avoid plagiarism by tracking your research path
some reference managers allow you to share your folders or lists with fellow researchers
References Gilmour, Ron and Cobus-Kuo, Laura, 2011. Reference Management Software: a Comparative Analysis of Four Products. In : Issues in Science & Technology Librarianship. 2011. Vol. 66, pp. 63–75. doi:10.5062/F4Z60KZF.
Choosing a Bibliographic Management Tool
Choosing a bibliographic management tool will depend on the needs and workflow of the user as each tool has its particular strengths and weaknesses.
General Tips for Choosing the Right Tool
Talk to people in your discipline or department to see what they are using. If there is one tool that is a clear winner, go with the flow.
Take a look at the user interface and test out the tool to see which one feels best for you.
If you need to work from multiple computers and locations, a web-based tool such as RefWorks or Zotero is key.

If a lot of your research is on the free web and you need to save copies of websites for review, Zotero allows you to easily save snapshots of webpages and can pull out the relevant citation information for a website.

If you'd like to share your research paper discoveries with others, Mendeley allows for social sharing and discovering of research. This may be of particular interest to interdisciplinary scholars.
RefWorks
Strengths
RefWorks is officially supported by UBC Library.
RefWorks can be accessed from any computer with an internet connection as your database is saved on remote servers.
RefWorks data is saved on Canadian servers thus protecting all information from scrutiny under the terms of the USA Patriot Act.
Weaknesses
There is no social networking functionality. Developing your list of resources can only be shared if you share an account or if you use Refshare which will create a URL for a read-only version of a database or folder.
Write-n-Cite can only be used with MS Word. If you choose and open source word processing software, RefWorks may not be the best choice for citation management tool if you want in-text citation.
Allowed 100MB per account for attachments only.
Refworks Tutorials
Troubleshooting
For questions specific to RefWorks and UBC Library, email the UBC Library RefWorks team at lib-refworks@interchange.ubc.ca. Ask students to include the following information in their email: Mac or PC, browser, operating system, details of the problem.
For general RefWorks questions, email the RefWorks vendor support team at refworks.support@scholarsportal.info.

Developed in 2008 by a Web 2.0 start-up, Mendeleyis a fairly new addition to the bibliographic management world. Mendeley is a combination of a desktop application and a website which helps you manage, share and discover both content and research contacts. The website version was modeled after Last.fm, the social networking music site; it incorporates social features into the academic process and allows users to share references with other users or groups, share new research, discover research trends, and get recommendations based on one's interests.
Strengths
Mendeley Feature Comparison Chart
Allows annotating, highlighting, and adding notes directly to pdfs. (Not offered by RefWorks or Zotero as of August 2012.)
Mobile and iPad apps (Not offered by RefWorks or Zotero as of August 2012.)
Allows you to build an online presence/academic profile.
Weaknesses
Accuracy of citations was not as good as RefWorks.
Does not work with Mac word processing software Pages
Mendeley Tutorials
Troubleshooting
UBC Library does not currently officially support Mendeley.
For Mendeley support, visit the Mendeley Support Portal with articles and FAQs. Once you have logged into your Mendeley account, you can email or post a question.
Zotero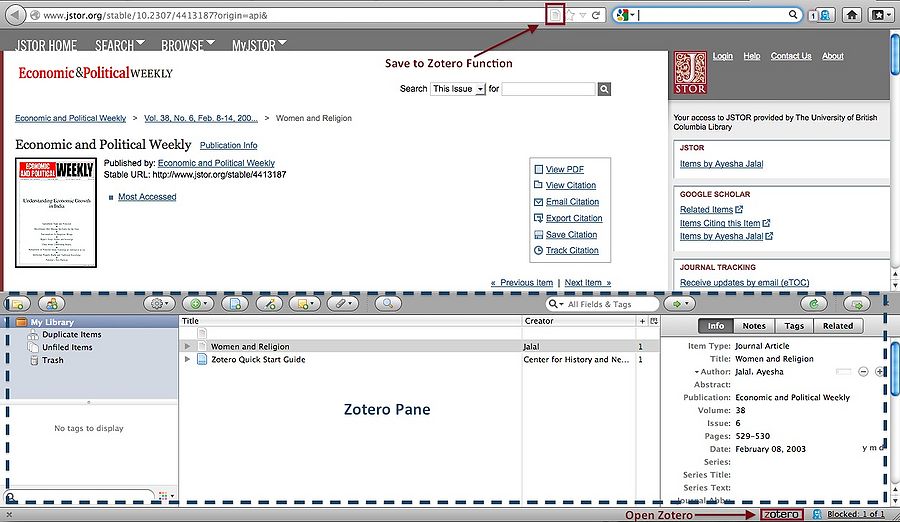 Zotero (zoh-TAIR-oo) is a free, easy-to-use tool to help you collect, organize, cite, and share your research sources. Developed by the Roy Rosenzweig Center for History and New Media at George Mason University in 2006, Zotero was developed as an extension for the Firefox web-browser to "live" that right where you do your work—in the web browser itself. Zotero runs in its own pane within Firefox, separately from web pages and "scarpes" information to populate the your citation database.
Strengths
Simple to learn making it a good entrance level citation management tool.
There is a social networking function in Zotero where you can create communities and groups (e.g. (Post) Soviety Popular Music) to share research materials. Also offers the ability to tag.
Zotero is a web extension which makes it more stable when attempting to "scrape" websites for citation information.
Zotero has an ability to automatically extract certain types of metadata, such as the URL, date and time accessed, and title from common online archives such as Flickr, Google Scholar and YouTube. This not only reduces manual transcription on the part of the student user, but also improves accuracy.
Zotero is open-source and there is a commitment from the Zotero developers to allow unrestricted access to users and opportunities for outside developers to add functionality and ensure continued development.
Weaknesses
Zotero citations are tied to your local Firefox profile, so it is not as easy to transport or share with other users as in other applications.
To use Zotero at multiple computers you must sync through the Zotero server. This will allow you to access items synced to the Zotero through your zotero.org account. If your computer breaks-down and you have not performed a sync to the Zotero server, you will lose your citations. *Zotero is only available for Firefox, Netscape, and Flocktionally, the syncing function in Zotero is unpredictable.
Zotero's bibliography formatting options are also more limited. While most of the widely-used formats are available, it does not include many specialty journals, and reformatting of bibliographies is not instantaneous.
Zotero Tutorials
Troubleshooting
UBC Library does not currently officially support Zotero.
Zotero help is offered through forums. There is no email contact information.