Library:IKBLC Study Rooms
Jump to navigation
Jump to search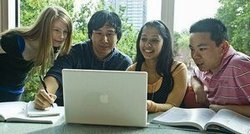 The Irving K. Barber Learning Centre have 4 study rooms available for use:
4 in the Learning Centre (Level 2)
These rooms are available to book for a maximum of one student, faculty or staff for up to two hours, two times per week.
Rooms must be booked more than 24 hours in advance.
Use Policies
To ensure fair access to all users, please observe the following:
Bookings are made online through the Library Room Booking System.
You are required to complete the COVID-19 Student Safety Training Course: https://canvas.ubc.ca/enroll/NJD8YF. Only those students who have completed the training course will be permitted to keep booking study spaces.
Rooms are single occupancy only. Masks are not required while in the room.
Individuals can book up to 2 hours per day, 2 times a week, up to 7 days in advance.
Bookings must be made 24 hours or more in advance.
Last room booking of the day is 2 hours prior to closing.
Rooms 263-266 are available when the Irving K. Barber Learning Centre is open and must be vacated 30 minutes prior to closing.
Rooms are to be used in compliance with the UBC Library Food and Drink Policy.
If you have unique academic circumstances that require you to book this room for more than 2 hours (i.e. a UBC exam that is more than 2 hours), please email ikblc.bookings@ubc.ca to consider your request.