Library
:
How to Write an Annotated Bibliography
Definition
A bibliography is a list of the works you cited/consulted when writing a paper. An annotated bibliography also includes a brief description of each work in the list - and in many cases, a critical evaluation of its quality. To provide a useful assessment of an article here are some criteria to consider:
The purpose and scope of the work
A brief description of the format and content
A summary of the main arguments
The theoretical basis of the argument
The author's academic credentials

For an evaluative bibliography:
The work's intended audience and reading difficulty
The value and significance of the work within the discipline
The point of view or perspective from which the work is written
Any possible shortcomings or bias in the work
Any additional features of the work (eg. glossary, appendices, particularly good index)
Your own brief impression of the work
What is the purpose of an annotated bibliography?
A published annotated bibliography helps researchers by identifying what has already been written on a topic. The annotations are very useful in deciding which items to read first, or determining which items are related to each other, etc.
As an assignment in a course, an annotated bibliography has one or more purposes:
if the annotated bibliography is part of a larger project it helps you stay on track with your research
it demonstrates your ability to select, analyze and evaluate research in a discipline
Check with your instructor to see if you will be required to analyze as well as summarize the works in your list.
Characteristics
How do I write a good evaluative annotation?
be critical - Go beyond summarizing the article. The value for your reader lies in your assessment of each source.
be brief - Keep your annotation to a limit of 10 sentences and/or 150 words.
be honest - Don't pad your bibliography with works that you did not use and/or did not influence your research.
Example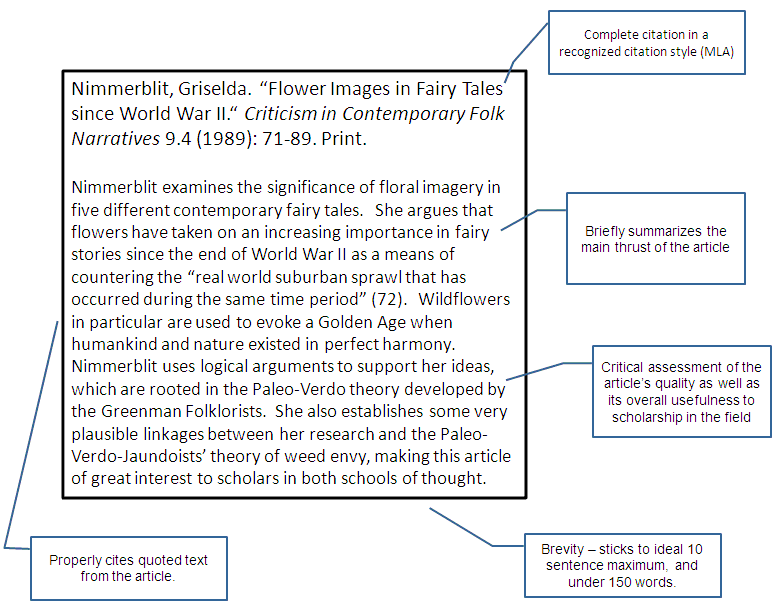 Academic Integrity
Writing your annotations will require that you summarize each article's main arguments. In doing so you may find yourself quoting the author's words. Academic integrity requires that you cite direct quotations from the author's text. Failing to credit an author for his or her work or ideas is an example of plagiarism.
Note: normally you must also provide your reader with a citation every time you paraphrase or summarize someone else's work or ideas. As noted above, "failing to credit an author for his or her work or ideas is an example of plagiarism" even if presented in your own words.
However, an entry in an annotated bibliography by definition includes a summary of the original author's work. The reader already understands that your recap represents another person's "work or ideas." In this situation further citations are not necessary, though if you are writing an evaluative annotation your assessment of the author's work is expected to be your own original work.
For more information about types of plagiarism, avoiding plagiarism, and what you do and do not need to document check out the website for the Academic Integrity Resource Centre.
Where Can I Find out how to Cite Properly?
Annotated bibliographies use the same sorts of citation styles that standard bibliographies and lists of works cited do. Your instructor will likely specify the style you are to use - but if not - you will have to choose one and use it consistently throughout your bibliography.
Pay particular attention to the your citation style's rules for:

how to reference multiple authors
line spacing
capitalizing (or not) book & article titles
indent placement
page margins
Check out the Library's Guide to Citing here to learn more about using APA, MLA, Chicago/Turabian and other styles.
More Academic Integrity Resources
More Help
Check out these other online guides
Write an Annotated Bibliography. From the University of California, Santa Cruz Library this brief guide includes a good "how to" section on writing annotations as well as example entries.
Annotated Bibliographies. From the Purdue Online Writing Lab (OWL), this guide provides clear explanations of the purpose and structure of annotated bibliographies. Also provides links to help with formatting in MLA and APA citation styles.
How to Write an Annotated Bibliography. From Simon Fraser University Library, this guide explains the proper formatting for an annotated bibliography and provides examples written in MLA and APA style.
Writing an Annotated Bibliography. From the University of Toronto, this guide explains how to select suitable sources, summarize arguments and assess the "relevance and value" of sources. It also includes a very helpful vocabulary list to help you "summarize and discuss" the texts you've used.
Help at UBC