Library:How to Use Library Course Reserves/MD Program
Due to its distributed nature and the shared MD/DMD curriculum, some special procedures are required to ensure MD/DMD students at all sites are able to access course reserves in Connect/MEDICOL. Following is information for MD program course reserves administrators, as well as information for Library staff.
Information for MD program course reserves administrators
Basic support for course reserves administrators (program assistants or instructors), including instructions for adding/editing/deleting items and screenshots or videos, is available here. Please use Chrome or Firefox to access LOCR in Connect. Internet Explorer is not recommended.
Special procedures and notes
Groups/cohorts
We have created groups of courses to enable MD/DMD students to access readings in a way that is more in keeping with the way the programs actually operate. Each group is labelled according to the graduation year (eg, 'Class of 2019') and includes all the courses that are relevant to that cohort. For example, in fall 2015, 'Class of 2019' will comprise: MEDD 410, MEDD 411, MEDD 412, MEDD 419. We have also created a cohort for second year dental students. The second year dental cohort includes second year FMED courses and DENT 420. These groups of courses are created manually each year by Library staff. Please contact us with any questions or concerns. The LOCR cohort function is what allows us to provide PRIN/FMED readings to DMD students, and to provide a view for non-student MEDICOL users such as program staff, faculty and tutors. At this time, we are unable to offer course- or week-specific links for the shared MD/DMD courses/blocks, so we are providing MEDICOL admins with the cohort-based links for the shared courses, which allow access for MD and DMD students, as well as program staff, faculty and tutors. For 2015/16, the program links are as follows:
Tagging
In general, FMED and DPAS readings are currently organized by week. INDE and FMPR courses currently have more general lists for each course as a whole (not organized by week). In addition to week tags, it may be desirable to add tags such as 'Wednesday release' or 'case reading', so students can find those time-sensitive readings easily.
Generating lists for course directors or block/week chairs to review
A .pdf of a reading list can be created by using the 'Print Reading List' function, then emailed to instructors. To 'print' a list of only the readings with a specific tag (eg, Week 1), click on the tag to filter, then click 'Print reading list'. Please note that the order of readings can be changed by dragging and dropping. This will affect the print order.
Special dates
Special dates may be set for individual readings. Instructors may wish for a reading to become available/visible to students only at a specific time (eg, the Wednesday of the week), in concert with the development of a PBL case. Special dates may be set when submitting a new item or by editing an existing item. Some instructors may request that a specific release time (in addition to a special release date) be designated. This is not currently available in LOCR, but should be soon.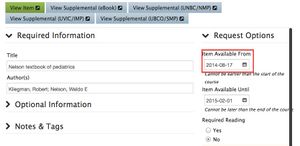 Persistent links
LOCR creates persistent links (PURLs) to courses, items, tags and cohorts. These can be provided to students via email or a website; they can be used outside of Connect. For course, item and tag PURLs, only individuals registered as instructors or students in the course will be able to access the items. For example, the PURL for the FMED 422 course as a whole will only allow medical students and the program assistants who are registered as 'instructors' access. Cohort/program links allow access to readings for both medical and dental students, as well as non-student users of MEDICOL (tutors, program staff), as described above.
Distributed sites
The libraries at the distributed sites use their own course reserves systems. Due to the size of UBC's electronic collections (e-books, e-journals) and the fact that all MD program students have UBC CWLs, we use UBC collections for all of the online readings for the MD program. However, we must communicate requirements for print books to the distributed site libraries in time for them to be able to obtain any new materials that are needed (please see deadlines, below). MD program library reserves may not appear in the course reserves systems at the distributed sites, as we are now linking directly to the catalogue records for local print holdings. LOCR training for program assistants based at distributed sites will be planned for the fall of 2015.
Adding print materials in the middle of term
If you need to add a print book to a course after the deadline for the course has passed, please contact us when you add it, so we can alert the distributed sites.
'Required' readings for accreditation purposes
For accreditation-related reasons, the Curriculum Management Support team needs to include lists of 'required' readings (but not supplementary readings such as background reading, readings for students with a special interest in the topic, general reference, etc.) in their curriculum database. Based on the data that is in LOCR, we will be able to provide them with a custom report showing the required readings for each course or week (for the courses that organize their readings that way). To enable us to extract this information, please use the 'required' check box as you review readings with instructors over the course of the year.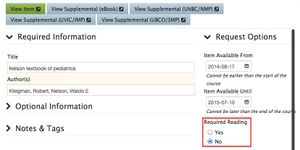 Weeding older items
As you review lists of readings with course/block or week chairs, you may notice some older books or journal articles. Some may be there for a good reason, while others may have outlived their usefulness. Please feel free to delete materials as appropriate (in consultation with instructors). If you would like some options for a more recent reading, please don't hesitate to contact us.
Content types and deadlines
Please see the general LOCR documentation for descriptions of content types and usual processing timelines.


Although we do buy e-books whenever possible, sometimes print is still the only option. We must provide lists of the print books that are needed for each course/block to the libraries at the distributed sites, so they will be able to buy them and make them available in their reserve collections. In general, we will plan to provide the list of print materials one month prior to the start of the course/block. If you require more time, please contact us. In general, non-book readings (such as web links or e-journal articles) can be added after the one-month deadline. Please refer to the link above for processing times.
Year 1 courses (2015/16)
| Course | Deadline |
| --- | --- |
| MEDD 410 | Nov 1 |
| MEDD 411 | Nov 1 (flexible, as all students will be at UBC - let us know if you need more time) |
| MEDD 412 | Nov 1 |
| MEDD 419 | March 1 (but please contact us if you need print materials prior to the start of the MEDD 419 block in April) |
Year 2 courses (2015/16)
| Course | Deadline |
| --- | --- |
| FMED 424 | Aug 7 |
| FMED 421 | Sept 4 |
| FMED 423 | Sept 11 |
| FMED 425 | Oct 9 |
| FMED 422 | Dec 11 |
| FMED 426 | Dec 11 |
| FMED 427 | Feb 19 |
| FMED 428 | Mar 18 |
| DPAS 420 | Flexible, as all readings are electronic. |
| INDE 420 | Aug 7 |
| FMPR 420 | Aug 7 |
Support
Please feel free to contact Kristina directly with problems or questions. Woodward Library reserves staff are also a great resource - their contact info is here. We will be able to escalate technical problems to LOCR support as necessary.
We have created a brief handout for MD program users, outlining best practices. We are hopeful that this will help to guide contributors to the new curriculum as they think about readings. Please feel free to circulate this document, and please get in touch with the Library if you or your instructors/faculty need any help in finding appropriate readings.
FAQ
Please see the general LOCR FAQ for tips on basic troubleshooting.
Students
How can MD and DMD students access course reserves?
Students can access all readings for their program by using the Library tab in Connect.

Why are students being asked to login to view readings?
If students are on campus, access should be seamless for the most part. If they are off campus, to actually view the full text of library-licensed articles and e-books, they will need to login using EZproxy. They will automatically be prompted for their CWL; this login is only required once per session. Please contact us with any difficulties.
If a student undertakes remediation for a course, how can he or she regain access to the necessary readings?
All MD/DMD courses have been assigned special end dates beyond the end of the academic year (July). If special access is required outside of that, please contact us.
MD program course reserves administrators
A new program assistant recently joined our team - how can access to course reserves be requested?
Please contact us and provide the individual's CWL.
I need to copy readings from a previous course into a new one.
If you have been designated as 'instructor' in LOCR for more than one year, you will be able to copy readings from a previous iteration of a course, from the 'Add reserve items' screen. You have the option of copying all items from a course, or selecting specific items. Since you are all designated as 'instructors' for all MD program courses, in future you should be able to copy from any of the past MD program courses. This will likely be useful for the purposes of curriculum renewal. If you need help with copying/cloning items, please let us know.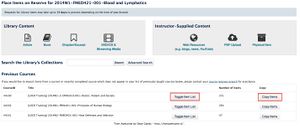 Can faculty/instructors manage course reserves on their own if they wish?
Yes, if they wish to be added to LOCR as 'instructors', please get in touch with us.
Who can access MD program course reserves?
Using the 'program' view, described above, any MEDICOL users should be able to access most course reserves that are 'available'. If items have a special start date assigned to them, only designated 'instructors' will be able to see them. In the case of certain items that have been digitized by the Copyright Office or licensed for student use only on a transactional basis, only student access is possible. This is relatively rare. Please contact us with any questions.
When do courses become available in LOCR, so that new readings may be added?
We will send an announcement to the MD-LOCR list when future courses are available in LOCR.
Information for UBC Library staff
Program assistants designated as instructors
Program assistants and managers have been designated as 'instructors' for all MD program courses in LOCR. This is a manual process, which must be undertaken annually. MD program courses appear not to have 'native' SIS instructors.
Links in MEDICOL
For shared MD/DMD courses, the 'program' links have been provided to MEDICOL admins. All MD/DMD students should be able to access all appropriate readings via the program link that appears in the Library tab.
Annual adjustment of dates for medical program courses
According to the SIS, MD program courses may be relatively brief, but in reality, exams occur at the end of each academic year. Special end dates can be set by MedIT or by Library IT.
Adding URLs for distributed site libraries
We are now linking directly to the print books at each of the distributed sites (UVic, UNBC, UBCO). This is a manual process, so links should be added for new titles or new editions.