Library:HSS News Feed
Jump to navigation
Jump to search
HSS Branch Page News Feed
A new component of the HSSD branch page is the news feed. This feed gives us an area to promote our collections and services.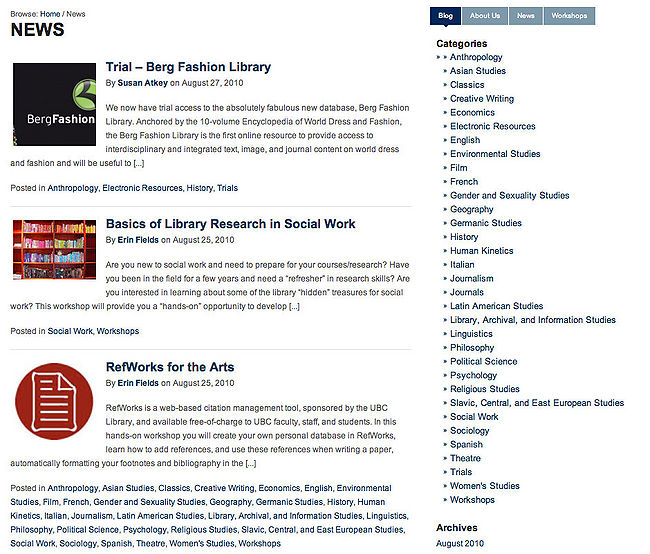 Involvement
The HSS News section of the branch website should highlight what currently is occurring within the HSS division. Due to this we need to commit as a department to update the news weekly. To ensure the information posted is varied and is inclusive of the diversity within our department, the news should be generated by all HSS librarians. This will require each member of HSS to write posts on a rotating schedule.
The time commitment for these posts is small as the rotating schedule would require each librarian to add a post to the HSS News once every 3 months. The schedule can be found in our Google Calendar account.
The posts for the HSS News could include:
Collections – new additions, interesting sources, hidden treasures, database tricks & tips
Instruction – workshops offered by HSS librarians
Services
Highlights about our department that can impact users of HSS
How to Post to the News Feed
Log into the site using your CWL here
Click the 'Add New' link on the left-hand side of the page under 'Posts'. [screenshot]
A new post page will open. Enter the title and text in the appropriate fields. [screenshot]
Select categories for your post in the menu on the right-hand side of the page under 'Categories'. Add tags to the 'Tag' section to further define the topic. [screenshot]

Categories include HSS disciplines, formats, and miscellaneous. See the full list here .
Do not add any further categories to this controlled list. Use tags instead.
For general items of interest to all HSS disciplines (workshops, etc.), add ALL subject categories to the post.

Once you've finished writing your post, click the blue 'publish' button in the top right-hand corner. Not sure if it's ready? Click 'draft' to save for later or 'preview' to see what the post will look like.
Feed Your Subject Area
You can select the category for your discipline and send that URL or RSS feed to the Department for inclusion on their home page, course pages, etc., so that they keep up-to-date on relevant collections and services.
To get the news for ONLY one specific subject:
Click the "More News" link at the bottom of the news feed to reveal more posts. (The feed displays only 5 items on the HSS home page.)
You'll see a list of categories on the right hand side.
Click on the relevant category to see only the items in that area (e.g. Social Work)
Now you can either send the link or RSS feed:

To send the URL, copy the address from the menu bar.
To generate the RSS feed, use this format (replacing social work with the appropriate category): feed://hss.library.ubc.ca/blog/category/news/social-work/feed/