Library:Finding and Using Data for your Research/Economic/International
International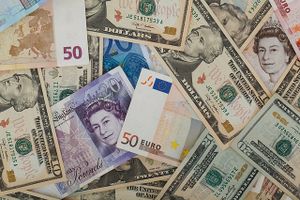 Research data sets from around the world, collected by the library.
Data sets of interest include: IMF data, International Trade Merchandise, Cross National Time Series, ICPSR (primarily historical) (ask about this - how is it different from searching ICPSR itself. Same with IMF.
Monthly and yearly reports on China's macroeconomic development, statistical databases on China's population and economy at the county and city level, and financial indicators of industries.
Managed by the University of Michigan China Data Center. Information is not provided about the data sources or instruments used to collect the data.
International economic, company and financial data. Data are available in both text and graphical formats. Data can be selected for analysis, display and print. Updated daily.
Only available on certain library workstations. See the link for more information.
A coordinated statistical agency for all countries in the Eurozone. Collects economic, environmental and population data.
Data can be accessed through the online Statistics Database from the home page.
Methodology can be found in the Metadata menu on the left hand side in this section. Specific methodological information for individual datasets can be accessed along with the datasets themselves.
Annual, monthly, and quarterly financial and economic time series cover more than 200 countries and 40 regional and special groups of countries.
Use for the following topics: Balance of payments, Banking and Financial systems, Employment, Exchange rates, Fund position, Finance, Government finance, Interest rates, International liquidity and Banking, National accounts, Population, Prices, Production, and Trade.
Select predefined data reports by Country, Topic and Data Source, or build your own queries across or within datasets.
Export results or manipulate and visualize the data with the online tool provided.
Statistics collected continuously by India's National Sample Survey Office on social, economic, demographic, industrial and agricultural topics.
Data sets held by the library are current to 2009. The datasets have been individually catalogued online, with good information about what the data sets contain and how the data was collected, but most of the data sets themselves cannot be accessed this way.
Select the Statistics tab from the OECD iLibrary site, then select OECD.Stat under the Databases column. One the next page, select the Data icon, which will lead you to the datasets.
OECD iLibrary provides online access to all books, journals, statistical series and databases originating from the Organisation for Economic Co-operation and Development since 1998. UBC has access to the International Energy Agency's IEA Databases and to OECD.Stat.
OECD publications cover economic and social issues including trade, education, labour, social policy, health, finance, development, energy, environment, and science and innovation.
The PWT are a prepared data set (based on information from the International Comparison Program run by the World Bank, combined with National Accounts data) that can be downloaded in its entirety and is useful for comparing long-term cross-country growth. A major focus of this data set is calculating real GDP using purchasing power parities to correct for differences in prices across countries. The dataset covers 189 countries, and the data in many cases ranges from 1950 to 2010.
An important resource for locating government statistics - US government statistical publications, as well as those of international intergovernmental organizations such as the UN, European Union, OECD, IMF, Asian Development Bank, etc. Includes online tables for US federal agencies and for the World Bank, and links to government statistical resources on the Web.
Internet-based mapping application that enables users to develop interactive thematic maps and reports using demographic, business, and marketing data.
Company and industry analysis from over 500 investment analysis firms. Coverage is global.
Use Internet Explorer browser and ensure pop-ups are enabled.
Detailed trade data from two sources: World Trade (1988-2005, annual data) continues Statistics Canada's World Trade Database CD-ROM. Canadian Imports and Canadian Exports (1988-present, monthly and annual data) continues Statistics Canada's TIERS (Trade Information Enquiry Retrieval System) CD-ROM.
The United Nations Commodity Trade Statistics Database (UN Comtrade) provides detailed trade statistics reported to the UN Statistics Division from 170 countries: imports, exports, trading partners, and commodities from 1962-present.
Explanatory notes and information about the data sources are found under the Metadata & References tab.
Covers all countries and areas, drawing selectively on statistics from throughout the UN system to bring them together in a common platform using global statistical standards. Selective summary tables cover agriculture, population, industry, national accounts, energy, health, human development, trade, refugees, education, employment, and information and communication technology.
Tables are taken from databases and sources published in the extended United Nations system, including the ILO'S Yearbook of Labour Statistics and Key Indicators of the Labour Market; the World Bank's World Development Indicators; the IMF's International Financial Statistics; the WHO's World Health Statistics Annual; various UNICEF and UNESCO publications; the Demographic Yearbook, Energy Statistics Yearbook, National Accounts Statistics: Main Aggregates and Detailed Tables, and many more.
Use keywords to search for datasets in the main search box. To browse datasets, select the Databases tab. Each database provides a list of the datasets it contains, which can be viewed individually. When viewing datasets, they can be manipulated within the portal (e.g., to examine a single country) or the dataset can be downloaded to in order to work with it in your preferred software.
UNdata is compiled from a variety of sources including national statistics agencies, so the survey instrument may be different for each country's data. Source information for each dataset can be found near the bottom of the page when viewing the dataset.
The U.S Federal Reserve provides downloadable data about a variety of economic indicators.
Data and statistics organized by topic, including Government, Business and Economic, Family and Community, Environment, and more.
Advertising expenditure by medium in 80 markets, plus forecasts and media costs for key countries.
Statistical data for over 550 development indicators and time series data from 1960 for over 200 countries and 18 country groups in World Development Indicators, Global Development Finance, Africa Development Indicators, and other databases. Data includes social, economic, financial, natural resources, and environmental indicators.
Users can browse by country, topic, indicator. Datasets can be downloaded or else viewed and manipulated in the online visualization and analysis tool at databank.worldbank.org
Data from CRSP and COMPUSTAT, covering over 30,000 companies.
Includes security prices and trading volume, income and balance sheet items, and analyst projections for earnings and sales. WRDS also contains stock market indices, bond prices and interest rates, mutual fund and stock ownership information, options data, and a wide array of macroeconomic time series.
International data, marketing and industry reports, and web usage data are also available on WRDS.