Library:Finding Books
Jump to navigation
Jump to search
The aim of this guide is to provide instruction on finding books - primarily using the UBC Library Catalogue. It also provides directions for how to find books on a Library bookshelf using call number and other location information which you will find in the Catalogue record. You can also use our Summon search service to find books. See Using Summon for more information.
By Title
Book Title
If you know the title of the book you are looking for, click the Books & Media tab on the Library home page and type it in the search box.

If you don't know the full title try typing in the title words that you know.
If you find the book you are looking for in the results list - click on the book title for more information, including where to find the book and whether it's available, out on loan or on reserve.

For instructions on how to find a print book in a Library branch click the "Books on the Shelf" tab in this guide.
Note: some online books open immediately when you click the title, but most will not. You'll need to click the orange Online Access button to open the full text.
Chapter Title
You can also search by the title of a book chapter - but this works best if you use Summon as it has a more complete listing of book chapters than the Library catalogue.
Tip: If you are searching for a chapter title in Summon - put "" around the title words.
By Author
Search by author when all you know about a book is an author's name, or if you want to find books by a particular author. If you know the title of a book, search by title.
Select the Books & Media search box on the Library home page.
Without entering any terms in the search box, click Search to go to the University of British Columbia Library Catalogue search screen.
Enter the author's name, family name first. The Author (lastname, firstname) radio button will already be selected.
A list of authors displays.
Entries on the list contain information such as birth dates, middle names and initials, alternate forms of names, etc. to help you choose among authors with similar names.
In this example, the short form of the author's name, Severin, Tim links to the long form, Severin, Timothy. A click on Severin, Timothy retrieves all the books by this author in the UBC Library collection, no matter which version of his name appears on a book.
Choose an author from the list to see a list of books by that author.
If you can't find the book, you can go to a library and ask for help or use our Interlibrary Loan Service to get the item from another library.
By Topic
In the UBC Library Catalogue, you can search by keyword or by one of the standard subject terms assigned to books and other materials. Use a keyword search to get started.
Keyword Search
Select the Books & Media search box on the Library home page.
Enter keywords for your topic. Try combinations of words that might be used to describe your topic or that might appear in the title of a relevant book
Enclose phrases in quotation marks, e.g. "social media" privacy

Results display in relevance order, with the most relevant on top:
Subject Heading Search
A subject heading search is more precise and powerful than a keyword search.
Items in the UBC Library Catalogue (except works of fiction published before 1997) have been assigned one or more subject headings drawn from a standard list.
Subject headings group books on the same topic together, no matter what words are in the title of the book. For example, Alonso, M. S., & Rubioá, I. M. (2008). Ecological management: New research. New York: Nova Science. has the subject heading Biodiversity conservation, though those words are not in the title or table of contents.
Subject headings often include words and terms that will not be familiar to you, e.g. Privacy, right of for "right to privacy" or World War, 1939-1945 for "World War Two".
Follow these steps for a successful subject heading search.
Search by keyword and find a book on your topic, then follow the links from that book's Subject(s):

For the subject heading Social Media, a list of Subjects displays.

Click on any of the Subjects, including the narrower terms or related terms ("See also") to retrieve a list of books on that subject. In some cases, there may be just one subject heading to choose from.
When results display, you can change the sort order.
By Citation
Sometimes a professor will provide you with a citation to find a resource in the library. You need to be able to read the citation to be able to find it on the library website. The following explains how to find books and book chapters from a citation.
Books
Citation Elements
Item Details
Sample Citations
Author(s)
Jordan, Tim

Taylor, Paul A.

MLA Style:

Jordan, Tim, and Paul A. Taylor. Hacktivism and Cyberwars: Rebels With a Cause? New York: Routledge, 2004. Print.

Title
Hacktivism and Cyberwars: Rebels Without a Cause?
Place of Publication
New York
APA Style:

Jordan, T., & Taylor, P. A. (2004). Hacktivism and cyberwars: Rebels with a cause? New York, NY: Routledge.

Publisher Name
Routledge
Year of Publication
2004
Medium of Publication
Print
Distinguishing Features
Only one title appears in the citation
The citation includes the place of publication and the publisher's name
Book Chapters
This type of citation includes all of the elements of a regular book citation, along with a few additional pieces of information. Individual chapters are usually cited when they form part of an edited collection, which contains chapters or essays contributed by several different authors.
Citation Elements
Item Details
Sample Citations
Author(s)
Eco, Umberto
MLA Style:

Eco, Umberto. "Casablanca: Cult Movies and Intertextual Collage." Modern Criticism and Theory: A Reader. Ed. David Lodge. New York: Longman, 1988. 446-455. Print.

Chapter Title
Casablanca: Cult Movies and Intertextual Collage
Book Title
Modern Criticism and Theory: A Reader
Editor(s)
Lodge, David
Place of Publication
New York
APA Style:

Eco, U. (1988). Casablanca: Cult movies and intertextual collage. In D. Lodge (Ed.), Modern criticism and theory: A reader (pp. 446-455). New York, NY: Longman.

Publisher Name
Longman
Year of Publication
1988
Page Numbers
446-455
Medium of Publication
Print
Distinguishing Features
The citation includes two titles: the title of the individual chapter and the title of the book in which it is published
The place of publication and publisher name indicate that the item is part of a book
Information about the editor(s) is given (Note that regular book citations can also contain this element, so you need to confirm other features of a book chapter citation)
The citation contains the page number range for the chapter
eBooks
eBooks can be found in Summon or the catalogue. To learn more about using Summon check out the Library guide to using Summon.
Find eBooks in the Catalogue
1. From the library homepage, select the downward arrow next to "Search Collections" and select "Books & Media (Catalogue)".
2. Enter your search criteria in the "search term(s)" field. If you're searching a phrase or exact title, put it in quotation marks.
3. Click the "Branch Location" drop-down menu and select "Online".
4. Click the "Search" button.
If the links you follow to connect to the ebook are broken or produce unexpected results, please report them to UBC Library eResources Troubleshooting.
Foreign Languages
Limiting Results by Language
For some languages, catalogue search results can be filtered using the left-hand bar on the results page. For a full listing of languages to limit by, use the advanced search screen.
Asian Languages & Non-Roman Script
At present, non-roman script records are available for the following language collections:
Chinese
Japanese
Korean
Persian
Urdu
However, some older records lack the characters, so try romanizing keywords (transcribing to the romanized alphabet) in order to maximize your results. UBC Library uses Library of Congress romanization.
Diacritical Marks
Accents and macrons are not required for searching. For example:
"chugoku" can be used to find "chūgoku"
Masnavi" can be used in lieu of "Mas̲navī
On the Shelf
Once you've found a book on the library website, there is important information you need to write down to find it on the library shelf. The record of the book gives you information about where the book is located. For example, look at the following record information:
This is the information you need to locate a print book in the UBC Library system. There are several libraries on campus with many floors. Writing down this information will help you to locate the physical book once you are in the library.
1. Go to the Library branch which has your book
UBC Library has multiple branches. Every book record will display which Library branch(es) has the book you are looking for. In our example, the location is Koerner Library.
2. Find the area within the library which has your book
In our example above, the catalogue shows that the location is Koerner Library stacks, with a call number starting with PN. This means that you need to first go to the Koerner Library branch and then make sure you look in the "stacks" part of that branch, on the floor which has the PNs.
Note: most UBC Library branches have:
Stacks (books you can take out)
A reference area (with books you can't take out)
A course reserve area (with books and other materials that you can take out for 1 hour - 3 days)
Each library also has signs and floor plans that show the location of stacks/reference/course reserve areas, and explain which floors contain which call number ranges. You can always ask a staff member if you need help.
Read Line by Line
Read call numbers line by line. Each piece of information directs you to a group of shelves, to a row of shelves, and then to the shelf that has your book.
3. Start with Letters
Call numbers begin with letters that are read alphabetically. A call number can begin with one, two, or three letters. Single letters come before double letters, for example:
4. Look for the number
The second part of a call number is a whole number. Whole numbers are arranged from smallest to largest, for example:
5. Look for the Letter and (Decimal) Number
The third part of a call number is a letter followed by a number. This number is a decimal number. Decimal points do not usually appear on books, but they have been added in the example below to emphasize that the number here should be read as a decimal:
Reading It Together
The books below are in correct order.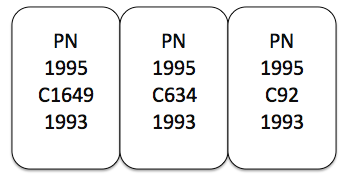 If you need further help with locating an item on the library shelf, ask for help at the service desk.
For a print guide on reading call numbers, go to: File:Reading Call Numbers Handout.pdf Book delivery & ASRS addition
Course Reserves
For UBC Library Course reserves go to Library guide to Course Reserves.