Library
:
Circle/Edit a Collection Page
Summary
This guide provides a basic four step process for accessing and editing your collections page. The collection page is where you can add details about your collection such as a description of the content or a logo. It is particularly important to add introductory text for your collection page describing the nature or objective of the material in your collection. You must have collection administrator status for the collection you wish to edit. Please contact the cIRcle Office if you have any questions regarding collection administrator permissions.
Related Articles
Please add links to any related articles.
Login
On the cIRcle homepage at https://circle.ubc.ca/, look at the buttons under the main menu on the banner. Under "Submissions" choose "Login".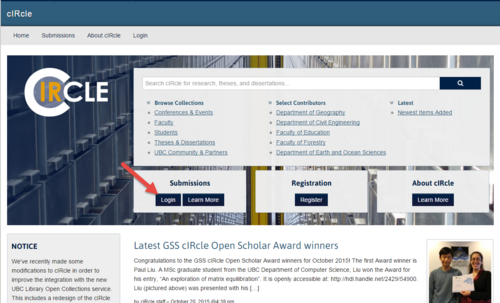 Select a collection page to edit
Once you are logged into your cIRcle account, use the search box or browse using the "Communities & Collections" link to locate the desired collection page.
Edit the collection
From the collection page, click on the "Edit Collection" link located in the left sidebar under the label "Context".
Add details about your collection
Use the designated fields to add or edit the collection page information.
Be sure to click the "Save updates" button at the bottom of the page before you logout or exit cIRcle.