Learning Commons:Chapman Learning Commons/Lillooet Room Features
Lillooet Room Features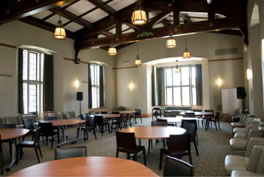 Capacity: 40 (up to 60 with additional chairs)
Furniture: Movable Tables / Movable Chairs
Room type: Workshop/Presentation Space
Amenities
Projector, multimedia
Computer, Windows PC w BluRay/ DVD player
Connection, HMDI, laptop VGA w Audio, & Auxiliary Video with Audio
Connection, AirMedia
Screen, Powered Projection
10 Round Tables
Lectern
Monitor, PC
Microphone, Wireless Handheld
Microphone, Wireless Lapel
Lecture Capture
Some AC in walls
Windows
Flooring - Carpet
Network/ Internet Access port
WiFi
Find something you don't recognize? Please refer to the definitions of our AV terminology on this page.
Events in the Lillooet and Dodson Room must occur within Learning Commons open hours
AV services and room rental fees may apply in both rooms.

Interested in booking the Dodson or Lillooet Room?
Library Staff - Please contact your department's point person who will have access to the Lillooet and Dodson Outlook Calendar. Bookings can be made via this individual.
UBC Faculty & Staff - Submit your request through our online booking form. Please note that we are only able to accommodate workshops & events that contribute to learning/academic success and that are open to all students and the UBC Community (i.e. no closed events).
For inquiries, please contact ikblc.bookings@ubc.ca.