Documentation talk:Developing Social Space
Jump to navigation
Jump to search
Hey Brian,
Here are some images you might want to consider:
For a comparison of traditional model to networked learning, here are some useful diagrams (much like the ones I looked for but couldn't find):
For a (perhaps more basic view) of how students may participate in various social environments there is this: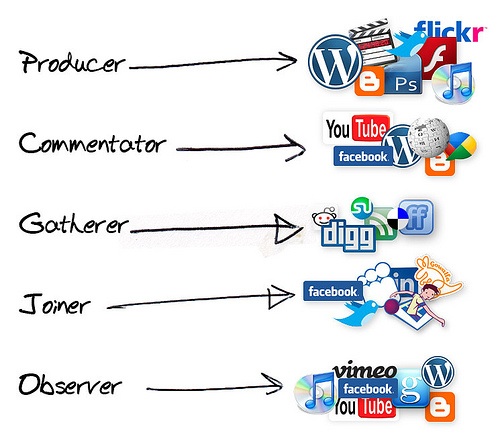 Which may offer a nice lead in to a question like: Given that many learners today are participating in a variety of social spaces outside the course:
how is the social space in a course unique?
can existing social spaces (networks) be leveraged to meet your goals for social space in your course? if not, why not?
advantages/disadvantages of an approach that brings the social space outside of the course?

In terms of further framing , there may be something interesting in George Siemens blog post on Teaching in Social and Technological Networks from earlier this year: http://www.connectivism.ca/?p=220
---
Hey Catherine,
I think we are trying to come up with content for the following:
discussion
groupwork
effective practice
process
don't know whether some of the community of practice stuff might come in handy here?
Why don't we use this space to collect our thoughts and some resources as a way to get started?

Here is some stuff about process from Digital Habitats (Wenger, White and Smith)

Possible readings?
Breaking down learner isolation: How social network analysis informs design and facilitation for online learning
[http://cpsquare.org/wp-content/uploads/2008/07/f2f_online_cycle.pdf Weaving Together Online and Face-To-Face Learning: A Design From A Communities Of Practice Perspective]
http://journals.tdl.org/jodi/article/viewArticle/443/280
Cultural Crossings:Using Stories to Inform Your Learning Journey
http://www.ascilite.org.au/conferences/singapore07/procs/kehrwald.pdf
Moderation (old but a few useful things could be gleaned I think) http://www.emoderators.com/moderators/winograd.html http://www.atimod.com/e-tivities/5stage.shtml
Tangents?
http://www.slideshare.net/cwodtke/social-spaces-lessons-from-radical-architects
There are no threads on this page yet.