Documentation:WordPress Basics/Import Export
Jump to navigation
Jump to search
Import/Export/Backing-up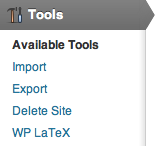 WordPress makes it easy for you to import your blog content from a variety of other blogging platforms, including Blogger, LiveJournal, Movable Type, and many more. You can also easily import content from another WordPress.com site!
You can also export a WordPress webspace. Why would you do this? Let's say you have created a Science course site at UBC (Science 201) using Wordpress. You have put a lot of time and energy in this ONE site, (i.e. a ton of pages, posts, multimedia, etc). But, you are actually teaching THREE sections of this course at the same time and each section needs their own wordpress site. The fastest and easiest way to duplicate a WordPress webspace is to export the master (or template) course and then import it into 3 blank wordpress sites, giving each of them a different - Science201LevelOne, Science201LevelTwo, Science201LevelThree, etc.
This should really go without saying, but backing up your WordPress website on a regular basis is extremely important. Although a lot of web hosts (UBC does daily backups) may offer free backups, it is still your responsibility to keep recent backups yourself, preferably hosted on a local hard drive.




Hands-on Activity: Import/Export/Backing-up
If you have an external blog - for example on wordpress.com and would like to import it into blogs.ubc.ca, follow these instructions:
From the Dashboard, click on Tools, and the select Import
From the long list, click on the blogging platform to import from
Browse and locate the required format
Click the Upload File and Import button


Exporting
If you have a webspace on blogs.ubc.ca - and would like export your blog to another web-based blogging application, follow these instructions:
From the Dashboard, click on Tools, and the select Export
Browse and adjust the various Filters (you can also leave all the defaults)
Click Download Export File button (an .XML file is created and saved on your computer)
Wrap-Up
Your questions answered (hopefully...)
Where to Get Support
Copyright
Another other copyright questions?
Feedback
Help us help you better! At the end of the session, please complete the feedback form.