Documentation:TDPforNewFaculty
Teaching Development Program for New Faculty
The Teaching Development Program (TDP) for New Faculty is a brand new annual faculty development program offering by CTLT. The pilot program is set to launch in August 2019.
The TDP for New Faculty will help participants build a foundation for their teaching careers by providing a network of support around teaching and learning. The intended audience is faculty who are either new to teaching, new to UBC, or both. The Teaching Development Program for New Faculty recognizes and caters to the specific professional development needs of new faculty at UBC. Following the 2014 Teaching Practices Survey respondents' recommendations that UBC should develop a culture that values effective teaching as much as research, the Program was created to help facilitate the development of an institutional culture that supports teaching excellence at UBC.
Intended Audience

The intended audience is newly hired research and teaching track faculty who are either:
New to teaching - e.g., newly hired faculty who have little or no experience or training in teaching (up to two years); or
New to teaching at UBC - e.g., newly hired faculty members who have taught at another higher education institution, but are new to teaching at UBC.
Program Outcomes for Participants

These outcomes represent the TDP for New Faculty's vision of the knowledge and skills that participants should be well positioned to achieve by graduation:
Develop skills to design and deliver face-to-face, blended and online teaching to respond to dynamic and diverse learning needs.
Develop a sense of community and belonging within a group of supportive peers and amongst the current UBC teaching and learning networks.
Learn about teaching and learning resources and research.
Co-create a shared space of inquiry and reflection to consider approaches, strategies, and practices in the classroom.
Learn about and consider the institutional contexts for diversity, inclusion, equity, and Indigenous engagement at UBC.
Begin developing a teaching and learning portfolio.
Program Format
One of the most distinctive features of the TDP for New Faculty is our innovative blended program delivery model. The format includes face-to-face sessions at UBC combined with interaction in the online Canvas Online Hub. Those who complete all core and elective courses are awarded a TDP for New Faculty Certificate of Completion.
Time Commitment

The program involves regular participation and completion of activities in the Canvas Online Hub as well as required attendance in core program elements. We anticipate a total time commitment of approximately 59 hours between August 2019 and April 2020:
Approximately 35 hours of core elements
Approximately 8 hours of elective elements
Approximately 16 hours of online engagement and reflection (about two hours per month)
Program Coursework

Core elements:
Canvas Online Hub (a place for collaboration, connection, networking with colleagues, a space for reflection, and program evaluation and feedback)
Instructional Skills Workshop (ISW) (select one date of the three offered; the previous completion of an ISW may be applied to this program)
Teaching Development Program (TDP) for New Faculty Kick-off Session
Classroom Climate (select two sessions from this series which runs throughout the year)
Inclusive Teaching (select one session from this series typically offered during the CTLT Institutes)
TDP Mid-year Check-in
TDP Capstone Meeting
Elective elements:
Four workshops chosen from CTLT's vast array of professional development programs.
Sample Schedule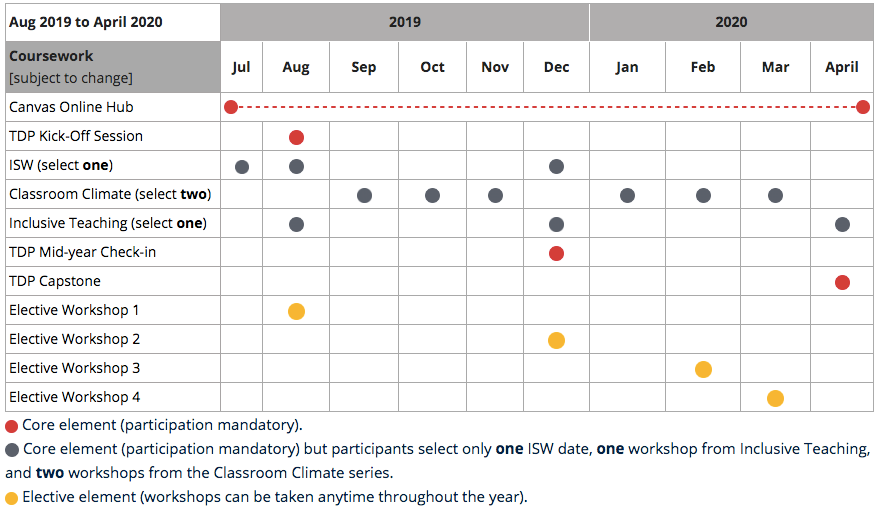 2019 Registration Information
To express your interest in the Teaching Development Program for New Faculty, please complete the pre-registration application. Participants will be required to attend a 30-minute intake consultation to further discuss their interest and participation in the program.
Timeline for Application Review
May, June, and July 2019 – Review applications
June and July 2019 – Notify participants
Note: Rolling applications will be accepted until August 1st, 2019.
Certificate of Completion
Those who successfully complete all core and elective courses will be awarded a Teaching Development Program for New Faculty Certificate of Completion.
2019 Program Dates
SAVE THE DATE!!!
TDP for New Faculty Kick-off Session - Thursday, August 29, 2019 - 9 a.m. – 12 p.m.
Irving K. Barber Learning Centre (IKBLC), Room 2.22