Documentation:Student Orientation Learning Design
Jump to navigation
Jump to search
This is for a mini-workshop (1 hour) on Open Learning Design for students involved with the Learning Commons web team and desk team.
Proposed Outcomes
Big picture: Understand open learning design as a human centered, collaborative, iterative process. Today, you'll have the opportunity to work as a group to:
apply empathy mapping as a design strategy to help you think deeply about the students you are designing for.
Agenda
Exploring learning design overall and approaches to design thinking
Introduction to Empathy Mapping
Empathy Mapping activity
Wrap up
Presentation Slides
What is learning design?
Learning design, simply put, is the design of a learning experience. The purpose may be to support a learning goal or to address an expressed or defined challenge or problem in the learning environment. At its core is a consideration of the actions that learners may take in order to learn, and design decisions are based on current knowledge about how people learn.
How Do We Design Learning Materials
Part 1: Understanding our learners
Design Thinking: Principles, Processes and Methods (50 min)
What is Design Thinking?
Design thinking is both a process and a methodology. The goal is to gain insight into the challenges faced by our students so that we design resources that are relevant and speak to their concerns.
Empathy Mapping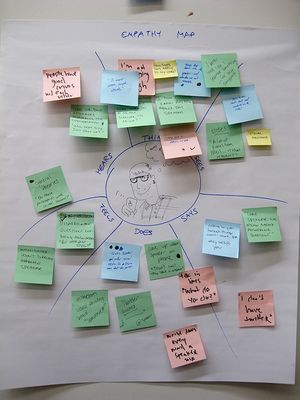 What is empathy mapping
Is a tool to help designers to synthesize their observations and come up with new insights about processes or products
Why empathy mapping
Good design is grounded in a deep understanding of the person for whom you are designing. Designers have many techniques for developing this sort of empathy. An Empathy Map is one tool to help you synthesize your observations and draw out unexpected insights.
Steps in Empathy Mapping
Define your goals and purpose for using an empathy map
Gather data - i.e. use interviews, analytics
Divide a flip chart or paper into 4-Quadrants (See example)
In the circle in the centre come up with a name - and some attributes for the person
Use post it notes to write out points about the following categories for the person.

Feelings: What are some quotes and defining words your user said?
Actions: What actions and behaviors did you notice?
Thoughts: What might your user be thinking? What does this tell you about his or her beliefs?
Influences: What influences their way of thinking and behaving
Pain Points: What challenges are they dealing with
Goals: What are there goals?

Identify Needs and Insights for the persona

Needs are verbs (activities and desires with which your user could use help), not nouns (solutions). Identify needs directly out of the user traits you noted, or from contradictions between two traits – such as a disconnect between what she does and what she thinks. Write down needs on the side of your Empathy Map.
An "Insight" is a remarkable realization that you could leverage to better respond to a design challenge. Insights often grow from contradictions between two user attributes (either within a quadrant or from two different quadrants) or from asking yourself "Why?" when you notice strange behavior. Write down potential insights on the side of your Empathy Map. One way to identify the seeds of insights is to capture "tensions" and "contradictions" as you work.
Activity 2: Empathy Mapping Activity
Think of a goal or a purpose for a resource you want to develop as part of the Digital Tattoo or the Learning Commons related to the current pandemic.
Follow the steps above to create an empathy map using the Jamboards below, post-it notes and pens. Be prepared to share insights and Needs to share with the group.
Additional Resources
Learning
What We Know About Belonging from Scientific Research – Carissa Romero- Mindset Scholars Network (2015): http://mindsetscholarsnetwork.org/wp-content/uploads/2015/09/What-We-Know-About-Belonging.pdf
Purpose & Relevance - Mindset Scholars Network: http://mindsetscholarsnetwork.org/learning-mindsets/purpose-relevance/#
Learning Principles – Carnegie-Mellon University https://www.cmu.edu/teaching/principles/learning.html
Design Thinking
Design Thinking Bootleg (resources and methods) – Stanford University: Revised Deck