Documentation:Respondus StudyMate/Elearning
What is it?
Respondus Studymate is a desktop software instructors can download and use to create simple, animation-based activities and games using custom course content. For more information visit the Learning Technology Hub Respondus Studymate guide.}
Uses and Benefits
Academic Uses
Assist students in recalling important terms for your course, such as acronyms, chemical compounds and medical ailments
Help students improve their foreign language vocabulary using activities like the flash cards
Potentially increase student engagement with alternative ways of presenting course content
Open avenues for peer to peer learning with competitive games
Authoring
Create Flash-based activities and games using an "offline" Windows interface
Four templates let you create ten activities and games
Insert graphics such as gif, jpeg, bmp, png, and pcx
Embed audio files such as mp3 or wav
Convert oversized graphics to a suitable size with one click
Create algorithmic questions using the "Calculated" template
Preview, Publish and Settings
Select from six language interfaces for activities (Dutch, English, Finnish, French, German, and Spanish)
Choose settings that meet your accessibility objectives
Preview activities and games before generating the Flash object
Select only the activities and games wanted for the final Flash object
Examples
Challenge
The Challenge format is similar to the game show Jeopardy where questions are assigned values and arranged according to the categories of your choice. Instructors can set the difficulty of each question and students can freely choose which question they want to answer. It is only available for multiple choice questions.
Crossword
You can make crossword puzzles with a series of one-answer questions. Answers can have a maximum of 180 characters.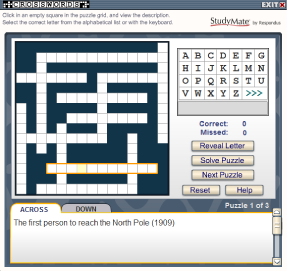 Fact Cards and Fact Cards Plus
Fact Cards is a study tool that helps students remember different facts and factoids for your course. Students can go through them one by one or randomly shuffle through the set.
Fact Cards Plus has an additional feature where students can choose which category of questions they want help with.
Fill in the Blank
Create short answer questions where students can fill in the response field with the correct answer.
Flash Cards
Ask questions using flash cards where students can flip the cards in order to see the correct answer. Students can also choose to show the answers first to help them learn what specific terms are about.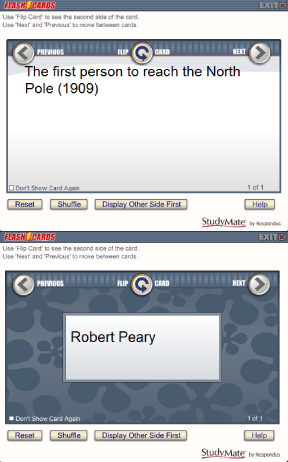 Glossary
Create a glossary of important terms and factoids students need to learn before your exam. Words are arranged alphabetically based on the first letter of the term.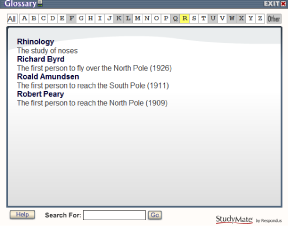 Matching
Students will match a series of questions with a list of correct responses. Each set will ask 6 questions and students have to choose from 9 potential answers.
Pick A Letter
Similar to the game of Hangman, students will respond to questions by choosing the letters that spell the correct answer.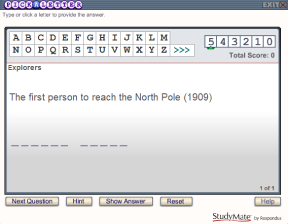 Quiz
Create quizzes from multiple choice or calculated questions.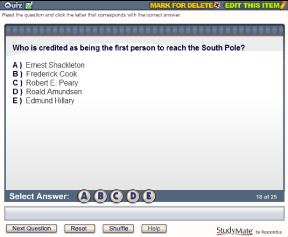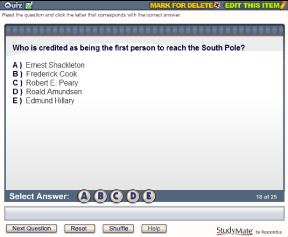 Get Started
Request Respondus StudyMate
Download a copy of Respondus Quiz by visiting https://tools.elearning.ubc.ca and doing the following steps:
Click on StudyMate on the left-hand sidebar and login with your CWL.
Enter your email address and click the SEND EMAIL button.
Click the first link provided to download the Respondus StudyMate installation file.
Please take note of the following:

Installation Password
Username [e-Learning Utility ID]
Password
Installing Respondus StudyMate
How to Use Respondus StudyMate
The user guide is available at http://www.respondus.com/products/userguide.shtml.
Please download the guide for StudyMate Author.
Resources
UBC
Games in Education
Respondus StudyMate Resources
Tips
Respondus Quiz is only available on Windows.
Sometimes it is easier to write your quizzes or exams ahead of time using a word processor such as word. You can easily import the saved file into Respondus Quiz.
Take some time to play with the games as each one will be different and see which ones will be best for your desired teaching and learning outcome.