Documentation:Research Commons/FIRE Talks/2014-2015/The Digital Universe
The Digital Universe
WHAT: How does digital media help you create, distribute, or preserve knowledge? Has available technology expanded, or limited, your academic or artistic work? Share how your research fits into the digital sphere.
Spark your thinking: Consider collaborative research, data-generated art, non-linear storytelling, digitization, electronic archives, online research, open source science, hierarchies vs networks, transmedia, games, hypertext, interactivity
WHEN: Wednesday, November 26, 2014, 4-6pm
WHERE: Koerner Library, Room 216
Presenters
The Language of Online Predators - Pamela Black (Psychology)
Open Badges in Academia - Kate Chandler (Library Studies)
Squeezing into the World of Digital Humanities - Chelsea Gardner (Classical, Near Eastern, and Religious Studies)
Rewiring Community in the Digital City - Andrea Hoff (Creative Writing)
Interdigiplinarity! - Ernesto Pena (Language and Literacy Education)
Social networks, the media and us - Emi Sasagawa & Linda Givetash (Journalism)
Kids and digital media - Laura Teichert (Language and Literacy Education)
Resources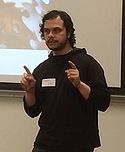 Ernesto Peña
Andrea Hoff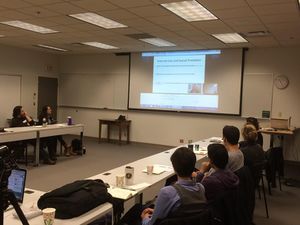 Pamela Black
Craven, S., Brown, S., & Gilchrist, E. (2006). Sexual grooming of children: Review of literature and theoretical considerations. Journal of Sexual Aggression, 12, 287-299. doi:10.1080/13552600601069414
Katz, C. (2013). Internet-related child sexual abuse: What children tell us in their testimonies. Children and Youth Services Review, 35, 1536-1542. doi:10.1016/j.childyouth.2013.06.006
O'Connell, R. (2003). A typology of cyber sexploitation and online grooming practices. Preston, England: University of Central Lancashire. Retrieved on November 5th, 2013 from http://www.uclan.ac.uk/host/cru/docs/cru010.pdf
Emi Sasagawa and Linda Givetash
Laura Teichert
Levy, R. (2009). 'You have to understand words…but not read them': young children becoming readers in a digital age. Journal of Research in Reading, 32(1), 75-91.
Marsh. J. (2004). The techno-literacy practices of young children. Journal of Early Childhood Research, 2(1), 51-66.
O'Hara, M. (2011). Young children's ICT experiences in the home: Some parental perspectives. Journal of Early Childhood Research, 9(3), 220-231.
Wohlwend, K. (2010). A is for avatar: Young children in literacy 2.0 worlds and literacy 1.0 schools. Language Arts, 88(2), 144-152.
Kate Chandler
Chelsea Gardner
Contact us
If you have any comments or questions, please contact us at research.commons@ubc.ca.